Apparently cycling shorts are fashionable now and the results are bizarre
It's not just the shorts, they're after - our glasses are getting popular, too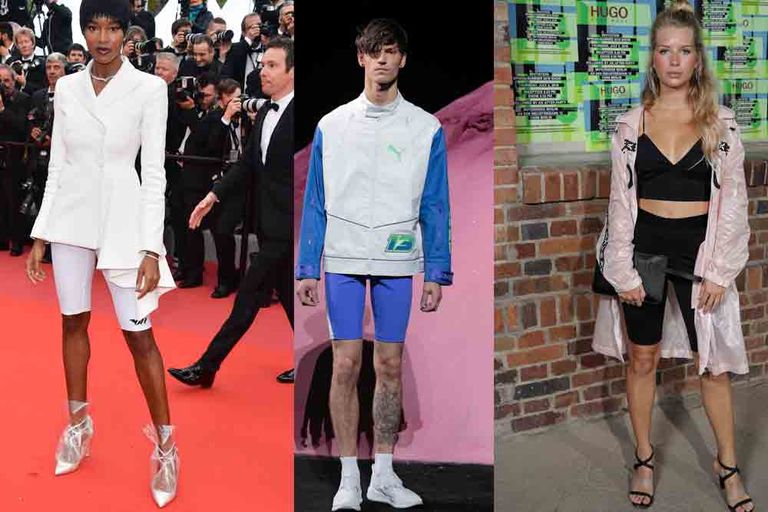 (Image credit: Getty Images)
It's far from the first time cycling shorts have been 'in vogue' (see: early 1990s fitness videos) but since it's rare that we 'lycra louts' have the opportunity to be ahead of the fashion curve it's well worth highlighting the fact when the sweaty chamois* hits the big time.
If you don't believe us, Vogue magazine published its does-what-it-says-on-the-tin article 'Why Cycling Shorts Are This Summer's Sleekest Hit' a trend hitting six days ago.
Admittedly, the fashion forward glossy suggests teaming your shorts with "an XXL shirt" which seems to negate the aero gains of skin tight lycra, if you ask us (of course, they didn't).
Apparently (according to the reputable fashion source, The Guardian - it was a surprise to us, too) the trend kicked off at the spring/summer 2018 "Off-White" show, when Naomi Campbell strode down the catwalk in a pair of world champion-esque white cycling shorts
Paired with heels that probably wouldn't work with Speedplays and an oversized coat which would confuse the most effective of body temperature gauges.
Eternal icon of all things fashion, the Kardashians were quick to copy, alongside several other people who are famous for reasons we can't quite fathom.
It's not just a look for women, male models were decked out in lycra at the 'Fenty Puma By Rihanna Runway' this year, too.
And the masses have joined in - with Futuro Fashion's multi-colour offerings (£3-5, without wicking lycra, compression panels, aero dimples, multi-density chamois, or HeatDissipateSuperXTech - so don't question why we're all shelling out for the likes of Rapha) apparently one of the biggest sellers on Amazon Prime Day 2018.
It's not just our cycling shorts they're after, either. Apparently cycling sunglasses are due to be all the rage, too.
The fashion versions might even turn out to be more expensive than Oakleys. Without the Prizm lenses.
*The current influx of fashionable cycling shorts don't typically come without a chamois and we don't advise you wear them on the bike