Bath cycle campaigners concerned over road redevelopments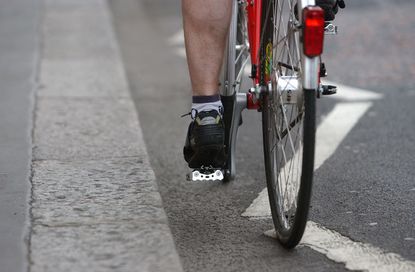 Cycle campaigners have expressed 'grave concerns' over road redevelopment plans in Bath, which they say are 'disconnected' from the council's own ambitions to encourage cycling, and could increase risk to cyclists.
Concerns have also been raised by British Cycling and Sustrans over the £1m London Road scheme, which will introduce intermittent cycle lanes, while replacing an existing cycle lane with car parking.
British Cycling's main objection is that less confident cyclists using proposed cycle lanes, will be forced into traffic at pinch points, which it says creates a 'hazard'.
BC added the London Road scheme fails to meet its three 'cycle-proofing' criteria of making cycling safer, more convenient and desirable. In a letter to the council, campaigns manager, Martin Key, said: "At best the cycling provision is unlikely to be used or appreciated by residents. At worst, it could cause conflict and potential collisions between people on bikes and those in motor vehicles. In this regard it would be better to have no cycling provision at all and allow cycle traffic to travel in the main lane."
He added ditching a proposed dual carriageway-style central margin at the road's Eastern end could make room for a continuous cycle lane, narrowing the road to a single carriageway where necessary, to help reduce traffic speeds.
Bath's cycling vision, part of its successful bid for government cycle funding this year, says "a safe and attractive road environment for cycling, including quality off-road routes, will be the foundation of a vibrant cycling culture throughout the area. Children will be regularly cycling to school and employees regularly cycling to work and using their bikes for short business trips. There will be '...more people cycling, more safely, more often...'"
While the London Road scheme is not part of this funding, supporting bid documents say "continuous, high quality routes will be provided" and "where routes are provided in the carriageway, measures will be adopted to prioritise cycles at crossing points and junctions."
Bath Cycle Club's Cycling Rights Officer, Nigel Sherwen, said: "I and other cycling groups (CycleBath, Sustrans, Transition Bath etc)...have grave concerns over two major road projects which we believe will actually discourage cycling as it is making it less safe.
"There certainly is a major disconnect between the stated aims of the Council and the direction the officers and consultants are going in the two major schemes."
"We have raised our concerns with 3 cabinet members, CEO and strategic director but feel the response has been inadequate," he added.
Sherwen added London Road, as a flat, straight route in a hilly city, is 'strategically important', and because of cost, the road layout 'will be set for a generation'.
The proposed removal of an existing cycle lane for car parking and loading has also caused contention. In a letter to the council, Sherwen said: "In Bath City Council's days this was an actual off road cycle lane.
In the early years of B&NES [Bath and North East Somerset] council, despite protests, it was converted at some £60,000 to a loading bay/cycle lane. Cyclists are meant to get off and walk on the pavement past parked vehicles. This is as impractical as it is demeaning in its treatment of cycling as mode of transport."
A Bath and North East Somerset Council spokesperson said: "The current cycle lane/loading bay does not work well because of the conflicting uses. The proposal is to make the bay a loading/parking bay and reduce the length of cycle lane - however, cyclists will still have the opportunity to use the shorter length of cycle lane to get in front of the traffic at the lights, to make the turn into Cleveland Place safer."
The spokesperson added: "We recently held a public event to show our initial proposals and get feedback about these from the public. We were delighted with the response and welcome the comments made by cycling groups. Transport engineers are continuing to look at these comments and we are now looking at options to develop our plans further to strike a balance between the needs of cyclists, pedestrians, and vehicles.
"As part of this, we have now updated the scheme to widen the carriageway on the approach to the signalled crossing at Cleveland Bridge (the main area of concern) so that a marked cycle lane can be included through this area, to prevent cyclists feeling they need to join the main flow of traffic."
Thank you for reading 20 articles this month* Join now for unlimited access
Enjoy your first month for just £1 / $1 / €1
*Read 5 free articles per month without a subscription
Join now for unlimited access
Try first month for just £1 / $1 / €1