BMC launches stylish and lightweight e-bikes
The new BMC Alpenchallenge AMP e-bikes aim to redefine perceptions of assisted bikes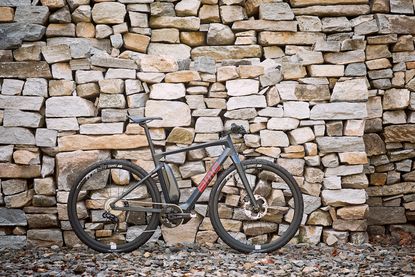 Swiss bike brand BMC, has launched a new wave of carbon e-bikes with the name Alpenchallenge AMP, the first of which is the Alpenchallenge AMP Cross.
Intended to break the convention of current e-bikes, the Alpenchallenge Cross is a comparatively lightweight e-bike that is designed to be competent on and off-road. Making use of the same frame, BMC has also launched the Alpenchallenge AMP City which is equipped with spec more suited to urban living and commuting.
According to Mart Otten, BMC's senior road product manager: "Our Alpenchallenge AMP Cross is built for off-road adventures and is an incredibly versatile e-bike. Think of it as a touring bike with unlimited off-road capability. The well-thought-out specifications make it an ideal tool for daily rides, whether on local paths or unknown back-road terrain."
The new Alpencross AMP bikes make use of the Shimano Steps e-bike motor system, which offers three levels of assistance - Boost (50km range), Trail (75km range) and Eco (100km range).
The Shimano Steps system is one of the most cutting edge e-bike motors available giving up to 250w of assistance on top of what the rider can produce, however its important to point out that the system is limited to 25kph.
Conventionally the large battery unit has been situated on the down tube, however BMC has opted to mount it more centrally on the seat tube. BMC believes this creates a lower centre of gravity, and better ride feel with more responsive handling.
The frame and fork are carbon fibre, which helps reduce the overall weight, with a claimed weight of just 1415g for a medium frame.
To increase comfort and off-road ability, the bike comes fitted with 40mm tyres and has a 'Micro-Suspension' (MTT) system on the rear seatstays that can flex, offering 10mm of travel. In addition to aiding comfort BMC also claims the MTT helps improve rear wheel traction when combined with the added power of the Shimano motor.
To further improve comfort BMC has also used a 'D' shape seat post, similar to that found on its top-end road bikes. This shape is able to flex more than a traditional round cross section.
Pricing is yet to be announced, three sizes available (S, M, L) and availability is set to be August 2018. For more information, you can head over to Evans Cycles (opens in new tab).
Thank you for reading 10 articles this month* Join now for unlimited access
Enjoy your first month for just £1 / $1 / €1
*Read 5 free articles per month without a subscription
Join now for unlimited access
Try first month for just £1 / $1 / €1
Oliver Bridgewood - no, Doctor Oliver Bridgewood - is a PhD Chemist who discovered a love of cycling. He enjoys racing time trials, hill climbs, road races and criteriums. During his time at Cycling Weekly, he worked predominantly within the tech team, also utilising his science background to produce insightful fitness articles, before moving to an entirely video-focused role heading up the Cycling Weekly YouTube channel, where his feature-length documentary 'Project 49' was his crowning glory.