BMC Racing Team recovers after Paris-Roubaix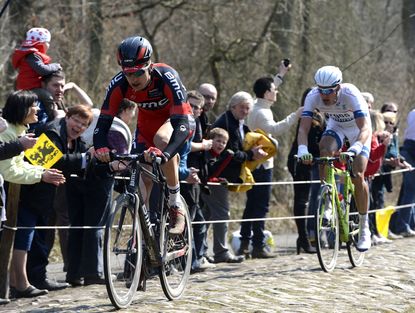 Several sore BMC Racing riders will shuffle through the Hotel Broel lobby this morning in Kortrijk, Belgium. The breakfast chat, just half a day after Paris-Roubaix over the border in France, will surely centre on the team's issues and surprise star.
"We had issues like a few other teams had," team general manager, Jim Ochowicz told Cycling Weekly yesterday in Roubaix.
"Daniel Oss, Marcus Burghardt... Thor [Hushovd] had a bike change because he broke his derailleur for some reason, that caused some issues.
"We had as much bad luck as I've seen in a long time. This was not a top day for us from several standpoints. Just luck, but I won't go into what that means."
Taylor Phinney and Hushovd led the team into the Hell of the North, but it was Greg Van Avermaet who shined. When the dust settled on the crucial Mons-en-Pévèle sector, the Belgian was the only one there to carry BMC's red and black colours.
Van Avermaet lost ground later, 25km out, after getting stuck behind Damien Gaudin (Europcar), who took a corner poorly. He managed fifth in Roubaix's velodrome.
Phinney placed 23rd and Hushovd 35th.
"We kind of have that guy that you don't expect on our team who is the one who gets the results in everyone of these classics!" Phinney told journalists including Cycling Weekly in the velodrome's infield.
"We had a fair a mount of bad luck with Burghardt, Manuel Quinziato, Oss having issues or crashes. It kind of came when the race started to happen, with all the leaders in the front group, we missed our support riders due to some bad luck. Greg saved our day a bit."
Phinney was the lucky one, in a sense. He rode through the Hell of the North without a puncture or any other sort of mechanical. He simply lacked the strength to follow the heavy-hitters when Stijn Vandenbergh (Omega Pharma-QuickStep) set an infernal pace on Mons-en-Pévèle.
He explained he got "a bit excited early" in the race. He formed part of an escape group with Geraint Thomas (Sky) and led over the key Arenberg sector.
"He has to make that call, he rides the way he feels he can ride," Ochowicz added. "If he gives it too much gas too early, he'll pay, everyone does."
Hushovd, twice on Roubaix's podium in third and second, suffered several mechanicals that put him on his back foot.
"I had to change my bike and it was hard to get back. Just when I came back, I had a flat, then another flat and then I had a crash. I had to fight to come back to the front four times. That put me in the red a little bit," Hushovd explained in a team press release.
"When they went hard ... I went all kind of flat. So it's another disappointing day."
Related links
Paris-Roubaix 2013 photo gallery
Fabian Cancellara wins Paris-Roubaix again
Thank you for reading 20 articles this month* Join now for unlimited access
Enjoy your first month for just £1 / $1 / €1
*Read 5 free articles per month without a subscription
Join now for unlimited access
Try first month for just £1 / $1 / €1