Boris Johnson: We're going to keep fining everybody until they stop jumping lights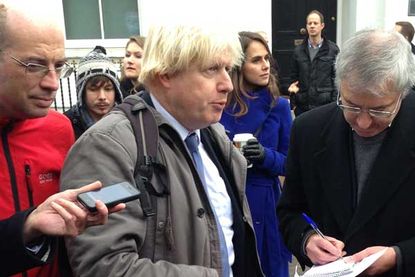 Mayor of London, Boris Johnson, has asserted his commitment to enforcing the rules of the road, telling Cycling Weekly "we're going to keep fining everybody, until they stop jumping the lights."
Referring to the recent deployment of 600 police officers to various locations around the capital since a highly publicised spate of deaths involving cyclists last month, Johnson added: "We've fined 755 cyclists so far and 1,392 motorists, so we're clamping down on everybody."
Outlining what other measures the Mayor's Office and TfL are taking to make London's roads safer for cyclists, he said: "We're putting about a billion pounds into the roads. Although I can't promise it everywhere, we're trying to have segregation where possible.
"We're going to keep going with the Superhighway scheme, and redevelop 500 junctions and roundabouts across London, concentrating on 35 locations in particular."
On Tuesday, TfL announced it would be delaying the opening of the New Cross to Oval section of Cycle Superhighway 5 as they trial semi-segregation methods.
Johnson was speaking to CW at the launch of an expansion of the Barclays Cycle Hire Scheme in Wandsworth, last Friday.
When asked if he had replied to Chris Boardman, after the British Cycling Policy Adviser recently sent an open letter to City Hall regarding concerns over heavy goods vehicles on London's roads, Johnson said: "I'm a great fan of Chris Boardman, and I'm in touch with Chris, but I haven't heard of a particular letter."
Johnson also claimed to not know about the Die In protest outside TfL offices on November 29.
However, he did note: "A significant proportion of accidents do involve HGVs, so we also need safer vehicles.
"They've all got to have the special side bars, the audible message that tells you when they're turning left, special mirrors - a lot of them still don't have all that.
"But the big thing is the increase in cycle lanes, and more investment in schemes to make cycling safer and more enjoyable."
Boris Johnson in Wandsworth
Related links
Chris Boardman appeals to Boris Johnson to improve HGV safety for cyclists
Thank you for reading 20 articles this month* Join now for unlimited access
Enjoy your first month for just £1 / $1 / €1
*Read 5 free articles per month without a subscription
Join now for unlimited access
Try first month for just £1 / $1 / €1