Boris launches hire bike scheme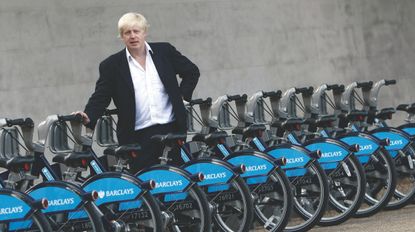 15th August 2010 Words: Matt Lamy
We went along to the grand unveiling of the Barclays Cycle Hire Scheme this month as the mayor of London, Boris Johnson, declared the "Rolls-Royce of bicycles" ready to ride.
We were intrigued to see how the new city initiative would work and despite some initial difficulty pedalling the heavy frames up hills, (which thankfully there aren't many of in central London) we were pleasantly surprised by how easy the whole process is.
David Brown, managing director of surface transport for TFL, explained they'd learned from mistakes made in Paris and as a result had made the whole process "incredibly user friendly" — and so far, so good.
The first bike was rolled out from Waterloo station at 6am on the day of the official launch, at which point over 12,000 people had already registered as members, allowing them a key to access the various docks around the city. "I think it will dramatically change the way people make short journeys in central London, without a doubt," continued Brown.
The 315 docking stations placed around London currently hold a fleet of 5,000 bikes, which Boris says will "get people out of their cars and enjoying fresh air". A membership key costs £3 and the first 30 minutes of any journey is absolutely free of additional fees. Full membership details at www.tfl.gov.uk/barclayscyclehire
You say...
Georgia McGathy, account manager, lives in Guildford
"It's not bad, but I'm a bit short for it so I need to reduce the saddle height! I'm going to use it to cycle to work from Waterloo station so I'll see how it goes. I'll try it out for a couple of days and then see if it's going to work for my commute. I think it's a really good idea; I did it in Paris and it just seemed so sensible. It works really well there."
Chris Coates, solicitor, commutes into Waterloo
"It's brilliant. I'll just give it a go and see what happens — take my chances with the traffic! I think it's worked in other cities, so great, why not?"
Catina Bernardis, consultant plastic surgeon, lives in Tufnell Park
"I think it's a fantastic idea to have this. It's worked in Barcelona, Paris and various other places. There's been quite a lot of negativity about it costing so much, but the whole point is that it's a convenient thing for short journeys. There's been some negative press but despite that, I think it's a great idea."
Thank you for reading 20 articles this month* Join now for unlimited access
Enjoy your first month for just £1 / $1 / €1
*Read 5 free articles per month without a subscription
Join now for unlimited access
Try first month for just £1 / $1 / €1