Brave new Worlds: What it's like to compete in the eSports world champs
Vern Pitt charts the story of how a near 40 year-old journalist got to race against the worlds best, in his spare room.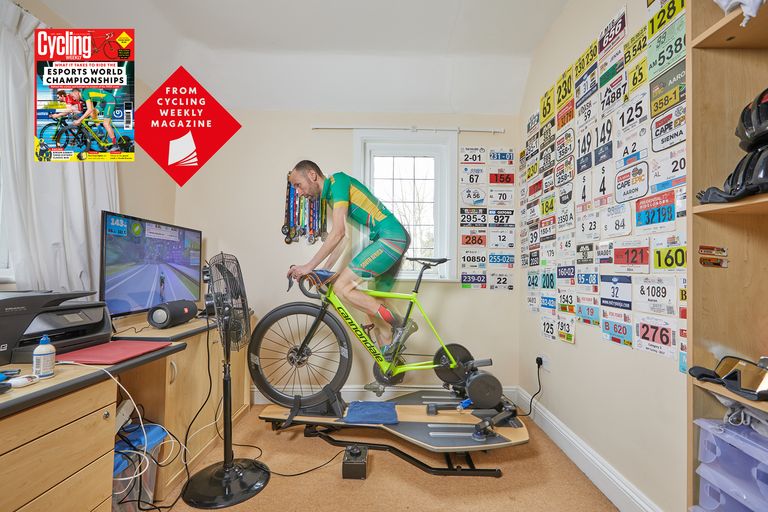 (Image credit: Future)
Founded in 1841 Wynberg Boys High School sits in a leafy suburb of Cape Town, South Africa. It's a school with a rich sporting heritage with many international cricketers and rugby players among its alumni - most notably Jacques Kallis, considered by many the best cricketer of all time. An Eddy Merckx in whites. In the hallways there is an honours board with Kallis's name among the long list of notable alumni.
In the mid-1990s 13-year-old Aaron Borrill, now tech editor at Cycling Weekly sister publication Cyclingnews, looked up at that wall forlornly. "My sport was cricket, I discovered very early on I wasn't good enough for that," he explains. "I look up at this thing and I didn't think I would ever get my name on this board.
>>>>Subscribe to Cycling Weekly magazine for more great features like this (opens in new tab)
There's Jacques Kallis and all these crazy names of famous sports stars, and now my name is going on there… If somebody told me right then that 26 years later, when you're approaching 40, you're going to go on that. I wouldn't have thought it will be possible. It just shows that you're never too old to achieve something."
The reason Borrill is being added to that list is that he represented South Africa at the eSports World Championships last month. An amateur who only took up cycling ten years ago he was now battling it out with pro riders on 19% climbs from his spare room.
We wondered what it was like to race as an amateur against some of the best in the world? Only in eSports does that happen on a regular basis. How do you even get to do that? Borrill's journey to the Worlds is one of reluctance, perseverance and eventually satisfaction - sort of.
Just for Borrill to be on the startline in New York/his house required more than a bit of good luck. Unlike other World Championships there are open qualification events for eSports. An experienced e-racer Borrill took it seriously. "In the South African qualifiers, I got the [Zwift] Premier Division riders together.
There were five of us and five spots and I knew if the five of us worked together we'd lock out qualification instantly. So we had a [online group audio service] Discord channel going. While the others had no clue, we knew where we were attacking. I orchestrated that," he recalls.
Finishing third in that in late 2021 race was enough to get him into the team for the Worlds. Or would have been. "I found out a week later, there was a problem with my power recording," he explains, in top flight Zwift racing riders have to record their power output using two meters (usually one in the turbo and one on their bikes' cranks or pedals).
"The power metre was under reading… they could see how much they were off by. They voided my result. I was absolutely devastated." The power pedals he was using would eventually be recalled over the fault that tripped him up.
It was December and it should have been a lovely day decorating his house ready for Christmas but his wife corroborates his admission that he was extremely grumpy. "We went to go and cut down a Christmas tree the day I got the news of my result. I was just ripping around carrying it on my back like a caveman," he says.
That was that until two weeks later the UCI asked where they should send his turbo trainer for the Worlds. He was confused but unbeknownst to him the south African federation had selected him anyway and the email had been sat in his spam. Now he was excited but had missed out on two weeks of training for the Worlds.
You can read the full article in the March 31 issue of Cycling Weekly magazine, on sale in store and available to order online (opens in new tab). You can also subscribe to Cycling Weekly (opens in new tab), take advantage of our latest offer and get the magazine delivered each week.
Thank you for reading 5 articles this month* Join now for unlimited access
Enjoy your first month for just £1 / $1 / €1
*Read 5 free articles per month without a subscription
Join now for unlimited access
Try first month for just £1 / $1 / €1
Having trained as a journalist at Cardiff University I spent eight years working as a business journalist covering everything from social care, to construction to the legal profession and riding my bike at the weekends and evenings. When a friend told me Cycling Weekly was looking for a news editor, I didn't give myself much chance of landing the role, but I did and joined the publication in 2016. Since then I've covered Tours de France, world championships, hour records, spring classics and races in the middle east. On top of that, since becoming features editor in 2017 I've also been lucky enough to get myself sent to ride my bike for magazine pieces in Portugal and across the UK. They've all been fun but I have an enduring passion for covering the national track championships. It might not be the most glamorous but it's got a real community feeling to it.