Clenbuterol still banned at any level, says WADA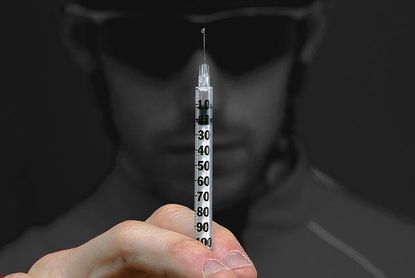 The World Anti-Doping Agency will not introduce a threshold level for clenbuterol in 2012.
The agency published its 2012 list of prohibited substances on Tuesday and in a statement accompanying the list, WADA said: "At present, and based on expert opinions, there is no plan to introduce a threshold level for clenbuterol."
WADA had considered introducing a threshold level for clenbuterol after several athletes tested positive for the substance and claimed that they had ingested meat contaminated with the substance. Despite being banned in many countries for farming use, clenbuterol has been used by unscrupulous farmers to improve the quality of meat in livestock, particularly cattle.
In humans, clenbuterol is alleged to reduced the ratio of fat to muscle and can aid weight loss.
Alberto Contador tested positive for a very low amount of clenbuterol during the 2010 Tour de France, which he went on to win. Contador claimed that the drug must have entered his body after eating a contaminated steak brought in from Spain.
Contador was suspended from competition by the UCI, but then cleared by the Spanish Cycling Federation (RFEC) and returned to racing. He is currently awaiting a hearing on November 21-24 at the Court of Arbitration for Sport (CAS) after the Union Cycliste Internationale (UCI) and WADA both lodged appeals against RFEC's decision to clear him.
Contador's case is not unique. Several other athletes, particularly from China and Mexico where clenbuterol is prevalent in farming, have been suspended from competition after failing anti-doping tests for the drug.
In April 2010, Chinese RadioShack professional Li Fuyu was suspended from competition after he failed a test for clenbuterol. He was subsequently sacked by the RadioShack team and is still serving a two-year suspension from competition.
WADA acknowledges that clenbuterol could enter an athlete's system via tainted food, and said in its statement: "It is possible that under certain circumstance the presence of a low level of clenbuterol in an athlete sample can be the result of food contamination. However, each case is different and all elements need to be taken into account, along with the context of the case."
"Under the World Anti-Doping Code, result management of cases foresees the opportunity for an athlete to explain how a prohibited substance entered his/her body."
"WADA is working closely with countries, International Federations and event organizers to help minimize the risk of contamination through the monitoring of meat to official hotels and restaurants. This is a government issue and not a WADA issue."
In September, the man in charge of anti-doping at the 2012 Olympic Games in London, Professor David Cowan, told the BBC that having "some threshold [for clenbuterol] would give some more uniformity to the test, but pragmatically we don't want to limit the sensitivity of tests."
"Having a threshold as we do for many substances is a way to get some uniformity so we don't necessarily detect just one molecule."
WADA's decision to uphold a ban on clenbuterol at any level will come as a blow to Contador's defence team.
Related links
Li may get two-year ban for clenbuterol reduced
WADA disputes Contador contaminated meat theory
Contador welcomes disciplinary hearing into clenbuterol case
Contador strengthens defence team in clenbuterol case
What next for Contador?
Spain's sports minister urges patience in Contador case
Saxo Bank to continue team sponsorship with or without Contador
Riis has a plan B is Contador is banned
How does clenbuterol testing work
Contador considers quitting cycling due to doping scandal
Tension rises over Contador's clenbuterol case
Contador case splits experts' opinions
Alberto Contador: The clenbuterol, the beef excuse and traces of plastic
Spanish authorities investigate source of Contador's mystery meat
McQuaid quiet on Contador case but says Spain can do more
Did Contador have a transfusion during the Tour?
Contador points finger at imported meat for clenbuterol positive
Contador tests positive for clenbuterol says governing body
External links
Thank you for reading 5 articles this month* Join now for unlimited access
Enjoy your first month for just £1 / $1 / €1
*Read 5 free articles per month without a subscription
Join now for unlimited access
Try first month for just £1 / $1 / €1