Colbourne takes gold, Cundy fails to finish in day of mixed fortunes for Great Britain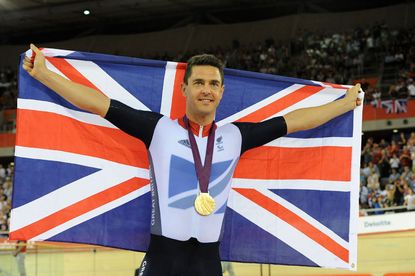 Mark Colbourne took Britain's second cycling gold of the Paralympics in a day which will be remembered for Jody Cundy's controversial DNF.


Cundy was not allowed to restart the Men's C4-5 1km Time Trial after his bike slipped in the start gate, following which his screams and frustration could be heard around the Velodrome. Jon-Allan Butterworth was a beneficiary of the decision, winning silver in the event.
Shortly after, Colbourne added the gold medal in the C1 Pursuit to his silver from yesterday's Kilo, while Shaun McKeown and Darren Kenny took silver and bronze respectively in the C3 Pursuit.
However, the story of the day was Cundy. Unbeaten in the C5 Kilo since 2006, the reigning world and Paralympic champion looked poised to take victory in the discipline.
The last man off, he had Spaniard Alfonso Cabello's time of 1-05.947 to beat - an effort nearly a second above Cundy's existing world record.
However, the gate mishap put paid to his dreams, and he was not reinstated despite the best efforts of ParalympicsGB coaches Chris Furber and Gareth Sheppard. Cundy could be heard shouting 'I will never get this opportunity again' at the UCI Commissaires, before he was taken away from the track centre.
Cundy later used the Velodrome's PA system to address the crowd, saying: "I would like to apologise for my language, even with the noise you might have been able to hear it."
That meant Butterworth's time of 1-05.985 was enough for silver, although he later admitted he believed Cundy would have won the event had he have set a time.
That aside, it was a strong afternoon session for the British squad. Colbourne broke his own record from this morning's qualifying to win the C1 Pursuit by eight seconds over Zhang Yu Li (China).
Five-time Paralympic gold medallist on the track Kenny was also a record-breaker, setting the new benchmark in the C3 final as he took bronze. McKeown qualified second fastest behind American Joseph Berenyi, and despite a valiant effort, had to settle for second place. Less than seven-tenths of a second separated the pair at the finish.
There was disappointment for tandem duo of Aileen McGlynn and pilot Helen Scott, who had to settle for silver in the Women's B 1km Time Trial. McGlynn the Olympic champion in both 2004 and 2008 in the discipline, but reigning world champions Felicity Johnson and Stephanie Morton
(Australia) beat their time to take gold.
"We came into it really well prepared and we thought we had it. It's bike racing, it doesn't always go the way you want it to," said McGlynn.
"I've definitely got more to offer. We've got more to come, it just didn't work out today."
Britain's other pairing of Lora Turnham and Fiona Duncan finished fourth, despite setting a
personal best time.
Results

Paralympic Games 2012, track day two

Women's B 1km Time Trial
1. Felicity Johnson w/Stephanie Morton (Aus) 1-08.919
2. Aileen McGlynn w/Helen Scott (Gbr) 1-09.469
3. Phillipa Gray w/Laura Thompson (Nzl) 1-11.245
Other Brits
4. Lora Turnham w/Fiona Duncan (Gbr) 1-11.479
Men's C4-5 1km Time Trial
1. Alfonso Cabello (Spa) 1-05.947
2. Jon-Allan Butterworth (Gbr) 1-05.985
3. Xinyang Liu (Chn) 1-07.638
Other Brits
DNF Jody Cundy
Men's C1 Individual Pursuit
1. Mark Colbourne (Gbr) 3-53.881
2. Zhang Yu Li (Chn) 4-01.826
3. Rodrigo Fernando Lopez (Arg) 4-04.559
Men's C2 Individual Pursuit
1. Guihua Liang (Chn) 3-45.243
2. Tobias Graf (Ger) 3-48.248
3. Laurent Thirionet (Fra) 3-53.547
Men's C3 Individual Pursuit
1. Joseph Berenyi (USA) 3-37.912
2. Shaun McKeown (Gbr) 3-38.637
3. Darren Kenny (Gbr) 3-35.257
Australian duo Johnson and Morton on the way to gold
Aileen McGlynn and Helen Scott
Shaun McKeown and Darren Kenny celebrate
Jody Cundy slips out of start gate
Mark Colbourne celebrates
Jon Allan Butterworth
Joseph Berenyi wins C3 pursuit
Zhang Yu Li
Related links
London 2012 Paralympics: Cycling Weekly's coverage index
Latest news
Cundy goes for patriotic look on new racing leg for London
London 2012 Paralympics cycling event schedule
GB team named for London Paralympics
Reports
Track day one: Storey takes gold


Photos
Track day one (afternoon) by Andy Jones
Track day one (morning) by Andy Jones


Schedule of events
London 2012 Paralympics cycling event schedule
Related links
London 2012 Olympic Games coverage index
Thank you for reading 5 articles this month* Join now for unlimited access
Enjoy your first month for just £1 / $1 / €1
*Read 5 free articles per month without a subscription
Join now for unlimited access
Try first month for just £1 / $1 / €1