Colnago: still making history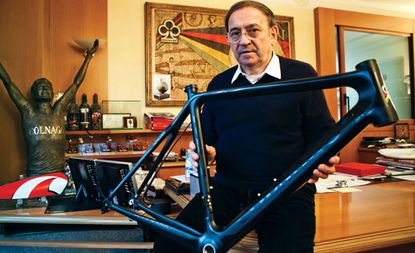 CAMBIAGO is a mystical place for cycling fans. The quiet Lombardy town, now all but swallowed up by the expanding urban sprawl of Milan, is synonymous with Colnago, the legendary marque whose founder was born here 80 years ago, and who has always run his bicycle company from here.
Just like Maranello, it is a town which, outside of its immediate vicinity, is only known for its famous factory. Just as Maranello is motorsport-ese for Ferrari, a cycling journalist looking to avoid repetition in his copy can substitute Cambiago for Colnago and be instantly understood.
That's not where the similarities between Cambiago and Maranello end. A moment after we are shown into Ernesto Colnago's capacious panelled office, crammed with trophies and awards, every inch of wall space covered in framed certificates and photographs of Colnago posing with dignitaries from sport, politics, showbusiness - figures from almost every walk of Italian public life - the great man himself appears behind us.
Perhaps smaller than you imagine, surprisingly agile and young looking for an 80 year old, casually but stylishly dressed, the trademark comb-over immaculate. He is holding another small glass case to add to the collection.
"No one else was making carbon bikes when we started in 1986 with Ferrari, no one." says Colnago. "We were the first to take it to the pro teams. The whole world was against us, but we gave it to Mapei. We did our research, going to Milan Technical University, going to Ferrari... We went to ATR, which was the only company at the time making carbon for Ferrari, Porche, Ducati - the high end."
It's not obvious whether this has just arrived or whether he has just been fondling it as an executive toy, but he momentarily shows it to us even before we shake hands - it is two miniature Matchbox-sized Formula One Ferraris in convoy on a race track of white card: the one in front is finned, aerofoiled and covered in tiny writing, the one behind is spindly-wheeled, cigar shaped and plain red.
High class: Europcar's frames
This tiny tableau commemorates Fernando Alonso's victory at the British Grand Prix at Silverstone in 2011, 60 years - almost to the day - after Scuderia Ferrari's first ever Formula One victory, at the British Grand Prix in 1951 with Jose Froilan Gonzalez, also at Silverstone.
We're not sure how to react to it, and Colnago peers up through his thick rimless glasses into our faces at blank expressions. The glasses magnify his wide eyes. It's a fleeting moment, but I have a sudden, miserable feeling that our visit has got off to a bad start. At this point it's just photographer Mjrka and me.
We're waiting for Gregor, who has been designated the 'offical' interviewer as he speaks Italian and lives in Italy. Gregor isn't late, it's just that we're early and have been taken straight up from the reception to Colnago's office when really we should have met up in the car park and presented ourselves in the reception as a team.
A frame for Thomas Voeckler
The domestiques haven't waited for their leader and now there's chaos. Mjrka is busy setting up his camera equipment so isn't really paying attention, and I don't speak any Italian - plus being a British cyclist I have been brought up to regard cars as the great Satan and Formula One as a criminal waste of money. By contrast Enzo Ferrari, as we soon discover, was Colnago's hero, mentor and muse.
Thin ice
I realise that the little Ferraris were an ice-breaker that I had managed to slide off into the barriers rather than using them to steer me into pole position. Colnago deposits them next to another case containing a much bigger model of a modern F1 Ferrari.
Still - I have a secret weapon and now is the time to deploy it: under my arm I have been semi-concealing a gold tube with a black palm tree embossed on it containing 600 grams of Fortnum and Mason Chocolossus biscuits. I aim the gilded bazooka loaded with the England's finest confectionary at Colnago's chest. "Ah, whiskey," says the Italian, takes it and puts it down among the mini-Ferraris and walks behind one of the two enormous desks in his office. Miss.
Another figure appears in the doorway - still not Gregor but Alessandro Colnago, Ernesto's grandson. He is young, bequiffed and wearing chunky jewellery and blue-rimmed comedy glasses that you need to be either Italian or Timmy Mallett to get away with.
He is jovial and speaks English - not fluently but well enough to become our interim interpreter. His grandfather is irritably shuffling papers now, muttering and looking at his watch.
They exchange a few words and Alessandro says to me: "He says, how is your job?" I feel embarrassed to have been given a second chance and begin babbling enthusiastically about working hard on bumper issues, compiling booklets featuring graphics with all the new WorldTour jerseys, and then ludicrously ask if Signor Colnago is busy himself. The elder Colnago shrugs. "Always," the answer comes back.
Later it dawns on me that he wasn't asking me my job was, rather it was, and why we weren't getting on with the interview. Alessandro had mercifully mistranslated it. However, Gregor showed at this point, and the interminable awkwardness - which lasted probably not more than three or four minutes - dissipated. It was explained to Colnago that Gregor would interview him, Mjrka would take photos and I would sort of pull everything together later.
The Colnago-Ferrari Engineering Concept was unveiled in 1987, a year after Ernesto Colnago first went to Maranello to meet Enzo Ferrari. Its carbon-fibre tubes and carbon-fibre lugs were revolutionary in cycling. Ferrari had told Colnago that he must use wheels with three spokes. The Concept had a 'gearbox' transmission similar to a race car, all encased in an aluminium housing; and it also had hydraulic brakes. This was all very well, but at 13kg the Concept was closer in weight to a car than a race bike, so never went into production.
Now that roles were clearly established he seemed satisfied, and Gregor began asking his questions - to which Colnago eagerly and expansively replied, augmenting his answers with anecdotes, gestures and slaps to the polished surface of the desk. Now that the interview was in progress I allowed myself to imagine how for all of Ernesto Colnago's life it had probably been absolutely vital that roles were clearly defined and team orders followed.
Hydraulic tube instead of brake cable
Colnago was born in Cambiago on February 9 1932, into a farming family. It wasn't poverty as such, but times were hard and even as a six year old he was drafted in as a very junior farmhand. At the end of 1945, at the age of 13, a friend got him a job at the Gloria bicycle factory in Milan, 20 kilometres away, and because the legal minimum working age was 14, Ernesto altered his date of birth on his papers.
Supercar-style gear shifter
Burning Desire
As a welder's assistant his role was crucial. The welder depended on his assistant's consistent dexterity, as he manipulated the semi-built frames, to make the maximum number possible. The more frames he made, the more he earned. One day Colnago was distracted, not paying attention, so to teach him a lesson he would never forget, the welder ran the flame of the brazing torch across the back of the young Ernesto's bare hand.
Nobody was sympathetic, not even his father. If you were not doing your job properly you deserved it. That was his view.
Gold-standard engineering
Now 66 years later, Colnago is scribbling on an A4 pad with a felt-tip pen. I'm not sure what exactly is he is illustrating, but there's considerable fervour in it, and I imagine anybody who isn't following may likely receive a slash of blue ink across the back of their hand. I keep my hands on my knees below the desktop.
The welder singed more than Colnago's skin that day in the factory - it went much deeper. He burned a work ethic into him that would inform everything he did from then on.
When he started racing a couple of years later he trained fanactically and took some big local wins, and was regarded as a good young rider, though no Fausto Coppi. At Gloria he had moved out of the welding shop up to the assembly floor, a cleaner, healthier environment for a racer to breathe in. When he broke his leg in 1951 in the sprint in Milan-Busseto, Colnago asked the owner of Gloria to let him build wheels at home and be paid as a subcontractor.
Ernesto Colnago made this traditional yet aerodynamic track bike for Tony Rominger to break the Hour record in 1994. The machine used teardrop-profile tubes made of a lightweight steel alloy. Colnago decided that minimising frontal aera was the key to going fast on the Bordeaux velodrome, and the seatpost tapered to just 3mm, while the flattened seatstays were 5mm in diameter. The Swiss rider broke the 55km mark with it.
The next month he almost tripled his salary and from then on it he set out to reach the top in cycling using his hands rather than his legs. That was the beginning of Colnago.
In the first shop at 10 Via Garibaldi - about a kilometre from where big new pale-brown and mirrored-glass Colnago HQ now stands, there was only just enough room to spin a racing wheel. Colnago's father famously cut down a mulberry tree on their land and made Ernesto a workbench out of the trunk.
Modified ITM aerobars
It was the sort of humble beginnings you only ever read about. Now instead of on the rough-hewn mulberry workbench Colnago conducts his business on this enormous, ornamental oblong of laminated, polished wood with a panel of smoked glass set into it which, sneaking a peek under the table, is sightly wackily supported by two carbon-fibre monocoque wheels - one at each end, facing longitudinally.
Although these two tables might represent the extreme ends of Colnago's working life, he will not have missed the significance of the very first being custom made, just like the last. For a man who will still make custom sizes even on top of the 15 or so stock measurements he already offers - when most other manufacturers offer just S, M and L - this is important.
Rominger rode 60x14
A designer's site of work and specifically his desk, will tell us, we always hope, about the person and the working processes that take place and that have led him there. I don't know if I should mention this, but I couldn't help noticing that both rectangular desks in his office had their corners cut off - as a design feature. Perhaps it's a little joke from the most meticulous mind in cycling.
Magnificent Fiorenzo
Colnago's first big break came when the great Fiorenzo Magni asked him for some help with his bike set-up as he was suffering from muscle pain. They had been riding together and Colnago, having watched the champion's pedalling style, was able to pinpoint a crank misalignment. He fixed it for him, Magni's leg felt better instantly and he asked Colnago if he would like to join the Nivea team as second mechanic under Falieri Masi, the legendary frame-builder.
To tell the great riders how their bikes ought to be has always been Colnago's way. One of the questions Gregor asked him was: "Which rider gave you the most feedback?" The question might have been an prompt to talk about the perfectionism of Eddy Merckx, but instead Colnago replied: "No - I've always taught them! The rider is there to get on the bike, I look to see if his back is upright or his position is wrong.
Giuseppe Saronni won the 1982 World Championship road race at Goodwood on this Colnago Mexico. He was so fond of the bike that he used it to win Milan-San Remo and the Giro d'Italia the next year. The bike features a full Compagnolo 50th anniveresary groupset - as presented to the Pope in 1983.
Then I make sure his position is right and that his bike is perfect." However, Colnago did concede that "Eddy Merckx was the most brilliant." Merckx would demand 20 bikes a year, Colnago remembered, and would come to Cambiago in the morning and not leave until he had a perfect bike.
Sloping-crown fork
To put the number of bikes a professional required and now requires into perspective, Colnago talked about the first team to ride Colnago frames with the Colnago name on them (as opposed to the 'Eddy Merckx' Colnagos that the Molteni team rode).
This was the Scic team in 1974. Colnago had wanted full sponsorship and parted company with Merckx and Molteni to accomplish this. There were 15 riders on the Scic team, Colnago told us. Each had two bikes for the year. Then Colnago talked about the requirements of the Europcar team which rides the latest C59. There are 30 riders on the squad, and each has four bikes for the year - that's 120 bikes now, versus 30 in the 1970s.
Gold accents

When we finish the interview, after more mini-cappuccinos from the machine outside his office door, Colnago in fact leads us straight downstairs to the packing room, where the first batch of Europcar frames is waiting, each one custom made, all finished in the matt black/lime green 2012 paint scheme, all neatly racked by the head tube like new suits hanging on a tailor's rail. The tunnel their main triangles make is like an infinity mirror.
Just like when he made frames for Eddy Merckx 40 years ago, his racing team is still what gives Ernesto Colnago more pride than anything. Sensing his excitement as we walked across the warehouse floor towards the Europcar frames prompted photographer Mjrka to set up the lights right here and shoot Colnago as the proud father with his new baby. He tried to play it cool, but I think you can see in the photos just how much he still loves it - he loves it.
There's a feeling in the Colnago factory of Europcar being the greatest thing to hit the pro peloton since... well, Mapei. Are they though? In the other main warehouse, there's a gigantic image covering the entire end wall, of Pierre Rolland winning on Alpe d'Huez.
It's a dramatic shot and made even more so because of its breathtaking scale - but Colnago has forgotten Rolland's name, and so has Gregor and I don't think Mjrka is listening.
Now is my chance to redeem myself. I have been the dumb foreigner without an obvious reason for being here up until now, but I do know the name of the rider who got Colnago his biggest win in 2011 and I remind him as matter-of-factly as possible, though I think some glee is bound to have got through.
For Ernesto Colnago winning Paris-Roubaix with a carbon-fibre bike was its final proof as the best material, and the late Franco Ballerini achieved the first Roubaix win for the carbon Colnago C40 in 1995. He won again in 1998 on the bike pictured above.
Corridors of power
We are not allowed to see the production line where the C59 Italia is made, and, as Colnago has an appointment with the Italian inland revenue very soon, we hurry along immaculate, empty corridors to the private bike museum, where he will leave us with sales manager Diego Colosio. The customs officers, explains Diego once we're in his care, visit regularly.
Sometimes they want to go through every single ledger; other times they just come to say hello. It is likely that today the latter is the case, because it's only a few days before Christmas.
Everybody seems in agreement that in the season of goodwill to all men, it would not be appropriate to treat Ernesto Colnago like a suspect. Besides, the presentation room in the factory has been converted into a chapel ready for a special mass the next day, complete with altar and linens. So it just wouldn't be right.
Later, while we're photographing the famous bikes in the museum, Colnago appears with three people who don't look much like cyclists, and begins to give them a very, very detailed guided tour.
They are too professional to be glazing over but the sight of us pulling the bikes out of their stands and squatting down, trying to hold them upright by two fingers on the edge of a perished tubular is perhaps a welcome break from hearing the story of another bike that has 'Colnago' written on it.
Souvenir from the secteurs
For the layman it is quite interesting to see the gold bike that Colnago built for and personally presented to Pope John Paul II in 1979, but after that they're really just bikes. They wave to us and smile politely.
Diego explains that the reason why Colnago is visited so frequently is because of the production of some frames in Taiwan, including the top-flight M10, and their shipping back to Cambiago - all frames are distributed from the packing area where we saw the Europcar frames.
You can't blame them - the Italian economy needs every last euro it can raise these days. But Diego tells us that Signor Colnago is as fastidious with the accounts as he is with the design of his bicycles. If you want a bike, Signor Colnago will either give you one as a present, or he will tell you to buy it from a shop.
Packing order
Even we have seen enough bikes after four hours, it's getting dark and thoughts of the Milan at rush hour begin crowding in on us. Meanwhile, Signor Colnago has finished the customs officers' tour of the museum and bidden them a beaming Buon Natale, and he rejoins us.
We all shake hands down in the packing area. He gives me an unexpectedly hearty slap on the side of the arm as if to apologise. Without a doubt he was aware of the knuckle-chewing embarrassment of our first five minutes. Diego produces big pink cylindrical boxes for us containing Pandoro di Verona, and Colnago has copies of a gold-covered hardback book about his own life for us, in which he scribbles personal messages with his blue felt-tip pen.
As a journalist you ought to be able to stay detached and objective, but I don't mind admitting I will treasure mine. However, I've got no idea what the message says...
Ernesto Colnago on... The UCI's weight limit
Ernesto Colnago wishes the Union Cycliste International (UCI) to create a weight limit on the bike frame and not an overall 6.8kg limit. Make the frame limit 1.15 kilograms, then, the team can modify it for different races via its components.
"Lowering the minimum weight? No. How can Alessandro Petacchi or Tom Boonen race on a bike that's less than 6.8kg? It works for someone who weighs 60kg, but a frame has to work for someone who weighs 80," says Colnago. "A frame needs to weigh 1.15kg, and then if you are using it for Roubaix, you use stronger components, and for Alpe d'Huez, lighter components."
He finds it "crazy" that riders race down the Kemmelberg in Ghent-Wevelgem or over the cobbles of Paris-Roubaix with high-profile carbon wheels. He said that keeping the heart of the bike - the frame - strong allows for variations in components and rider security.
Ernesto Colnago on... Carbon-fibre
"You wouldn't want a bottle of wine if it was empty, would you?" demands Colnago. "What's inside counts." Colnago grabs a slice of a frame from a tray on a shelf behind his desk, one that looks a little like the type used by one of his ProTeam rivals, and showed us the inside. Then he showed us the inside of a section of C59 frame - smooth.
"You have to try a C59 to believe it, even if there's not wine inside. The others look the same on the outside, but they're not. You can buy a bottle of wine for €1 or a bottle of Brunello for €100, and there's a reason.
"Here's a tube, look inside! We have to explain it well to the buyers because they don't understand. Our rivals buy all their frames from China and put on their names, this is the truth, and they say this bike rides like a Colnago... Nonsense!"
He throws the rival frame to the floor in mock disgust. He explains that his frames are approved by the ISO, the International Organization for Standardization. The officials pass every three months to take one of his numbered frames and to cut it open, looking for more than wine.
Related links
Ernesto Colnago's big interview
This article was published in the February 9 issue of Cycling Weekly. You can also read our magazines online via Zinio and download from the Apple store.
Thank you for reading 20 articles this month* Join now for unlimited access
Enjoy your first month for just £1 / $1 / €1
*Read 5 free articles per month without a subscription
Join now for unlimited access
Try first month for just £1 / $1 / €1