Dr. Hutch: Taking on the Cape Wrath
Born adventurer Hutch channels the spirit of Rex Coley and heads to Scotland's feared Cape Wrath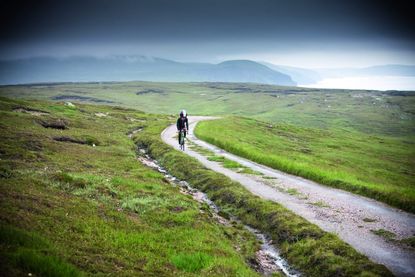 Get The Leadout Newsletter
The latest race content, interviews, features, reviews and expert buying guides, direct to your inbox!
Thank you for signing up to The Pick. You will receive a verification email shortly.
There was a problem. Please refresh the page and try again.
Back in 1949, in the bleak post-war days of ration books and austerity, one of my illustrious predecessors in this magazine became disillusioned with the way cycling had changed from the 1930s.
Rex Coley wrote his column under the name 'Ragged Staff'. His beef was that cyclists had stopped going on proper adventures.
>>> Icons of cycling: The Cape Wrath Fellowship
Instead they were increasingly concerned with going on runs to local cafes, trying to beat their friends up local hills, and most regrettable of all, racing.
So he started the Cape Wrath Fellowship. If you rode to Cape Wrath — the remote headland at the very top left-hand corner of Scotland where the Atlantic meets the North Sea — Coley would send you a certificate, a badge and a personal letter of congratulations.
I have always wanted to do this; ride through the wild and lonely landscape, and at last stand on the Cape with nothing between me and the Arctic apart from a few shivering puffins.
And, of course, to take the photo of myself at the lighthouse that would entitle me to claim (from Cycling UK these days) my Fellowship certificate.
Needless to say I have been much too feckless to ever get around to it. I've been too busy trying to beat the locals up hills and going racing. I had to be coerced into it by a Bike Channel TV show called 100 Things.
Road to nowhere
Despite it being on the mainland, you have to start your trip to the Cape by taking a very small ferry across an estuary. The ferry is the easy bit. On the far side there is an 11-mile 'road'.
This was built in 1826 so they could build the lighthouse, and no one has touched it in the last two centuries other than the army, who occasionally bomb it since it runs through an artillery range.
This doesn't really matter, since the point where bombing it would make it noticeably worse has long since passed. It is, and I say this with all due consideration, even worse than a road in Surrey.
I had plenty of time to look at it: the show's presenter, O.J. Borg, refused point-blank to accept the thesis that the regularity with which a 90kg rider bangs an under-inflated cyclocross tyre into a large pothole might correlate with the number of punctures he gets, so there was quite a lot of standing around, leaning against the wind.
The lonely road to Cape Wrath made every other 'wilderness' I've ever seen look like Berkshire. No trees were brave enough to try to cling to the thin soil. The hills were low and dark, and even the heather looked wind-torn.
We made it to the lighthouse, where I have to report that the Shackleton factor was rather undermined by the presence of a cafe, which claims to be open 24 hours a day, 365 days a year, despite the Cape being inaccessible for about six months over each winter.
That's the sort of cafe Rex Coley would have run.
Adventure's end
The experience made me feel small for more reasons than the obvious.
We were there, in this hostile place, to essentially take up a dare put out by a long-dead magazine columnist.
While there was nowhere I'd rather have been, there and back was still the longest 22 miles I've ever ridden.
Rain, hail, warm sunshine and blasts of freezing wind came in every combination. I've never felt so
far-flung or vulnerable.
And every yard of the way I was painfully aware that despite being one of the inheritors of Rex Coley's job, I could offer readers a certificate, a badge and even a large G&T to anyone intrepid enough to take a photo of themselves in front of their local Aldi, and I'd still get no takers.
Thank you for reading 20 articles this month* Join now for unlimited access
Enjoy your first month for just £1 / $1 / €1
*Read 5 free articles per month without a subscription
Join now for unlimited access
Try first month for just £1 / $1 / €1
Get The Leadout Newsletter
The latest race content, interviews, features, reviews and expert buying guides, direct to your inbox!
Michael Hutchinson is a writer, journalist and former professional cyclist. As a rider he won multiple national titles in both Britain and Ireland and competed at the World Championships and the Commonwealth Games. He was a three-time Brompton folding-bike World Champion, and once hit 73 mph riding down a hill in Wales. His Dr Hutch columns appears in every issue of Cycling Weekly magazine