How Team Sky's Tour de France leadership strategy may backfire
Comment: Geraint Thomas may have become the first Briton to win on Alpe d'Huez with a stunning sprint to the line, but by not taking more time out of Tom Dumoulin has he exposed a crack in Sky's tactics ?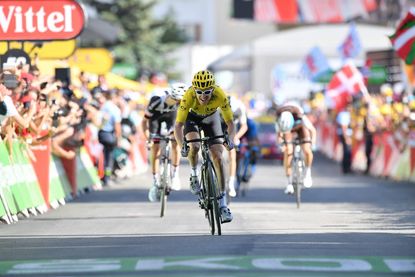 (Image credit: Yuzuru SUNADA)
With two riders sitting in first and second place on general classification, it's looking good for Team Sky. It's looking quite dominant too. Hence all the booing from the French fans. But their decision to keep Chris Froome as their leader is a risky one because of Dutchman Tom Dumoulin who sits in third place.
While Geraint Thomas has a nice lead coming out of the Alps, it's by no means a winning lead. The team's decision to keep him riding in the service of Chris Froome instead of gaining time for himself may come back to bite them.
>>> Can Geraint Thomas win the Tour de France? Experts give their verdict
Tom Dumoulin looked like the strongest rider on Alpe d'Huez, and by not putting more time in to him, Sky may have messed up.
Froome's one attack was significant because of the fact he didn't make it stick. This has never happened since he started winning Grand Tours. Either he would commit to one big attack and make it stick, or he would go again and again until his rival(s) cracked.
On stage 12 his one attack got him 20 metres up the road before he was comfortably brought back. Having won the Giro d'Italia and held his form, he is undoubtedly not at full fitness. The question is whether his fitness is good enough to win. If it's not and Sky continue to back him over Thomas, they could end up losing the Tour.
Froome was even dropped for a time on the Alpe as Tom Dumoulin attacked through the two kilometers to go banner. Thomas, ever the faithful team-mate, jumped on to his wheel but for a brief moment it looked like he was struggling to close the gap.
If Dumoulin had countered Froome's attack and ridden away from Thomas, Sky could have lost the lead. Dumoulin's strength is now their biggest worry. And now he knows that Thomas is working for Froome he could exploit it.
Surprisingly Thomas didn't attack once on the Alpe. He played the faithful team-mate and as such failed to increase his lead. Was it team orders not to attack and risk putting Froome in difficulty, or was it simply that he couldn't?
For a while on the Alpe Thomas looked laboured. His upper body rocking left and right as he turned his trademark big gear. He never once let a wheel go or looked like he was in trouble, but Thomas often has a bad patch within a race, and you can spot it in his pedalling. This happened when he raced on the track too.
In the Madison at the 2012 track World Championships he had a bad patch. He and team-mate Ben Swift were in a medal position when Thomas's style suddenly changed. It was visible to the naked eye. The very definition of pedalling in squares. Losing all fluidity and speed the pair had to hold on through the bad patch before coming good again near the end to hold on to the silver medal behind the Belgian pair.
For a while on Alp d'Huez it looked like he was holding on.
His phenomenal sprint out of the final corner where he went wide, held his speed through the bend and opened up a 10 metre gap in a split second, suggested there was much more in his legs. Had he just thrown away a chance to put another 30 seconds or more in to Dumoulin?
Sky clearly has the strongest team, but their constant pace riding is perfect for Dumoulin. The time trial world champion climbs by holding a steady pace that few others can live with, or that brings back attacks. If he can isolate either Froome or Thomas, and then get the better of them in the final kilometre he could steal the yellow jersey from both of them. That would be nothing short of humiliating for the team that has dominated Grand Tours over the last six years.
If Thomas isn't allowed to attack for the risk of distancing Froome (shades of the 2012 Tour there) he has one hope; that he can follow a flying Dumoulin while Froome can't. Thomas could then sit on the Dutchman's wheel and get dragged clear. If he had another minute on his team-mate on GC then he would be undisputed leader.
The worst case is Froome failing in an attack, paying the price for it, and then Thomas not being able to follow Dumoulin.
We'll have to wait until we get the Pyrenees to see how this one plays out, but if you see Thomas pedalling in squares, you know it's about to get interesting.
Thank you for reading 20 articles this month* Join now for unlimited access
Enjoy your first month for just £1 / $1 / €1
*Read 5 free articles per month without a subscription
Join now for unlimited access
Try first month for just £1 / $1 / €1