Cycling Fitness magazine: Winter issue out now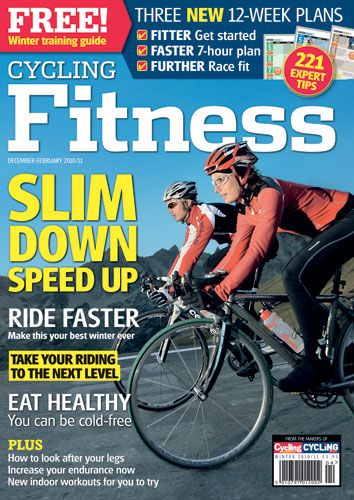 The winter 2010 edition of Cycling Fitness magazine is out now, and it's full of inspirational features and friendly tips to help you make the most of the winter months in the saddle.
Winter is well on the way, with shorter daylight hours and colder weather. Rather than go into a state of hibernation, Cycling Fitness shows you how you can maximise your cycling over the colder months to hit 2011 in top form.
With its easy-to-follow training plans, riding tips and food suggestions, the magazine provides a friendly guide to staying in great shape on the bike.
Cycling Fitness is published by the team that bring you Cycling Weekly and Cycling Active magazines.
Cycling Fitness Winter 2010 issue is out now at WHSmith and all good newsagents priced £5.95.
News
Every day weight loss tips
Latest Research: Prevent muscle soreness with ginger
Ready to Ride
Why winter is the best time to train
Take your riding to the next level
Eight ways to look after your legs
Training
Three NEW Pull-out training plans
Fitter - great for beginners
Faster - in 7 hours or less a week
Further - get race fit for 2011
How to get more out of your long rides
Nutrition
Portion control - what makes a healthy snack?
Veggie food for athletes
Fat burn rides
Technique
How to eat, sleep and stretch your way to faster recovery
Gym work - new toys and tools for cyclists
Thank you for reading 20 articles this month* Join now for unlimited access
Enjoy your first month for just £1 / $1 / €1
*Read 5 free articles per month without a subscription
Join now for unlimited access
Try first month for just £1 / $1 / €1