Dave Rayner Dinner 2012: Photo special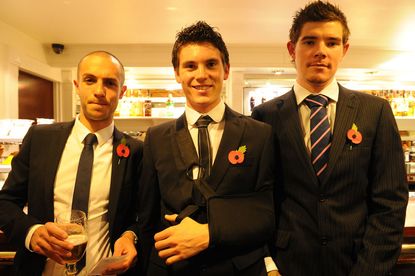 Bradford's Hilton Hotel was the venue once again for the annual Dave Rayner Fund Charity dinner event on Saturday evening, November 10.
Stars past and present gathered along with many people from the cycling world for the evening's dinner and auction to raise funds to enable young talent to establish their racing careers both here and on the continent.
Sean Kelly won the 'heads and tails' contest beating Tom Moses in the finale to the fun opening to the evening.
After the three course meal the auction got under way with Eurosports David Harmon auctioning items that included a Wiggins signed Tour jersey that went for £2100 and Cav's Signed Rainbow Jersey that went for £2300.
Jonathan Tiernan-Locke had a Europe Tour leader's jersey and Tour of Britian leader's jersey in the auction items. JTL was there with his new Sky team mates Ben Swift and Luke Rowe, who were both sporting slings and casts as they recover from injury.
Swift has had surgery for a damaged shoulder and Luke Rowe has broken his scaphoid bone in his right wrist.
It must be catching as Ian Stannard could not come to the dinner due to nerve/muscular damage to his hip/upper leg after returning home from a training ride. Something just pulled meaning he could not weight bear and was under team orders to rest at home.
Swing Commanders were the live music turn for the evening.
Banana team Steve Douce, Chris Lillywhite, Jonny Clay, Chris Walker, Tim harris, Phil Thomas with some of the team staff of the day
Sean Kelly (right) was there with An Post-Sean Kelly team riders
David Harmon (left) interviews Ben Swift
John Rayner and Lucy Garner
Funded riders
Jonathan Tiernan-Locke (centre) with recipients of his signed Tour of Britain jersey
Sean Kelly wins 'heads and tails'
Table 30
VIPs line up
Bradley Wiggins' signed Tour de France jersey
Ryder Hesjedal's signed Giro jersey
Thank you for reading 5 articles this month* Join now for unlimited access
Enjoy your first month for just £1 / $1 / €1
*Read 5 free articles per month without a subscription
Join now for unlimited access
Try first month for just £1 / $1 / €1