'Every time a cyclist gets killed it's a knife to the stomach' - Pro rider-led bike light campaign launched
Be Bright Wear A Light wants cyclists to use constant running bike lights to prevent tragedy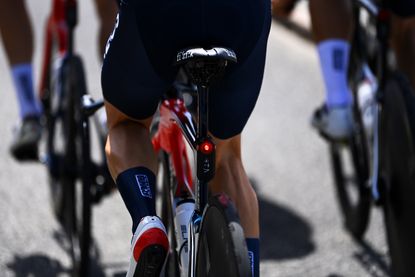 (Image credit: Getty Images)
Get The Leadout Newsletter
The latest race content, interviews, features, reviews and expert buying guides, direct to your inbox!
Thank you for signing up to The Pick. You will receive a verification email shortly.
There was a problem. Please refresh the page and try again.
A professional rider-led campaign to encourage cyclists to use constant running lights, Be Bright Wear A Light, has been launched.
The initiative, endorsed by riders like two-time Tour de France champion Tadej Pogačar, and former world champion Elisa Balsamo, was made public on Wednesday morning.
It aims to create a culture shift in cycling through the use of lights through the day and night. There are three simple steps to the campaign: understand, change, and share.
Be Bright Wear A Light was created by the Cofidis rider Rachel Neylan, who told Cycling Weekly on Wednesday that she felt a "real compulsion" to do something about cycling safety after a spate of high profile incidents involving current and former professionals on the road.
Last week, Spanish neo-pro Estela Domínguez died after being hit by a lorry driver during a training ride; a similar fate befell the Italian former rider Davide Rebellin last November.
"With the recent year, the string of events, multiple tragedies that we've had among the cycling community, I just felt a real compulsion to do something about it," Neylan said. "Every time a cyclist gets killed it's a knife to the stomach. I can't watch it happen anymore. I've been using lights consistently for the last few years, and I know how much it really makes a difference.
"In saying that, it's not a one-stop solution to the entire problem, but the reality is that the roads are getting busier. Cities and regional towns are getting busier, every single place where cyclists go, even if it used to be less populated by cars. Especially since Covid we're seeing a lot more travel, and the roads aren't safe for cyclists anymore."
Be Bright shared a series of endorsements from professional riders on its social media this week, including from Tadej Pogačar: "This is the best safety measure I can take. For the amount of time I spend on the road and minimal investment it takes to use a light it's a logical part of my daily training now."
Luka Mezgec said: "Being on the road 365 days/year around the globe means constant risk of getting hit by a car. The best thing to minimise this risk is to be as visible as possible with lights strong enough to be seen from more than a mile away."
"This is the best safety measure I can take. For the amount of time I spend on the road and minimal investment it takes to use a light it's a logical part of my daily training now" @TamauPogi#bebrightwearalight pic.twitter.com/78KXj0oaSWFebruary 14, 2023
See more
Neylan said that she had thought of the idea a few years ago, but was spurred on to launch it now given recent events.
"It's a small initiative, we don't want to reinvent the wheel, tell people what to do," she argued. "All we want to do is lead by example and share a culture shift that's happening in cycling, and that's using lights at all times of the day."
The aim of the professional rider testimonies is about "showing behaviours that exist", she said.
"Pro cyclists aren't going to brag about something they do in their everyday training environment, but it's something I've noticed people doing in recent years, while younger kids and amateurs are not so much," Neylan explained.
"It's about sharing that culture shift and letting that infiltrate among the wider community. If that's something we can do as pro cyclists, then that's an extraordinary way we can use our platform."
The aim is to make road riding safer for all cyclists, of whatever age or level. However, there is no pretence that lights suddenly erase the inherent vulnerability of cyclists, which is no match for motor vehicles.
"When you start using lights, you see that cars give you so much more passing space and you avoid near misses," Neylan explained. "It can make a huge difference from the front and back. If we can save one life, that's a win.
"As a community we've been through enough tragedy now and it's time to do something. We're not saying this is a cure, there are obviously enormous other aspects to this problem, but this is one thing we can control, our own visibility."
As for how big the Australian rider wants the initiative to become, she is hoping that it becomes a household name, second nature.
"I want it to be like the Australian slogan for sunscreen, slip slop slap, and everyone knows it," she said. "Be Bright Wear A Light, same thing."
Thank you for reading 20 articles this month* Join now for unlimited access
Enjoy your first month for just £1 / $1 / €1
*Read 5 free articles per month without a subscription
Join now for unlimited access
Try first month for just £1 / $1 / €1