Halfords Tour Series returns to Colchester for 2012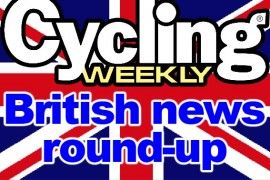 >>>We want to hear what's happening in your area - from
racing results to sportives, recreational cycling to commuting. To
submit your stories for CW's British news round-up, please email Nick Bull or Richard Abraham>>>
Colchester is the first venue to be announced for the 2012 Halfords Tour Series, with the criterium race returning to the town on Thursday June 7.
Round Eight of the ten race series will take to the 1.6km town centre circuit for the second year running as the culmination of an afternoon of community cycling festivities.
"We are happy to welcome back The Halfords Tour Series to Colchester for the second time," stated Cllr Anne Turrell, Leader of Colchester Borough Council. "Last year's exciting race and community events proved very popular, drawing people into the town."
Dean Downing won the 2011 Halfords Tour Series round in Colchester
An estimated 15,000 people came to Colchester to watch the evening race in 2011, helping the venue win the 2011 Tour Series Pride Award for the most impressive host town.
"Colchester is now closely associated with Britain's biggest cycling events, and we are proud to once again have the opportunity to bring The Halfords Tour Series to the town," said Series Director Mick Bennett.
The remaining venues for the 2012 Tour Series are likely to be announced over the coming weeks. Follow Cycling Weekly for the latest news.
________________________________________________
Matt Gee has signed for the Metaltek-Scott squad after a solid
season at Raleigh last year that saw him win the first stage and the
overall in the Newcastle Cheviot 4 Day (Tour of the Border).
Filling the space on the team left by Ross Creber, who departs to focus on his final year at university, Gee is a welcome addition for a Metaltek team aiming for strong rides in the Premier Calendar and across the UK's criteriums in 2012.
"I'm really pleased to have been given the
opportunity to ride for Metaltek- Scott this season," Gee said in a
press release. "It's a great opportunity for me, and I'm looking forward
to riding with the team and getting some good results."
________________________________________________
The route of the annual South Carrick David Bell Memorial Race in Ayrshire has been released and includes two sections of unsurfaced road in the 161km (101 mile) course.
The race, which takes place on June 10 2012, will see riders tackle nearly 2,500m of ascent before the race culminates with two laps of a finishing circuit around Girvan and the Assel Valley. Rapha Condor Sharp, Endura, Vanilla Racing and Herbalife Leisure Lakes have confirmed teams with more to follow soon.
The South Carrick David Bell will be the climax of a weekend of sport in Girvan, beginning on Friday June 8 with the passing of the Olympic Torch and including a family ride and opportunity for amateurs to ride the course planned for Saturday.
More information can be found on the event website
________________________________________________
Finchley RT has announced a new 2-up 25-mile time trial to take place on Saturday March 17 on the F14/12 course in Wrestlingworth, Bedfordshire.
Entries cost £15 per team and there will be prizes for first, second and third in the senior event, and for first place in the women's, mixed and vet.s categories.
Run under CTT regulations, cheques should be made payable to 'Finchley Racing Team' and sent along with completed CTT entry forms to Ian Watson, 40 Monks Road, Enfield, Middlesex, EN2 8BH. Tel. 07824 363469, email: ianwatson55@gmail.com.
________________________________________________
The RVO Racing Team launch is set to take place on February 25 to showcase the team line-up, new team kit and new BH bikes.
Starting at 10am at Rother Valley Optics, Kiveton, the day will progress with the team riding out to an outdoor photo shoot and ride into Derbyshire to highlight the new kit and rides.
The team will start racing in earnest at Darley Moor on March 10.
________________________________________________
Selected weekend's racing
Saturday February 18
Croft Women's Season Starter, Croft Motor Racing Circuit, North Yorkshire. Coaching session followed by 40 min handicapped race (E/1/2/3/4). More information here.
Velo 29 Winter Series, round four. Croft Motor Racing Circuit, North Yorkshire. (E/1/2/3/4, £15 advance entry via British Cycling online system, £15 on the day).
East London Velo Winter Series, round six. Hog Hill, Essex (E/1/2/3 and 3/4, £15 entry for E/1/2/3, £10 for 3/4 entry on race day).
Sunday February 19
SERRL Winter Series, round seven. Cyclopark, Kent (E/1/2 and 3/4; entry details here).
Thank you for reading 10 articles this month* Join now for unlimited access
Enjoy your first month for just £1 / $1 / €1
*Read 5 free articles per month without a subscription
Join now for unlimited access
Try first month for just £1 / $1 / €1
Richard Abraham is an award-winning writer, based in New Zealand. He has reported from major sporting events including the Tour de France and Olympic Games, and is also a part-time travel guide who has delivered luxury cycle tours and events across Europe. In 2019 he was awarded Writer of the Year at the PPA Awards.