Herne Hill Velodrome to stage major international event
Legendary venue draws GB and world talents with new UCI event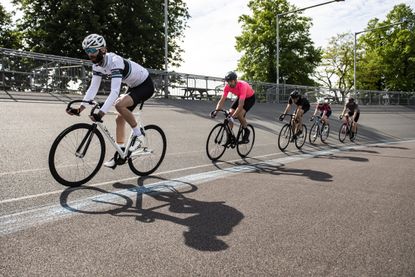 (Image credit: Simon Wilkinson/SWpix)
The storied Herne Hill Velodrome in South London will welcome a brand new two-day track event next month, with an international field set to race.
The South London Grand Prix, which is scheduled for 20-21 July, will be the first UCI-registered event at the velodrome in almost a decade, and marks 75 years since the venue hosted the 1948 Olympic Games.
Iain Cook, the event organiser and former Team GB coach, told Cycling Weekly that the idea came last September. "We've wanted to bring back high-level racing to Herne Hill for a long time," he said. "The week after Fred [Wright] came and rode the track league just off the back of the Tour de France was way better than normal racing is. So we thought, 'Why don't we get some big names here and see what happens?'"
Across the two days, there will be events for elite and junior men and women, including Madison, omnium and keirin races. The organisers are hoping to attract a world-class field.
UCI ranking explained
The new South London GP is registered as a Class 2 event, placing it in the lowest tier on the UCI's international calendar, but still a rank above national level.
For the riders, winning an individual race will yield 100 UCI points - half the 200 on offer in a Class 1 event, and a fraction of the 1,000 they would earn at the World Championships or Olympic Games.
There will need to be at least three nationalities present to fulfil the race criteria, and the organisers will have to provide equipment for electronic timing and photo finishes.
"Riders should be a mix of riders on GB squads, riders from other countries and local amateurs having a go against some of the pros," Cook said. "It's nice to bring the older riders that opportunity to do it at their home track, and the younger ones that inspiration of seeing what top level looks like, a little closer to home."
Already on the sign-up sheet are a number of British talents, including British Cycling senior academy rider Sophie Lewis, the current Omnium national champion. "I'm really looking forward to it," she told Cycling Weekly. "It's somewhere that I've ridden since I was about 10, so I always really enjoy going back there because the atmosphere is really cool.
"It's not often you get such a strong field, especially in the UK," the 20-year-old continued. "I think it will be fun just to gain experience, have fun while doing it, and get some results out of it, too."
On the men's endurance side, four GB riders have said they would like to compete: Rhys Britton, Mark Stewart, and current national champions Will Perrett and Will Tidball. There has also been interest from the Dutch, Danish and Peruvian national federations.
To meet the UCI's race criteria, the South London GP needs to have at least three participating nations. Fortunately, the winner of Herne Hill's track league last season was a Latvian rider, George Nemilostivijs, who will be carrying local hopes at the event.
"The more used to an environment you are, the better," the Brixton resident said. "You attack at different spots, you play it differently, because Herne Hill is a very large velodrome, it's 450m, and it's quite wide as well."
From 1903, the track hosted the annual Good Friday Meeting, which ran for over a century, attracting world champions and thousands of fans. The last UCI-registered event to be held in Herne Hill, however, was a kierin contest, staged in 2015.
The new two-day GP will be funded by the velodrome's management, which hopes to recoup costs through ticket sales. "It's slightly uncharted territory for us," said event organiser Cook. "We're expecting it to make a loss in the first year, with the aim of then growing the event, growing exposure and getting sponsors on board."
Tickets for the South London GP are on sale now at eventbrite.co.uk and range from £5 to £10 per day. The organisers are currently running an early-bird discount, offering £2 off with the code BREAKAWAY until the end of June.
Rider entries are open until 7 July.
Thank you for reading 20 articles this month* Join now for unlimited access
Enjoy your first month for just £1 / $1 / €1
*Read 5 free articles per month without a subscription
Join now for unlimited access
Try first month for just £1 / $1 / €1