High-end bikes still in demand says Giant, as it announces 12.5% revenue increase
But like much of the industry the Taiwanese manufacturer is also experiencing a surplus of low to mid priced stock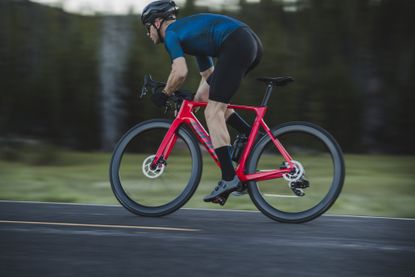 (Image credit: Giant)
The demand for high-end bikes remains strong according to manufacturer Giant, which has announced a 12.5% jump in revenue for 2022.
However, it also has excess inventory for low to mid-priced components – an area it says has cooled off considerably – while high-end components are still harder to come by, according to a report in Bicycle Retailer.
"At present, the balance of the supply and demand of the bicycle market has yet to be normalized. The demand for low- to mid-end products has cooled down, but the demands for high-end and ebikes remain strong," Giant said.
The demand for cheaper to mid range bikes rocketed during the covid lockdowns, with people taking up new pastimes and taking advantage of the quiet roads. Bikes at these price points became virtually impossible to source, both for consumers and retailers. As the industry scrambled to address the sudden demand, it began to tail off as the pandemic eased, and manufacturers and retailers have been left in many cases with the surplus of stock that Giant describes.
It has employed what it calls a "corrective mechanism" to reduce amounts of surplus stock but it has yet to make significant inroads on it. Short-term financial performance would affected by the surplus and the economic outlook, Giant said, adding: "However, in the mid to long term, e-bike demand remains solid and cycling is still popular, which will continue to support the demand for high-end bicycles."
The industry situation led to observers predicting that 2023 could be the year of the bargain bike, with reduced prices even on current models. Manufacturer Specialized even worked a frank admission of the situation into its branding with its 'We made too many' sale, which saw huge price cuts across a wide range of bikes.
"Because you [already] bought quite a lot of stock, you're going to find that there's going to be a lot of discounting probably coming later on, sort of maybe March, April, May time," Henry Silvester of Silvester Brothers Cycles told us.
Despite Giant's significant revenue rise, global financial issues played their part and its net income remained flat compared to 2021, reports BR, due to increased cost of material and labour, while post-tax it was actually down 1.5%.
Thank you for reading 20 articles this month* Join now for unlimited access
Enjoy your first month for just £1 / $1 / €1
*Read 5 free articles per month without a subscription
Join now for unlimited access
Try first month for just £1 / $1 / €1