'If you go too fast, you miss all the fun' - 30,000 cyclists to traverse Iowa for RAGBRAI's 50th Anniversary
The world's oldest and largest multi-day bicycle touring event gears up for its semicentennial trip across Iowa.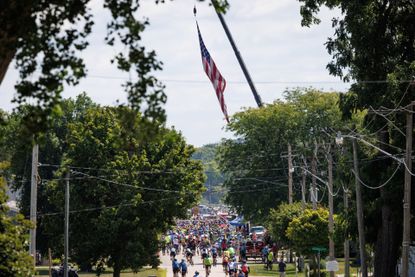 (Image credit: RAGBRAI)
Get The Leadout Newsletter
The latest race content, interviews, features, reviews and expert buying guides, direct to your inbox!
Thank you for signing up to The Pick. You will receive a verification email shortly.
There was a problem. Please refresh the page and try again.
As the pinnacle of elite cycling, the Tour de France, enters its final days, a pleasant antithesis kicks off across the world, in the Midwest cycling community: Register's Annual Great Bicycle Ride Across Iowa, or RAGBRAI for short.
Taking place between July 22 through July 29, RAGBRAI is the oldest and largest multi-day bicycle touring event in the world and got its start from humble beginnings. In 1973, two writers at the Des Moines Register newspaper had the idea to ride bikes across Iowa and write profiles on the people they met during their travels.
The newspaper's public relations manager joined in and the trio opened up their adventure to the public. In all, 114 people completed the weeklong ride across the Hawkeye State.
The riders who made it across Iowa and the people profiled by the journalists along the way so loved the experience that they asked the Des Moines Register to make the ride an annual tradition. Fifty years later, RAGBRAI has only grown in popularity; over 30,000 people are expected to complete the full ride across Iowa this year, with thousands more who will join for just a day or two.
"RAGBRAI is special because you can be someone who dusts off their rusty old bike once a year, doesn't own cycling spandex, and can still have an incredible time with other riders," says RAGBRAI Event Director Matt Phippen. "RAGBRAI is for everyone, whether you're in the best shape of your life or haven't ridden a bike in months. It's not a race; it's a community."
Phippen is a lifelong Iowan and has ridden at least one day of RAGBRAI since 1998. He was appointed event director in 2022 and takes the job of making RAGBRAI's 50th anniversary its best yet — seriously.
"There's a lot that I'm looking forward to sharing with our riders this year especially," Phippen says. "For the first time ever, Highways 30 and 69 will be entirely closed to cars and we have some awesome bands like Bush coming to play in the evenings. We've also seen a lot of older riders register for this year's RAGBRAI; maybe they rode with us when they were younger but haven't in a bit, and now they're coming out in full force for the 50th anniversary."
RAGBRAI's route changes every year to give riders a chance to visit a variety of towns across Iowa. This year, the route starts in western Iowa in Sioux City and makes its way to the east:
Sioux City → Storm Lake → Carrol → Ames → Des Moines → Tama Toledo → Coralville → Davenport
The daily route mileage ranges from 50 to 88 miles and each day involves about 2,000 feet of climbing. But this being a ride, not a race, the point isn't to be first to the next town — it's to be last. Just ask YouTuber and six-time RAGBRAI rider Ryan Van Duzer of Boulder, Colorado.
"You can ride at whatever speed you want, but if you go too fast, you miss all the fun," Van Duzer says. "In my opinion, the best parts of RAGBRAI are when you hang around the towns all day and take your time getting to know the locals or slow down your pace and have conversations with people you've never met before."
Van Duzer shares that the towns RAGBRAI cruises through stop at nothing to show off their Iowa pride.
"Each town is a huge party; they love having RAGBRAI riders come through each year. The whole event is like a county fair on bikes," Van Duzer shares. "It's a really beautiful celebration of community. Some towns host massive pancake breakfasts while others set up tons of Slip 'N Slides. Other people will literally open their homes and invite people in to swim in their backyard ponds."
As riders trickle into the designated town for the day, folks are responsible for setting up their own camp. Some choose to carry all their equipment via bike while others will use the sag service provided by RAGBRAI, which drives your camping equipment to the next town. It's a cozy night's sleep next to thousands of your new best friends.
Phippen notes that RAGBRAI is Iowa's largest tourism event, drawing people from all 50 states and 20 countries. The ride is known to attract notable people in the cycling community who can't resist knowing what all the hubbub is about riding through cornfields in the Midwest.
One such person is Arkansas-based cycling advocate Marley Blonsky, who founded All Bodies on Bikes, an organization whose work centers on fostering a size-inclusive bike community. This year will be her first time attending RAGBRAI.
"RAGBRAI starts this week and I'm a mess of excitement, nervousness, and anticipation to get out on the road," Blonsky says. "From everything I've read and seen, RAGBRAI looks like a true embodiment of All Bodies on Bikes; I can't wait to get out there and ride and play and experience this amazing rolling circus!"
While the 50th anniversary edition of RAGBRAI is just getting started, Phippen is already planning for the future.
"We are already starting to plan the 51st and 52nd RAGBRAI rides - we've been thinking about those since last year," Phippen says. "The Department of Transportation would ideally like me to send the next five years of RAGBRAI routes, but that's not possible, so we do our best to plan the routes a couple years in advance."
Although Phippen will not get a chance to ride with the masses by bike due to his duties as event director, his excitement is still skyrocketing at full throttle.
"I'm super excited to celebrate all that RAGBRAI is with everyone this year, and it's even better that it's the 50th anniversary," Phippen says. "The worst day at RAGBRAI is better than even the best day at the office."
When riders wrap up this magical peloton as they arrive in Davenport, Iowa on July 29, they'll be tired, sunburnt, and have sore faces from smiling and laughing all week long. As they drive, fly or even bike home to their daily lives, the clock will begin ticking down to RAGBRAI 2024, Iowa's county fair on two wheels.
Thank you for reading 20 articles this month* Join now for unlimited access
Enjoy your first month for just £1 / $1 / €1
*Read 5 free articles per month without a subscription
Join now for unlimited access
Try first month for just £1 / $1 / €1
Get The Leadout Newsletter
The latest race content, interviews, features, reviews and expert buying guides, direct to your inbox!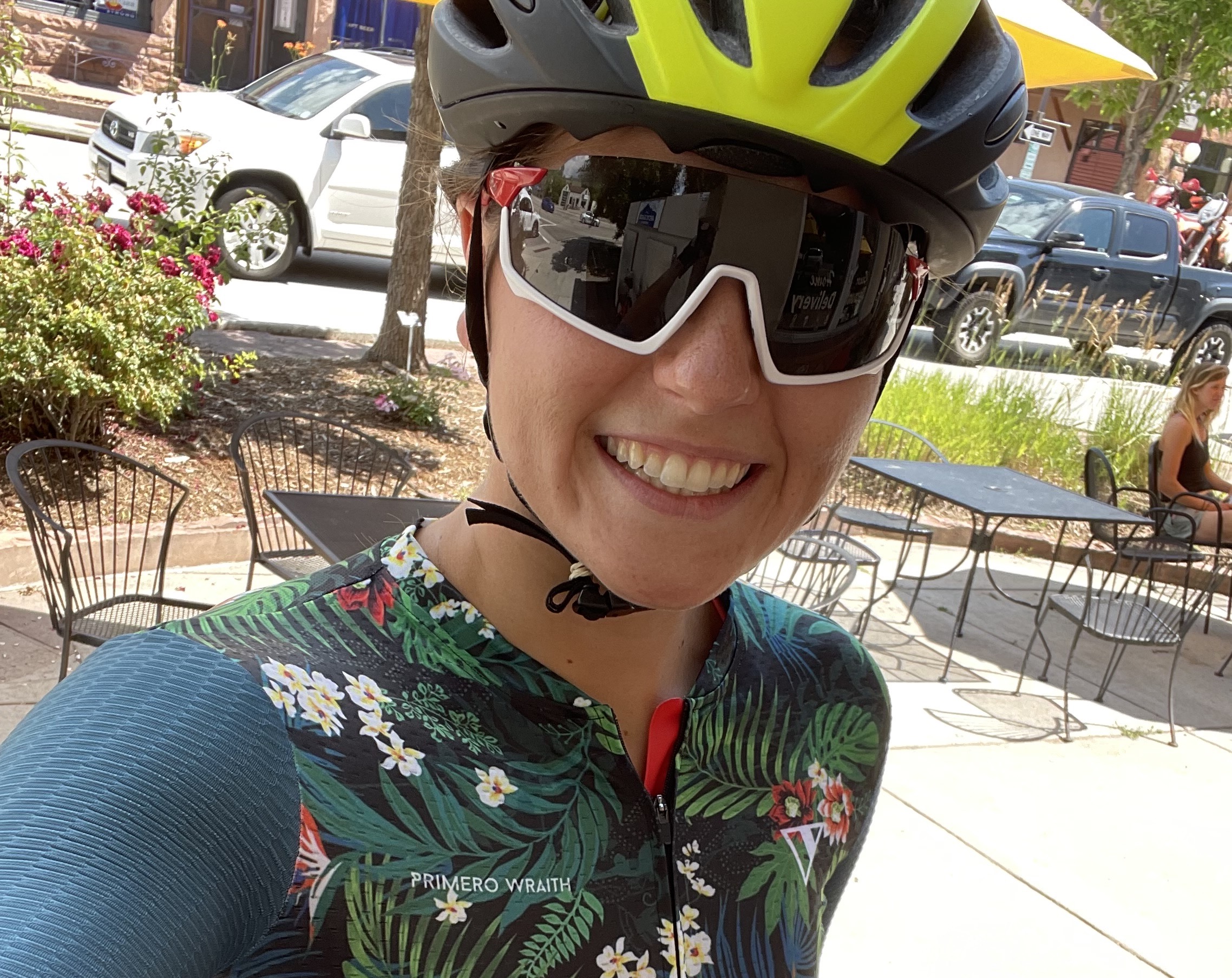 Kristin Jenny is an elite triathlete based near Boulder, Colorado. Although most of her time is spent in aerobars somewhere in the mountains, she finds time to enjoy eating decadent desserts, hiking with her husband and dog, and a good true crime podcast.