International track results: 2010-2011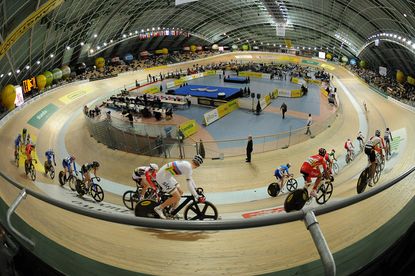 Get The Leadout Newsletter
The latest race content, interviews, features, reviews and expert buying guides, direct to your inbox!
Thank you for signing up to The Pick. You will receive a verification email shortly.
There was a problem. Please refresh the page and try again.
All the winners from the 2010-2011 season, starting with the European Championships and including all the World Cups and the World Championships.


WORLD CHAMPIONSHIPS, APELDOORN, NETHERLANDS
March 23-27
MEN
Team pursuit Australia (Bobridge, Dennis, Durbridge, Hepburn) 3-57.832
1km time trial Stefan Nimke (Germany) 1-00.793
Omnium Michael Freiburg (Australia)
Individual pursuit Jack Bobridge (Australia) 4-21.141
Sprint Gregory Bauge (France)
Keirin Shane Perkins (Asutralia)
Team sprint France (D'Almeida, Bauge, Sireau) 43.867
Scratch race Ho Ting Kwok (Hong Kong)
Points race Avila Edwin (Colombia)
Madison Australia (Howard, Meyer)
WOMEN
Team pursuit Great Britain (Houvenaghel, Trott, King) 3-23.491
500m time trial Olga Panarina (Belarus) 33.896
Omnium Tara Whitten (Canada)
Individual pursuit Sarah Hammer (USA) 3-32.933
Sprint Anna Meares (Australia)
Keirin Anna Meares (Australia)
Team sprint Australia (McCulloch, Meares) 33.237
Scratch race Marianne Vos (Netherlands)
Points race Tatsiana Sharakova (Belarus)
WORLD CUP IV, MANCHESTER
February 18-20
MEN

Team pursuit Great Britain (Burke, Clancy, Thomas, Wiggins)

Omnium Shane Archbold (New Zealand)
Individual pursuit Rohan Dennis (Australia)
Sprint Kevin Sireau (France)
Keirin Chris Hoy (Sky)
Team sprint France (Bauge, Sireau, D'Almeida)
WOMEN

Team pursuit Great Britain (Houvenaghel, Rowsell, Storey)
Sprint Anna Meares (Australia)
Keirin Shuang Guo (China)
Team sprint Australia (McCulloch, Meares)

Scratch race Anastasiya Chulkova (Russia)

Omnium Sarah Hammer (Ouch)
WORLD CUP III, BEIJING
January 21-23
MEN
Team pursuit Russia (Khatuntsev, Kovalev, Markov, Serov) caught Spain

Omnium Sam Harrison (Great Britain)

Points race Artur Ershov (Lokomotiv - Russia)

Sprint Kevin Sireau (France)
Keirin Simon Van Velthooven (New Zealand)

Team sprint France (D'Almeida, Pervis, Sireau) 44.150
Kilometre time trial Francois Pervis (France)
WOMEN

Team pursuit New Zealand (Boyd, Buchanan, Nielsen) 3-25.062

Omnium Tara Whitten (Canada)

Sprint Lyubov Shulika (Ukraine)
Keirin Clara Sanchez (France)

Team sprint China (Junhong, Gong) 33.295


WORLD CUP II, CALI

December 16-18



MEN

Team pursuit New Zealand (Bewley, Gough, Ryan, Sergent) 4-03.5

Omnium Ed Clancy (Great Britain)

Scratch race Morgan Kneisky (France)

Sprint Kevin Sireau (France)
Keirin Azizulhasni Awang (Malaysia)

Team sprint France (Bauge, Sireau, D'Almeida) 43.539
WOMEN

Team pursuit New Zealand (Buchanan, Ellis, Shanks) 3-22.202

Omnium Sarah Hammer (USA)

Individual pursuit Alison Shanks (New Zealand)

Sprint Kristina Vogel (Germany)

Keirin Victoria Pendleton (Great Britain)

Team sprint Great Britain (Varnish & Pendleton)


WORLD CUP I, MELBOURNE
December 2-4
MEN
Team pursuit Australia (Bobridge, Hepburn, Howard, C Meyer) 3-56.913

Madison Cameron Meyer & Leigh Howard (Australia)

Omnium Shane Archbold (New Zealand)

Sprint Shane Perkins (Australia)

Keirin Chris Hoy (Great Britain)

Team sprint Great Britain (Kenny, Crampton, Hoy) 43.829



WOMEN

Team pursuit Australia (Bates, Kent, Tomic) 3-22.171

Omnium Leire Olaberria (Spain)

Sprint Anna Meares (Australia)

Keirin Anna Meares (Australia)

Team sprint China (Gong, Guo)

500m Anna Meares (Australia)
EUROPEAN CHAMPIONSHIPS
Pruszkow, Poland, November 5-7
MEN
Team pursuit Great Britain (Burke, Clancy, Queally, Tennant) 4-00.482
Team sprint Germany (Forstemann, Levy, Nimke)
Sprint Denis Dmitriev (Russia)
Keirin Jason Kenny (Great Britain)
Madison Martin Blaha & Jiri Hochmann (Czech Republic)
Omnium Roger Kluge (Germany)
Individual event winners
Ed Clancy (250m flying lap), Ioannis Tamouridis (points race), Roger
Kluge (elimination), Tim Veldt (4km pursuit), Gijs Van Hoecke (scratch
race), Ed Clancy (kilometre)
WOMEN
Team pursuit Great Britain (Colclough, Houvenaghel, L Trott) 3-23.435
Team sprint France (Clair, Henriette)
Sprint Sandy Clair (France)
Keirin Olga Panarina (Belarus)
Omnium Leire Olaberria (Spain)
Individual event winners
Gosia Wojtyra (250m flying lap), Madeleine Sandig (points race),
Jarmila Machacova (elimination), Vilija Sereikaite (3km pursuit),
Tatsiana Sharakova (scratch race), Gosja Wojtyra (500m)
2010-2011 TRACK SEASON

December 2-4 Melbourne World Cup I, Australia
December 16-18 Cali World Cup II, Colombia
January 21-23 Beijing World Cup III, China
February 18-20 Manchester World Cup IV, Great Britain
March 23-27 World Championships, Apeldoorn, Netherlands
PAST SEASONS
2009-2010 season
2008-2009 season
2007-2008 season
Thank you for reading 20 articles this month* Join now for unlimited access
Enjoy your first month for just £1 / $1 / €1
*Read 5 free articles per month without a subscription
Join now for unlimited access
Try first month for just £1 / $1 / €1