Kolobnev avoids suspension for Tour de France doping positive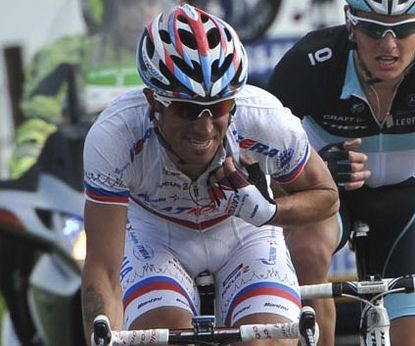 Alexandr Kolobnev has avoided a suspension for a positive dope test at this year's Tour de France. The Russian cycling federation (FVSR) warned the Katusha rider and issued him a fine of £1,063 (1500CHF), according a Reuters report on Tuesday evening.
"It's too early to say at this point," team Katusha press officer, Andrea Agostini told Cycling Weekly. "We still need to wait to see what the UCI will say."
Kolobnev joined Russian team Katusha after three years with CSC/Saxo Bank. His two-year contract ends this year and will unlikely be renewed. Hans-Michael Holczer will take over as Katusha general manager for next season, and Andrei Tchmil will leave as team president.
"Tchmil probably has [heard from Kolobnev]," added Agostini, "but at this moment, the team's changing managers and some things have been given a lower priority."
Kolobnev tested positive for diuretic hydrochlorothiazide after Tour de France stage six on July 7. He left the race following the ninth sage, once the results were official.
FVSR commission chief, Alexander Gusyatnikov explained the decision to Reuters.
"We found him guilty," said Gusyatnikov, "but also took into account extenuating circumstances."
The FVSR is planning to send the case documentation to the Union Cycliste Internationale (UCI) and afterwards Gusyatnikov said it will "give a detailed explanation."
"We still haven't seen anything from Russia," UCI representative, Enrico Carpani told Cycling Weekly. "We are still waiting."
Once the UCI receives the documents, it will have one month to decide to accept Russia's decision or appeal to the Court of Arbitration for Sport (CAS).
"The UCI will evaluate the case, also as it did for [Belgian Iljo] Keisse. It seems difficult to imagine that two riders would be treated differently for the same substance," Carpani continued.
"It's too early to say because we don't have the documents in hand. Once we have them, we can decide to appeal."
Keisse tested positive for hydrochlorothiazide in 2008, but argued it was a result of a contaminated dietary supplement and was acquitted by his national federation. The CAS ruled in favour of an appeal by the World Anti-Doping Agency (WADA) and suspended Keisse.
"You've seen in the past with [Alessandro] Petacchi," added Agostoni, "the Italian federation didn't suspend him, but then WADA gave him one year."
Kolobnev maintains his innocence and argues he unintentionally ingested the substance. Depending on the UCI or WADA, Kolobnev will only know the final ruling early next year.
Related links
Kolobnev's Tour de France positive confirmed
Kolobnev tests positive at Tour de France
Thank you for reading 20 articles this month* Join now for unlimited access
Enjoy your first month for just £1 / $1 / €1
*Read 5 free articles per month without a subscription
Join now for unlimited access
Try first month for just £1 / $1 / €1