£10k worth of bikes stolen from Pearson Cycles by scooter gang
Two rare road bikes are stolen by scooter gang in a 'violent' smash and grab at Pearson Cycles store in Sheen in early hours of Saturday morning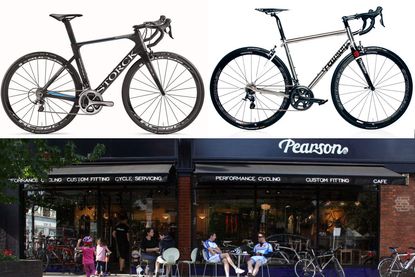 Two bikes worth a total of £10,000 were stolen from Pearson Cycles in Sheen, London, in the early hours of Saturday morning by an organised gang who used scooters to extreme force to break through security measures.
The incident took place at around 3.30am on Saturday morning at the premises on Upper Richmond Road. A gang appeared on scooters and then proceeded to break through glass and shutters with such force that the CCTV footage of the incident was likened to footage from an earthquake by owner William Pearson.
"The damage was extraordinary," Pearson told Cycling Weekly. "We have above five cameras fitted in the shop and everything was moving, it showed the real violence of a burglary."
It took just five minutes for the thieves to enter the premises after smashing their way in, as they removed two bikes: a Storck Aerfast Pro with Shimano Ultegra in 52cm and a Pearson titanium Just Killing Time with Shimano Di2 in 54cm. Both bikes are rare models.
The thieves attempted to remove a third bike, a Trek Domane SLR eTap, but were apparently foiled by the toestraps keeping the bike fastened to a rack on the wall. They also removed several bike locks on their way out.
Pearson said that the shop was back open again for Sunday, although they lost valuable trading hours during what is usually a very busy period right before Christmas. The family-run business has been trading for over 150 years, and 'has seen worse' in its history.
>>> Police warn cyclists to check cycling app privacy settings after bike theft gang jailed
"The main thing is the damage and upset just to get back to normality is such a lot of work, we managed to get back up and trading by Sunday lunchtime. You've just got to get cracking. We've got through worse - two world wars," said Pearson.
There was little to identify the thieves, who wore motorcycle helmets and gloves.
New high-security glass and deadlocked shutters have been installed in the shop, which is trading as usual.
Anyone with information about the whereabouts of the bikes or with any information relating to the incident can can the shop on 0208 642 2095. Alternatively, any information relating to a crime can be reported anonymously via Crimestoppers by telephoning 0800 555 111.
Thank you for reading 5 articles this month* Join now for unlimited access
Enjoy your first month for just £1 / $1 / €1
*Read 5 free articles per month without a subscription
Join now for unlimited access
Try first month for just £1 / $1 / €1