Police warn cyclists to check cycling app privacy settings after bike theft gang jailed
Highly-organised gang in North East Lincolnshire who targetted homes and stole high-value bicycles and other goods worth over £35,000 have been jailed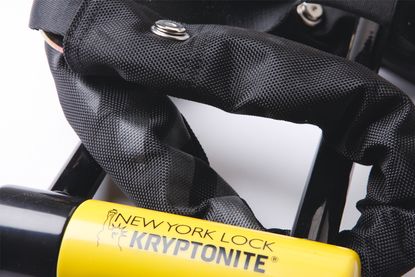 Humberside Police is advising cyclists to check the privacy settings on any cycling apps that they use after a gang of thieves targetted homes and stole high-value bicycles and goods worth in excess of £35,000.
The gang were collectively jailed for 14 years after they were caught by police, reports the Grimsby Telegraph. The thieves were also involved in the sale of drugs.
The gang used high-tech methods to target homes and then communicate with each other via mobile phones. It was this exchanged data that was their downfall, as police compared the burgled sites with information on the thieves' phones.
"I have no doubt that the offenders would have undoubtedly continued offending if they hadn't been identified and brought to justice," detective sergeant Ian Potter told the Grimbsy Telegraph. "I hope this sentence will send a message that the police and courts take seriously these type of offences."
>>> Bike thief reveals tricks of the trade in this shockingly candid interview
Humberside Police have issued a list of ways in which people should secure and look after their cycles, including checking their cycling app settings, saying:
"Think twice about posting 'track my ride' app results or pictures of your bike on social media sites, especially if your home address can also be viewed. Most 'track my ride' apps have settings which stop within a given distance of your home address. Check your security settings and set at least a 1000m exclusion zone around your house."
Humberside Police has also issued a PDF leaflet on how to protect your bike from thieves, which is applicable to any area of the UK.
One of the most popular online services for uploading rides in Strava, and it is very easy to set up an 'exclusion zone' around where you live and determine who can view your data so that no-one can pinpoint your residence. Strava has an easy-to-follow online guide on how to change your privacy settings.
Thank you for reading 20 articles this month* Join now for unlimited access
Enjoy your first month for just £1 / $1 / €1
*Read 5 free articles per month without a subscription
Join now for unlimited access
Try first month for just £1 / $1 / €1