Jeremy Powers' tools: Kit for cyclo-cross
US Cyclo-cross Champ Jeremy Powers' top 10 bits of equipment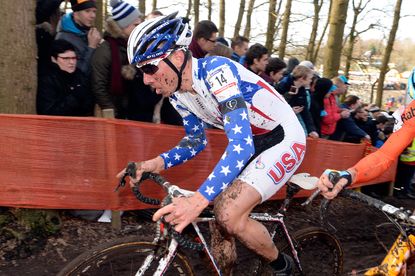 (Image credit: Graham Watson)
Get The Leadout Newsletter
The latest race content, interviews, features, reviews and expert buying guides, direct to your inbox!
Thank you for signing up to The Pick. You will receive a verification email shortly.
There was a problem. Please refresh the page and try again.
As a cyclo-cross rider sponsored by Rapha, Jeremy Powers basically has a job description that entails wantonly wrecking some of the most exquisite cycle kit on the market*.
Alongside Sven Nys, Ian Field, Julian Winn **, Zak Toogood and the cyclo-cross rider formerly known as Gabby Day ***, he is also another talented off-road racer with a particularly good name for making headlines ****.
With these two shallow observations in mind, we sat down with the recently crowned US cyclo-cross champion to ask him about the most cherished bits of racing kit. Sportingly, he obliged.
1. Portable washing machine
"Usually in the States there's a lot of mud, so we take a portable washing machine to do our laundry on the spot. It's called an EcoEgg - it's for purists really. You just put a gallon of water in it and shake it."
2. Tubular tyres
"You don't want clinchers; you've got to have your Dugasts. They are so much more supple. Everything about them is superior: the durometer of the rubber, how soft it is, how low you can run the pressure. You cannot ride the same way on a bike with clinchers."
3. Tyre pressure guns
"Your tyres act as your suspension and you need to nail it just right for each track. You could use the gauge on the track pump, but these 'guns' are faster, digital, more accurate and consistent. Once you use one gun, use it all year. Don't use anyone else's – the calibrations may be different. I use a Craftsman but Bosch make them too."
4. Peanut butter
"If you're from the States, you never come to Europe without American peanut butter. And you never go to a race in the States without peanut butter. Basically: never leave home without peanut butter. That's like a rule of US cyclo-cross. It's a lot of calories and sometimes it's just nice to have some fat before a race. What's wrong with European peanut butter? It's total crap, that's what! I've got three jars of peanut butter with me right now."
5. Electrical chargers
"Other essentials to bring to Europe are all the different chargers and adaptors for electrical items. Then you also get an extra sim card so you don't pay crazy money on your phone."
6. The complete kit bag
"In a cross race you can have anything from 25ºf and rain to snow to 45º and sunshine. We flew into a race in Bend, Oregon recently. It was supposed to be 25º and sunny but instead it was negative five with a wind chill of like negative 30º. It's basically a roll of the dice, so you figure out what to wear when you get there, not when you're packing. I just have a whole bag dedicated to race kit. It's got two sets of each type of glove, two long sleeve skinsuits, one thermal skinsuit, one short sleeve skinsuit, four sets of bibs, long underwear, raingear, jackets, under-hats, helmet, glasses, solution for the lenses and so on. The stuff gets cleaned but then goes straight back in the bag. That's where the kit lives for the year and the bag goes everywhere."
7. Spare bikes
"I have four bikes to take to each event. You need that many, especially if you're using hydraulic stuff. If something goes wrong, there just isn't time to bleed a lever or whatever. For European racing, I leave two bikes in Belgium at the beginning of the year. Coming back and forth, me and my mechanic fly with another bike each. Occasionally we'll try and get two in one bike bag."
8. The sprinter van
"In the States, we have a [Mercedes] Sprinter with a trailer. The sprinter has all the bikes. The trailer has all the wheels - you need 25 sets of wheels for three riders. The tents and food go in the sprinter. We usually then rent a minivan for transporting riders to or from the airport, but the sprinter is like our mobile base."
9. Mechanic
Can I call my mechanic a bit of equipment? He's essential, at least. I've had a few mechanics, but since I've been with Rapha-Focus I've had Tom Hopper. He's 35, used to work for the Garmin team and has worked on bikes his whole life. He's very Type A, which you want from a mechanic. Travelling with him, however, can be another matter!"
10. DJ turntables
"I like to DJ and, just so I can zone out, I often travel with turntables - a VCI 300 unit. Last year in [the] Czech [Republic] we actually brought over a pair of M-Audio speakers and we rocked so hard they blew and we almost got kicked out of the hotel. Sometimes you're going to get bored. I don't want to sit in a cafe all day, I can only look at my computer for so long and I can't see anything on TV that makes any sense to me. I use the unit with my computer and the whole thing is pretty light. Last year when we were going to Koksijde we were all a bit bored so I plugged my computer and turntables into the car audio and rocked out. By the time we arrived, everyone's mood had changed.
See the February 13 issue of Cycling Weekly for Jeremy Powers' Famous Last Words interview.
* We're not sure either party sees it that way
** Yes, 2002 British Road Race Champion Julian Winn was a mountain biker before turning to tarmac. He was also Welsh cross champion three times.
*** Now goes by the surname of husband, fellow crosser, Jeremy Durrin
**** Feel free to send us more nominations
Thank you for reading 20 articles this month* Join now for unlimited access
Enjoy your first month for just £1 / $1 / €1
*Read 5 free articles per month without a subscription
Join now for unlimited access
Try first month for just £1 / $1 / €1
Get The Leadout Newsletter
The latest race content, interviews, features, reviews and expert buying guides, direct to your inbox!