15 examples of really bad cycling advice
Most cycling advice is good, but some of it is wrong, dangerous or just plain laughable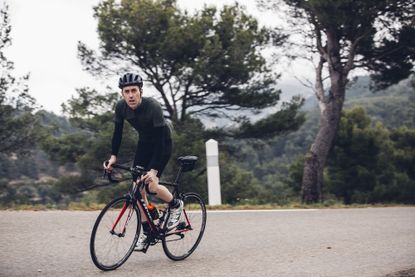 Fellow cyclists are always keen on imparting advice to other riders. The majority of it is rock-solid biking wisdom passed on from rider to rider, from generation to generation.
But for all of the great advice that can improve your riding, there is some advice that is just plain dodgy.
The small chainring is for wimps
This is one you may hear from older riders who think that grinding out a high gear up every climb is the best way forward. In reality, not using your full range of gears is ruining the efficiency of one of the most efficient modes of transport. Use your gears to keep a smooth cadence, be comfortable and not completely exhaust yourself just because someone says you'll looking tough.
You need to shave your legs
This is one debate that goes around and around, year after year. Trouble is, there's no really significant reason for shaving your legs other than some people think that it looks 'pro'. No one - male or female - needs to shave their legs, the choice is yours. Just don't think that it will improve your cycling.
>>> 'Why do cyclists shave their legs?' – you asked Google and we've got the answer
It's not the bike, it's the rider
Of course, there is some truth in this. But there's also some untruth in it too. Cycling is a combination of fitness, technique and equipment. Even the fittest person may struggle to make much headway on a truly useless bike. For example, you could beat Chris Froome up Mont Ventoux if he was on a £99 steel BMX and you were on a top-spec Team Ineos Pinarello Dogma. Probably.
There's no such thing as bad weather, just bad clothing
The old winter mantra. It is true that well-made, fit-for-purpose winter cycle clothing can keep you warm and dry on a cold, wet winter's day. But donning a nice jacket will not magically stop hailstones stinging your face, a hurricane-force wind from blowing you into a hedge or your tyres from slipping on ice. There really is such a thing as bad weather, no matter what you wear.
Eating is cheating
Some riders suggest that eating during rides when you are hungry is in some way 'cheating'. In the same way that filling a car up with petrol to make it go along is in some way cheating. Next!
>>> Top three nutrition mistakes amateurs make (video)
Slam your stem
This one concerns adjusting your stem to its lowest possible position so that your chin is rubbing against your front tyre. 'It's more aero' they will tell you, as you hobble away from your ill-fitting bike with a painful spasm in your neck.
>>> Should you slam your stem: yes or no?
Don't wear gloves
Another myth perpetuated by riders who think you have to be tough or hard to be a 'real' cyclist. It is perhaps influenced by the sight of professional riders tackling the Classics with bare digits – think Tom Boonen in Paris-Roubaix. Gloves are good for keeping your hands warm, wiping away sweat, preventing blisters and protecting hands from scrapes should you fall off. If not wearing gloves suits you - then that's great too. Just don't get bullied into it one way or the other.
Never turn your bike upside down to take the wheel out
Turning your bike upside down, so that it is resting on the saddle and bars, to remove the wheels is the ultimate sign of being a cycling beginner. Or so they say. Some people find this method more convenient when removing wheels for maintenance or to repair a puncture, and others don't like the scuffs that they get on their saddle or bars/hoods using this method. Up to you.
>>> How to fix a puncture and mend an inner tube
Spin to win
It rhymes, so it must be true! Spinning at a very high cadence is not suitable for all occasions. If you ever hear this one coming from someone who has previously told you that 'small rings are for wimps', then slowly move away from them and find a safe place.
Stand on your pedals for the climbs
There's an almost equal division between those that say you should climb out of the saddle, and those that say you should stay seated. In fact, it depends on you, how you feel and the climb. There's nothing wrong with employing a mixture of the two to maintain speed and traction.
>>> 10 ways to improve your climbing
Carb load the night before a race
Gorging yourself stupid on wheat-based carbohydrates the night before an event used to be a common practice, but turned out not to be a great idea. Current research suggests that a more measured approach to pre-event nutrition starting a few days before is more efficient. That, and ensuring you keep on top of your nutrition during a ride rather than relying on last night's stodgy dinner.
Let your tyres down to increase resistance for training rides
Significantly lowering the pressure in your bike's tyres does indeed increase rolling resistance. It also increases the likelihood of punctures, and damage to your tyres and rims. So quite a silly idea.
Buy a bigger bike, you'll grow into it
This is often advice imparted from a parent who does not wish to keep buying bikes your their children. So poor old Amelia and Thomas are literally saddled with a heavy 29-inch-wheeled mountain bike that a six-foot adult would struggle to swing a leg over. This will almost undoubtedly put them off cycling for life.
Never have sex before a race
We're just going to leave that one there.
One bike can do everything
This will be controversial, because you could use one bike for everything – racing, training, sportives, on-road, off-road, turbo-training, riding to the shops, etc. However, it's just so much better to have several bikes for each occasion. Search deep inside your soul and you know this to be true.
>>> 31 things you always wanted to know about cycling, but were afraid to ask
We asked Cycling Weekly readers to nominate the worst piece of cycling advice they have been given. Here are a selection of their answers.
I think the worst ever advice I have been given was just after being clipped by a car at a set of traffic lights. "Are you trying to get yourself killed?" the delightful lady behind the wheel growled at me. "Wear something you can be seen in", she advised me, without hint of irony, completely failing to notice my orange dayglo Euskaltel jersey specifically chosen as a winter jersey for it's bright-orangeness.
Thomas Willingham
Change up gears when standing up going up a hill! What's all that about, as I am normally in the bottom ring panting out of my backside and want to stand up for a rest, not to go harder!
Steve Pigott
The training plan, given to me the year I packed up racing by the club coach. I think everyone got the same plan. Juniors, seniors, elites, and 50+ vets like me. Finished me off for sure. The turbo sessions also left me unable to listen to dance music.
Bill Caveny
Keep your cadence at 100 to 120. Lucky if I can maintain 50rpm for more than 10 minutes at a time. Fact is, I am old and very, very slow.
Barry Brookes
"Down-tube shifters are okay for a starter bike". The down tube shifters are the biggest reason I ended up upgrading. It's impossible to let go of the handlebars while struggling up a hill to shift down when you're an unsteady newbie.
Tonya Newbrey Ohrel
"Once you get going, your hands should warm up."
Ben Wood
I once went into a bike shop after breaking the replaceable hanger on my derailleur. I was told it was something you don't usually get on bikes anymore and aren't available. She then asked if I knew anyone in the steelworks who could make one for me! I slowly backed away and went to a proper bike shop.
Jason Jones
I was advised to 'set my sights on something more achievable' when I asked a work college for tips on how to train for a century ride. Advice duly ignored, and completed my first century in September.
Zoey Dewar
Get the miles in. We did this as young racers. Come race days we went out the back of bunch, not enough speed rides, wrong advice! Towing the people round on club runs who were suppose to coach us.
Paul Canham
A friend said when I started cycling it would be hard but keep going and it will get easier. I've been pedalling a lot of years now, waiting for the easy bit to come along.
Michael Shipley
"Once you have a bike, it won't cost much". How much is club kit as well as summer gear, then winter, then another bike?
Paul Barnes
"You should do Lands End to John O'Groats on your penny farthing."
Dave Preece
"Ride a hill climb."
Matt Clinton
This article was originally published in November 2017
Thank you for reading 10 articles this month* Join now for unlimited access
Enjoy your first month for just £1 / $1 / €1
*Read 5 free articles per month without a subscription
Join now for unlimited access
Try first month for just £1 / $1 / €1
Nigel Wynn worked as associate editor on CyclingWeekly.com, he worked almost single-handedly on the Cycling Weekly website in its early days. His passion for cycling, his writing and his creativity, as well as his hard work and dedication, were the original driving force behind the website's success. Without him, CyclingWeekly.com would certainly not exist on the size and scale that it enjoys today. Nigel sadly passed away, following a brave battle with a cancer-related illness, in 2018. He was a highly valued colleague, and more importantly, n exceptional person to work with - his presence is sorely missed.