'A wheel ain't gonna cut it': Riders borrowing fans' bikes and other stories from the Tour Down Under through the years
We look at back at some of the most-read Tour Down Under stories through the years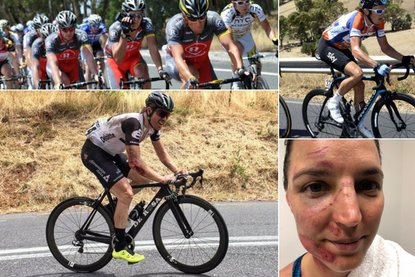 From humble beginnings, the Tour Down Under has grown and grown over the years, now being a fiercely contested race that produces some great stories.
We've cast our eye back through the archives to remember some of the best and most popular stories from the last few years.
Tyler Farrar finishes on a fan's bike
One of the most bizarre stories from the Tour Down Under or any bike race full stop came in 2016 when Tyler Farrar borrowed a fan's shoes and $6,000 bike to complete a stage.
Crashing with no team car or neutral service around him, the American rider was forced to call on the services of roadside fan Anthony Tooman, who gave the pro rider his bike and shoes before jumping in the broom wagon for a ride to the stage finish to pick up his kit, being rewarded with a set of team kit by the Dimension Data team.
Froome vs Cookson
Usually choosing to start his season later than most, it's rare that Chris Froome is in the news in January (this year being a notable exception), but the Team Sky rider was also in the headlines in 2016 after then UCI president Brian Cookson described Froome's decision not to ride the Tour Down Under despite travelling to Australia shortly after the race had finished as "puzzling".
In response, Froome also said he was "puzzled" as to why Cookson would make the comments, pointing out that he hadn't started the race for six years, and was only travelling to Australia to ride the Herald Sun Tour, which took place a month later.
Wiasak's highs and lows
In proof that cycling can provide some of sports biggest highs and deepest lows, Rebecca Wiasak went from taking the biggest road win of her career at the Australian National Criterium Championships at the start of 2018, before hitting the deck on stage one of the Women's Tour Down Under and finding herself posting shocking photos of her injuries on social media just over a week later.
Thankfully, aside from the road rash, Wiasak suffered only mild concussion, and is now back riding a stationary bike as she looks to secure a place in the Australian team for the Commonwealth Games in April.
Fighting talk from Geraint Thomas
Richie Porte may not have been happy with Chris Froome and Team Sky's tactics at the 2017 Critérium du Dauphiné, but the rivalry between Porte and his former team-mates dates from the Australian's very first race with BMC Racing at the 2016 Tour Down Under.
Displaying his usual dry sense of humour ahead of the race, Geraint Thomas said, "I hope he does really well and comes second behind us," the Welshman said dryly. He's going to be shouting at us now rather than BMC; we used to love that going up a climb."
Unfortunately for Thomas, it was Porte who had the last laugh, winning on Willunga Hill and finishing second overall, one place ahead of Team Sky's Sergio Henao.
Armstrong struggles on comeback
Back in the days where Lance Armstrong was a seven-time Tour de France winner, the American rider rode the Tour Down Under on three occasions, with the race being both the first and last races of his comeback in 2009 and 2011.
In theory then, Armstrong's best year should have been in 2010, and although his 24th place overall was his best finish in the race, he admitted to struggling with the pace at the start of the season
Thank you for reading 20 articles this month* Join now for unlimited access
Enjoy your first month for just £1 / $1 / €1
*Read 5 free articles per month without a subscription
Join now for unlimited access
Try first month for just £1 / $1 / €1