Chris Froome's absence from Tour Down Under "puzzling", says Brian Cookson
The British rider arrives in Australia just after the Tour Down Under finishes, something the UCI President thinks is an odd decision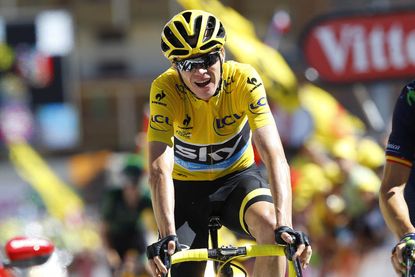 (Image credit: Watson)
UCI President Brian Cookson has labelled Chris Froome's decision to skip the Tour Down Under despite coming to Adelaide, South Australia as "puzzling".
Froome is set to arrive in Australia on Monday, a day after the first WorldTour event of the season finishes for a training block under the guidance of Team Sky head of athlete performance Tim Kerrison.
The 30-year-old has ambitions at the Tour de France, Rio Olympics and the Vuelta a España this year and has opted for a more subdued start to the season at the Herald Sun Tour in Victoria next month.
The absence of marquee international riders competing at the Tour Down Under has been a point of discussion during the race. It's been made perhaps more imperative in light of UCI WorldTour reforms that key stakeholder ASO has rejected and pulled its events, including the Tour de France, from in an ongoing turf war.
We spoke to Chris Froome ahead of the 2016 season
"It's an odd decision by Team Sky I have to say," Cookson said.
"It's not a helpful decision but one understands why these teams sometimes make these decisions. Performance criteria will always overrule other criteria in certain teams and certain cases. It's a long season and riders need to prepare in the best way, but certainly that was a puzzling decision to me.
"Some riders prefer a lower key start to the season … and it's difficult to imagine everyone competing at the highest level right the way through. But as I said what we're trying to do with the reforms of the WorldTour is understand that a little bit more clearly and make sure we do get the best riders in as many as the best events as possible."
Cookson in a press conference before the start of the Tour Down Under's queen stage fielded questions mainly related to the reforms and ASO's opposition to them.
Tour de France race director Christian Prudhomme was meant to be in Adelaide at the same time as Cookson but cancelled his trip due to travel delays.
"It's not impossible to run the WorldTour without ASO's events but of course they are some of the biggest and best events so it's regrettable if they would not be part of it. We do want them to be part of it," he said.
Froome is set to train in Adelaide with Sky team-mates including Geraint Thomas, Ian Stannard and maybe Salvatore Puccio in the lead-up to the Herald Sun Tour, taking advantage of warmer weather where he is less susceptible to illness.
"He's won the Tour twice now so he has the confidence, he has the leadership skills, he has the experience and feels less pressure now to start winning in February," Kerrison said of the Sky leader. "So he's happy to take a lower key start."
The decision of riders to opt out of the Tour Down Under is also notwithstanding the competitive level of the event that some have openly admitted is too hard for them and at this time of year.
"In a way perhaps the Tour Down Under is a victim of its own success," Cookson said.
Thank you for reading 20 articles this month* Join now for unlimited access
Enjoy your first month for just £1 / $1 / €1
*Read 5 free articles per month without a subscription
Join now for unlimited access
Try first month for just £1 / $1 / €1