Chris Froome reacts to Brian Cookson's comments about riding Tour Down Under
Chris Froome says he is puzzled that UCI president Brian Cookson thinks he would start his season as early as the Tour Down Under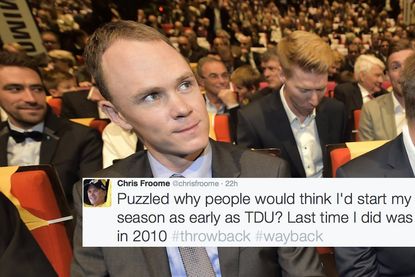 (Image credit: Watson)
Chris Froome wonders why people think he would start his season with the Tour Down Under, having not raced there for six years.
The Team Sky leader lands in Adelaide on Monday, the day after the Australian race finishes, causing UCI president Brian Cookson to wonder why Froome didn't ride the race.
Froome will start his season at the Sun Herald Tour in February after a block of training with Sky coach Tim Kerrison in Australia.
Since racing the Tour Down Under in 2010, Froome has not started his season in January, preferring instead to wait until early February before pinning on a race number.
"It's an odd decision by Team Sky I have to say," Cookson said of Froome's absence from the race, despite coming to Australia.
"It's not a helpful decision but one understands why these teams sometimes make these decisions. Performance criteria will always overrule other criteria in certain teams and certain cases. It's a long season and riders need to prepare in the best way, but certainly that was a puzzling decision to me."
Thank you for reading 20 articles this month* Join now for unlimited access
Enjoy your first month for just £1 / $1 / €1
*Read 5 free articles per month without a subscription
Join now for unlimited access
Try first month for just £1 / $1 / €1