Adam Yates's Grand Tour ambition
With a string of fantastic results after two years as a pro, Adam Yates is aiming even higher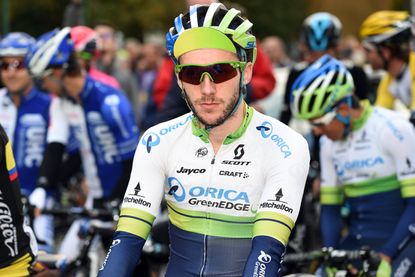 They may be identical twins riding for the same professional cycling team, but there are plenty of ways to tell Adam and Simon Yates apart.
Courtesy of a crash in this year's Tirreno-Adriatico, Adam has a scar on his chin and another on his right hand from the Tour of the Basque Country. On the bike, Simon wears Giro shoes — Adam wears Sidi — and can deliver a kick that's landed him group sprints and World points titles on the track.
None of these indicators are infallible, though. Track mitts, oversocks and facial hair — which Adam seems to have a greater but not exclusive propensity for — all threaten to put a spanner in the works.
Tales of misidentification abound — like the team manager telling the wrong brother that they've got a ride in last year's Tour de France or TV editors flashing the wrong name on screen during an interview. Even an esteemed, thoroughly researched, almost perfect, Cycling Weekly journalist runs the risk of muddling the two…
"No, that was my brother," protests Adam Yates when questioned about stage eight of this year's Tour to Mûr de Bretagne.
"That was your brother?" I query. "No, you were seventh."
"No, he was seventh," Adam asserts, clearly familiar and no doubt weary of having to handle yet another case of mistaken identity.
Can you tell which Yates is which?
Was he?! Really? Oh s**t, I think. I'd written about this and been carrying this around as fact for months.
But then, across the table, I can almost hear a penny drop in Yates's head.
"Ah! No! Mûr de Bretagne!" he repeats. "Yes, that was me! What was I thinking? Ah, Mur de Huy! Simon got a top 10 there".
Even the brothers themselves, it seems, are capable of mixing one another up.
Best of Yates
Quite honestly, I'd been hoping to avoid talking much at all about brotherhood in this interview. Brothers this, brothers that is the default way to profile the Yates boys — and something CW was doing as long ago as 2010. But the Yateses are two individual riders — who despite their many similarities — have two different stories, skill sets and viewpoints.
The following morning when I briefly chat with Simon, and mention why I didn't invite him along, he cheerily responds: "That's good, everyone always wants to interview us together."
We'd decided we needed to speak just with Adam because he's the one who's had the more outstanding season.
But even when you try to steer clear of their relationship, there is some inseparability about the Yates pair. They're not quite the Chuckle Brothers, but they room together, train together, race together and when Adam forgets to turn up at our agreed interview time on a wet evening before the Montréal Grand Prix, I find them downstairs doing a turbo session together in the hotel car park.
As much as we are here to talk about Adam, the subject of the pair of them slips as much into his conversation as it does my questions.
"It's not really a bad thing," says Yates of the unshakeable association. "If he wins, my name also gets put up there and if I win [vice versa]."
Early in their careers, it might have looked like Simon was the one flying the flag for the pair. He was the kid on the Academy, the winner of the World Points Championship at just 20 years of age in 2013 and the one who was called up for last year's Tour in the pair's debut pro season with Orica-GreenEdge.
But it's swings and roundabouts with these two (just look at their Tour placings for a microcosm of this trend) and, right now, this year in general, it's Adam who's been in the hot seat.
Perhaps we can just talk about him for a bit now?
Basquing in glory
Adam Yates may live (yes, with his brother), in Girona, but a bigger setting for his story is over in the Basque Country.
The racing in this independently-minded northern Spanish region suits him well, with long mountain climbs but also some savagely sharp gradients. There's perhaps even something in its combination of hills, industrial parts and cheery inhabitants that seem a good fit for this 23-year-old native of Bury, Lancashire.
But until this August, Yates's record of pro-racing in the region has been a history of accidents. Both times he's raced April's Tour of the Basque Country, he's been hampered by crashes — memorably this season after the rider in front of him struck a poorly marked line of bollards.
Things hadn't gone much better at last year's Clásica San Sebastián either, although he lays the blame there squarely on himself.
"I would have come top five but I crashed because I'm an idiot," he recalls of the incident on a corner of the fast descent into the city while in hot pursuit of Joaquim Rodríguez and eventual winner Alejandro Valverde.
Finally his luck in the region changed this summer when one week after completing his first Tour de France, Yates claimed his first WorldTour victory at San Sebastián.
Soloing home 15 seconds clear of a group led by Philippe Gilbert and Valverde, it was made all the more memorable by the fact he didn't know he'd won until he'd crossed the line.
"Ha ha, yeah that was a surprise," he says as we go back over the events of that day. "I couldn't hear anything at all on the radio. Maybe about a kilometre to go, I heard something. But I was asking if I was in the lead and the director was like 'good, good ride'.
"I was like, 'Yeah, that's not what I want to know. I need to know if I'm actually in the lead or not.' When you get into town, you go under this bridge and then all the crowd are at the side of the road and you can't hear anything."
Yates explains that his uncertainty was the product of attacks going on the final climb at the same time as earlier breaks were coming back. Bordako Tontorra is narrow, it dips and dives a little in places, and was thrown into an even greater mess this year when race leader Greg Van Avermaet was knocked off by a race motorbike just as Yates was bridging across to him.
Although Yates saw the incident unfold and knew the Belgian's whereabouts was flat on the tarmac, he still wasn't sure if there were remnants of the earlier break ahead.
"In the chaos and confusion, how can you tell? Sometimes you don't even know what's going on watching TV.
"My radio didn't work, I was asking if I was in the lead for two and a half kilometres. There wasn't much more I could do. I tried to talk to the cameraman but he didn't really say anything."
In the end Yates had to seek out confirmation from Orica's soigneur, Oscar Quintana (no relation), who was waiting behind the finish. The YouTube clip of him crossing the line is something of a viral sensation. Yates's moment of realisation is so explicit, you can't help but grin along with him.
"You're always better off not celebrating than celebrating for second," proposes Yates. "You see guys do it all the time — I've done it myself in the past when I was an amateur in France.
"I gave it the full one, like the 10, 15-second salute, and then it turned out I'd come second!"
But this time he could see Oscar.
"He was like: "YEEEEEAH!", celebrating! So I was like 'oh, I must have won'."
Jewel in the crown
While Yates's win in San Sebastián will go down as the highlight of his year, it's really just the glimmering jewel in a string of results that have underlined his potential since finishing seventh overall at his first ever race in the pro ranks at the 2014 Tour de San Luis.
>>> 10 of the best WorldTour riders under the age of 25
Asked if there's been one result that he feels really marks his arrival, Yates looks back to last year's Tour of Turkey: "It was my first big [stage] win, and my first big GC win — you can't really get much better than that," he says. "No matter what level it is, you just have to race whoever is there. Last year I went to Turkey and I had such a confidence boost, I went to California and then to the Dauphiné…"
His sentence trails off but the run of performances didn't. Top 10 overall results in the States and the Alps were followed by a one-day win in Italy's GP Industria and Artigianato.
"I think in general, as soon as you win a race, you know you can do it again and that confidence goes a long way."
Rapid progress
Much has been made of how quickly Yates adapted to the pro scene, but when the subject creeps up — in a conversation about how Julian Alaphilippe used to "kick the crap out of everyone" in the under-23s — he almost dismisses the subject.
>>> The 11 most surprising wins of 2015
"You see young guys coming up now and they're always doing well," he says "Like Magnus [Cort-Nielsen] on our team this year. He came straight from under-23s to getting top 10s in WorldTour races. I don't feel like there's a massive jump up. But maybe that's just me."
Although he has picked up some outstanding one-day results, Yates says he prefers the test of consistency that is stage racing. And, with overall top 10s to his name in everything from Tirreno-Adriatico to the Tour of Alberta, Yates has shown he's a dab hand at them.
>>> The nine defining moments of Peter Sagan's 2015 season (videos)
This year, Yates got his first ride at the Tour de France and came away with three top-10 placings, including that crunch day when the race first hit the Pyrenees. Sure, he admits there is a lot to get to grips with — "I realise now how stressful the Tour is; you watch it on TV and it just doesn't do it justice"— but he's getting a feel for where he stands.
"On one stage I tried to climb with the GC guys — after the rest day… Other than Froome who gave everyone a kicking, I was up there. I think I only lost 50 seconds to Quintana and Richie Porte."
This inevitably leads him to think maybe he should be allowed to target the GC in a Grand Tour: "even if it's just two weeks and if I'm not there we can always pull the pin and try for stages".
"Hopefully if I improve and get stronger, I don't see why we can't do top 10 in the future," he says. "It doesn't take a lot to go after GC, you just have to look after yourself and stay out of trouble."
Thinking of the Tour
Yates may make it all sound frightfully easy but he's not oblivious to the pitfalls and challenges a modern Grand Tour contender faces. In recent years the Tour especially has become about more than just being good in the mountains.
>>> Orica-GreenEdge add climbing experience with signing of Ruben Plaza
Yates recalls experiences from early in this year's race sitting 80th in line, unable to move up, with potholes and kerbs coming at him like it was some kind of computer game. "I wasn't purposefully losing time but the first week was so chaotic I was just losing time anyway. Cobble stages and crosswind stages are not really my favourites."
But despite being less than 60 kilos, there's a racer's instinct in Yates that makes him more than just a delicate climber. He started racing on the Manchester track. And, while Simon forged his career on British Cycling's Olympic Academy programme, Adam further cut his teeth on the dog-eat-dog French amateur circuit.
Who knows who best?
"In the amateurs you'd be going with the break, trying to go for sprints, trying to go for climbs," he says.
By comparison, Yates says pro racing seems regimented. And of the two Grand Tours he's ridden, his preference lies with the biggest of them all.
"The Vuelta's too hot," he laughs. "A guy from Bury doesn't ride well in 40 degree heat. The Giro is probably the best one for me but I've never done it before so we'll see.
"Honestly, the Tour is probably the one that suits me the best. It's a lot more controlled and it's decided more on finishing climbs. You have all the strongest guys in the world there. That's the one I'd like to go back to and perform at."
What's in Orica's toolbox?
So there you have it: he's only looking ahead to his third pro season but Yates is already sizing up his overall chances in La Grand Boucle. That may sound bold but his career arc points that way and Yates is someone who's proved himself capable of following up on his speculations.
As we wrap up the interview, he talks positively about his prospects for the next day's race around Montreal. Less than 24 hours later he is standing on the podium.
Thank you for reading 10 articles this month* Join now for unlimited access
Enjoy your first month for just £1 / $1 / €1
*Read 5 free articles per month without a subscription
Join now for unlimited access
Try first month for just £1 / $1 / €1