ANC-HALFORDS: Shane Sutton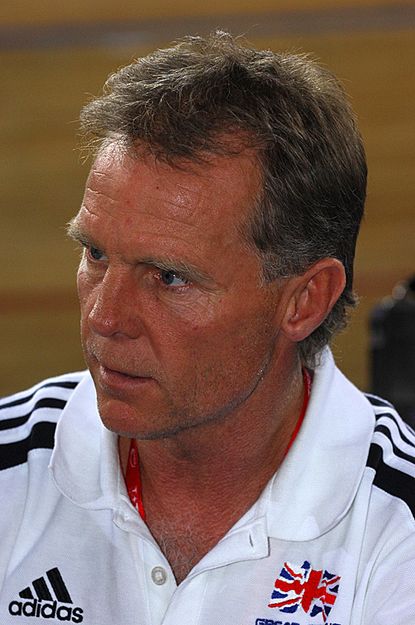 Get The Leadout Newsletter
The latest race content, interviews, features, reviews and expert buying guides, direct to your inbox!
Thank you for signing up to The Pick. You will receive a verification email shortly.
There was a problem. Please refresh the page and try again.
Swipe to scroll horizontally
Shane Sutton was the first rider on the start ramp at the West Berlin prologue and, briefly, he led the Tour.
He laughs. ?Yeah, I suppose so, I must admit I?ve never really looked at it like that. Technically, I led ? until the next bloke came over the line.? That ?next bloke? was the Czech rider Milan Jurco, a big diesel of a man.
The Australian is now integral in British Cycling?s coaching set-up, a man who counts himself as a Brit except in matters concerning cricket and rugby. ?On the track when it?s Britain against Australia everyone will tell you I am a Brit. Having said that, I tell the kids ?You?re Australian and don?t you forget it!?
Sutton did his best to keep team spirits high during a difficult Tour. ?A lot of people probably say ?Ah half of them didn?t finish, the Brits couldn?t hack it? but I don?t think that?s accurate,? he says.
?I don?t think people appreciate what we were up against, what we endured to keep those names on the road. I think of ANC and Halfords and they are still reaping the publicity to this day. I?ve never given an interview about it and I prefer not to mention their names because I believe they could have done more to sort the situation.?
Sutton had been part of ANC?s sister squad, Lycra-Halfords in 1987 and when it became clear the injured Joey McLoughlin was not going to be fit for the Tour he got the call.
?I knew I wasn?t right. I remember I won Eastbourne-London, or one of those races, and I said to Phil [Griffiths] in the car ?There?s something wrong?. It sounds odd, winning a race and saying you?re not right but I could sense it.
?When Joey was injured they asked me to fill in. The way they sold it to me was they said ?Would you start the Tour for us?. I knew I wasn?t right but it was the Tour, so??
Even before the team had set off the cheques had stopped arriving. ?We weren?t getting paid. I had a family and a mortgage. Riding the Tour in those circumstances, it?s hard to appreciate what that does to people.
?I was given repeated assurances that the money would go in. But for me it was dead simple. The cut-off point would be that if my money wasn?t in by the Pyrenees, I?d come home.?
Sutton pulled out on stage 13, to Pau, with the Pyrenees within touching distance. ?You?re going to ask me if I regret it. Well, you can get round the Tour, okay. You can put up with the crap hotels and the bad food but I didn?t think there was anything more to get out of it. I had no real form. My only regret is starting it in the state I was in. I failed the medical the first time and had to go back.
?The terms and conditions of what we were working under never left our minds, on the bike, off the bike, every day. You need to be compensated for riding an event like the Tour de France.?
?We had minimal back-up and it was a pretty big task just to ride. I carried on mainly out of the respect I had for Phil Griffiths. I still respect him. I did it for him, more than myself and certainly more than ANC or Capper.?
As morale-booster-in-chief, the ebullient Sutton frequently found himself rallying the troops but eventually even he?d had enough. ?I said ?listen guys, let?s give it another two days? that many times.
?Perhaps now with a psychologist we?d have had better advice. We would have said, okay, we?ll get to the end and then deal with it, but it was nagging away all the time.?
Swipe to scroll horizontally
"I could have punched him in the guts"
Ironically, the day he went home was preceded by one of his best. ?I remember coming in to Bordeaux. Malcolm won a few primes and got third. Davis Phinney won ? I think ? shows my memory isn't that bad. I can vividly remember coming in over this bridge and thinking ?I feel great?. Next day I pinned on my number and felt terrible. I?d started okay, I went really well in the team time trial and thought ?bloody hell, I?m going alright?. Then you?d be swinging like a dunny door.?
He reserves unequivocal criticism for Capper. ?He?d called me down to Stoke, taken me out of my comfort zone, increased my contract and given me all these assurances and he let me down.
?He could have done more. A company the size of Halfords could have done more. They came to us and begged us to ride the Nissan [the Tour of Ireland] that autumn. They offered seven hundred quid. I?m not going to go into the figures of what I was owed but seven hundred quid was not compensation. I refused and rode for Watertech-Dawes instead, got in a big split that decided the race and picked my career up.?
Sutton was riding for the Banana-Falcon squad a few years later and he got a brief glimpse of Capper?s frame wedged into a car on a motorway in the south of Spain. ?We?d just done the Tour of Murcia and we were driving to Benidorm for a training camp and he pulled up alongside us. I tell you, they had to hold me in the van.
?I could have punched him in the guts ? it would have taken me all day, mind, but that?s how I felt.
?Bad things happen to people who deserve it. He let people down. I could have gone down the legal route but that would have cost me money. Instead I moved on, I?ve loved my life since and I?m having a great time.
?1987 was my bad year ? we had a terrible year in the cricket too. The Tour was a great experience and a bad experience but it?s nice people always say ?You rode the Tour?. Even when you say ?Yeah, but I didn?t finish? they always say ?But you rode the Tour.?
PICTURE: Sutton the Aussie is now an honorary Pom ? a key part of the British Cycling coaching team
Swipe to scroll horizontally
Malcolm Elliott ? The One That Got Away in Bordeaux
Thank you for reading 20 articles this month* Join now for unlimited access
Enjoy your first month for just £1 / $1 / €1
*Read 5 free articles per month without a subscription
Join now for unlimited access
Try first month for just £1 / $1 / €1
Get The Leadout Newsletter
The latest race content, interviews, features, reviews and expert buying guides, direct to your inbox!
Sports journalist Lionel Birnie has written professionally for Sunday Times, Procycling and of course Cycling Weekly. He is also an author, publisher, and co-founder of The Cycling Podcast. His first experience covering the Tour de France came in 1999, and he has presented The Cycling Podcast with Richard Moore and Daniel Friebe since 2013. He founded Peloton Publishing in 2010 and has ghostwritten and published the autobiography of Sean Kelly, as well as a number of other sports icons.