Barry on Landis allegations: 'it's not true'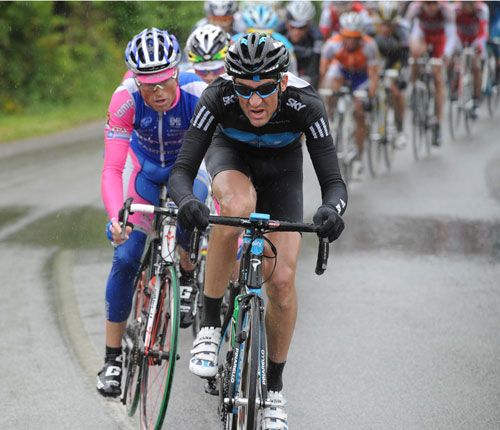 "They have been supportive. The last few years, I have raced with teams with anti-doping stances, and throughout my career, I have had a strong anti-doping stance.
"That was the one big reason I decided to come to Sky. They are contributing to moving the sport in the right direction and that has always been important to me."
Sky's team principal, David Brailsford, said yesterday that the team would act on "facts" and that "if allegations can be substantiated... there's procedures to handle everything from there." Brailsford and Barry met last night to talk about Landis's letter.
"They just wanted to know my side of the story, that was it. They have faith in me, that is why they hired me," continued Barry.
"It's not true," Barry told Cycling Weekly. "When you see false allegations about yourself like that it's pretty shocking."
"I did train with him for two days," Barry explained. "Prior to the Vuelta, he was staying up in the mountains, and I drove up there with my wife and rode with him for six hours one day and two hours the next day. That was it."
Barry added he had no knowledge of doping going on during that time.
"I have not been in contact with Floyd, so I don't know where this is coming from. It is frustrating," Barry continued this morning.
Related links
Brailsford speaks on allegations against Barry
Landis admits he doped, and implicates others
UCI responds to Landis's accusations
WADA will investigate Floyd Landis's allegations
Michael Barry has denied allegations made by Floyd Landis claiming that the two former team-mates of Lance Armstrong
discussed doping while training together for the 2003 Vuelta a Espana.
Cycling Weekly spoke to Barry before the start of Friday's stage of the Giro d'Italia to get his response to the allegations.
Landis wrote, "I spent a good deal of time training with Matthew White and Michael Barry, and shared the testosterone and EPO that we had, and discussed the use thereof while training."
Barry's turned professional in 1999 with team Saturn. He raced for five years, 2002 to 2006, with Armstrong at team US Postal/Discovery Channel, Landis was there from 2002 to 2004. After three years with T-Mobile/Highroad, he joined Sky for 2010.
Team Sky hired Barry last winter to race and support Bradley Wiggins at the Tour de France. The two are currently racing the Giro d'Italia, where Barry talked this morning at the start of the stage from Porto Recanati to Cesenatico.
Landis said that while he and Barry trained for the Vuelta a Espana they talked about testosterone and blood booster EPO.
He said he had no plans to abandon the race due to Landis' letter. The letter was allegedly sent to the US cycling federation and Wednesday, leaked to media. In the letter, Landis talked about doping and alleged that Armstrong and others doped.
"Who knows what to know. He has lied and denied things. I don't where he is mentally at right now."