BETTINI REMEMBERS BROTHER WITH LOMBARDY WIN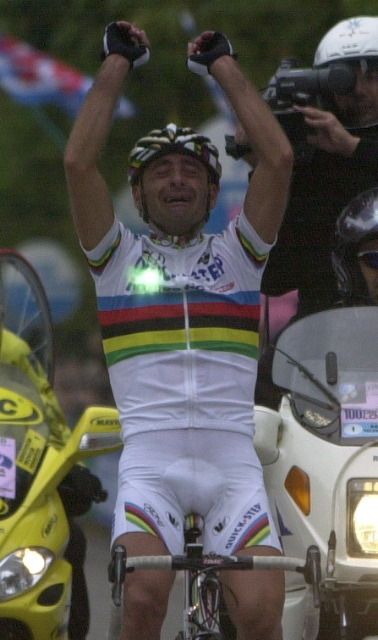 Italy?s Paolo Bettini won the hundredth edition of the Tour of Lombardy in tears on Saturday,as he remembered his brother Sauro who was killed in a car accident on October 2.
The recently crowned world champion kissed his rainbow jersey and pointed to the sky in tears as he crossed the line in Como after racing with a mix of courage and class.
Spain?s Samuel Sanchez (Euskaltel) finished second, eight seconds behind and Germany?s Fabian Wegmann (Gerolsteiner) was third. It was Bettini?s second consecutive Tour of Lombardy win, his ninth win of the 2006 season and he became only the seventh rider to win the Tour of Lombardy while wearing the world champion?s rainbow jersey.
?I wasn?t riding on my own today,? Bettini said as he hugged his family after the finish.
?The person who used to cheer me from the roadside can?t do it anymore but he was with me today. I didn?t win by chance.?
On Friday Bettini admitted he had thought about quitting cycling following Sauro?s death but was convinced to carry on by his father who told him it is what his brother would have wanted.
?After winning the world title I was still on form but I wasn?t sure how mentally strong I was and if I wanted to race. During the race I felt good and so decided I wanted to win to remember Sauro,? he said.
Bettini was the first of the favourites to attack on the climb of the Ghisallo, 45 kmo from the finish, and then attacked again on the Civiglio climb with 18 kilometres to go. He almost crashed on the twisting descent and was caught by Wegmann but then attacked alone again on the final climb overlooking Lake Como.
Sanchez closed the gap on the descent but could not catch an inspired Bettini.
Spain?s Alejandro Valverde did not finish the Tour of Lombardy but sealed overall victory in the season-long ProTour competition. However he was not presented with the ProTour jersey and there was no winner?s podium with Bettini because of a protest by the teams.
Thank you for reading 20 articles this month* Join now for unlimited access
Enjoy your first month for just £1 / $1 / €1
*Read 5 free articles per month without a subscription
Join now for unlimited access
Try first month for just £1 / $1 / €1