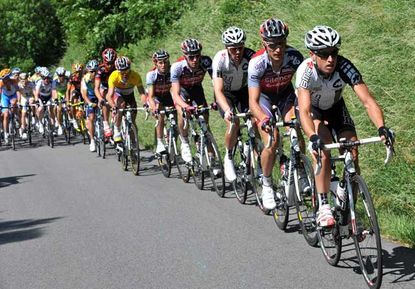 A couple of weeks ago www.cyclingweekly.com looked at the merits of the two biggest new superteams in pro cycling - Sky and RadioShack. But in the last few months another squad has surreptitiously risen to stake its claim among the big boys - BMC.
With a management organisation that features two of pro cycling's wisest heads - 7-Eleven/Motorola founder Jim Ochowicz and former Phonak boss Andy Rihs - and a racing line-up that includes big-name riders like George Hincapie, Alessandro Ballan, Marcus Burghardt and now world champ Cadel Evans, it is a squad that looks poised to sneak into the headlines in 2010.
Unlike the Sky and RadioShack teams, BMC is not a new entity, but until just a few months ago the squad was known as little more than an American and Swiss-based development team whose main claim to fame was the quality of its backroom staff - namely Ochowicz and Rihs.
"The BMC team was really an idea that I had and that I brought to Andy Rihs in 2006 to explore the possibility of supporting an American team on a lower level and to help to build the brand name BMC in America primarily," Ochowicz says. "That evolved in a few years to include some Swiss riders and we kept it as a US/Swiss team right up to this year. And then in early 2009 we started thinking a little more outside the box about what was next."
What was next became apparent with a surprising announcement in early September 2009: BMC had signed not just American legend Hincapie but also 2008 world champ Ballan and Tour stage winners Burghardt and Karsten Kroon. With these high-profile signings in place the team started talking about 2010 in terms of racing aggressively at major one-day events and poaching race wins where they could.
Then came the biggest shock of the off-season so far. BMC revealed it would also have a Grand Tour challenger among its number in he form of newly-crowned world champion Cadel Evans. Despite being only ranked as a UCI Professional Continental squad, the instant BMC signed Evans the threat they posed to ProTour teams was cranked up a notch.
"Before signing Cadel we didn't have a GC rider on the team," Ochowicz says. "We obviously had assembled a very competitive and high level team for the Classics and almost every other race other than Grand Tour general classifications. We still had a team that would have been invited and performed at the Grand Tour level, but we would have done it in a different capacity than having a general classification rider or team leader in that space."
Evans offers BMC a different dimension, but despite this new-found potential, Ochowicz vows that the development side of the squad will not be forgotten: "We're going to keep focusing on what we have done so far. We have young Swiss and Americans on the team for the 2010 season on the pro team roster, and we also have some U23 riders that we support and who compete in Europe primarily with the US national team.
"All of our U23 riders have potential. Cole House is a young single-day Classics kind of rider and he won a big race in Belgium last April. That's not easy to do even at U23 level because there are 200 starters out there and everybody is gunning for the win. Meanwhile Chris Barton is somebody that we moved up to the pro team for 2010 from that development programme. So we continue to look for young talent and support them and give them a chance, and if they show promise we move them up to the pro team."
With a potent pro team, and a flourishing roster of young hopes, Ochowicz is confident that BMC's future will be incredibly bright in 2010. "One thing about being in these roles in managing a team is that I enjoy working with the athletes and being around the athletes. I'm looking forward to training camp - I enjoy training camps and it's a place where you can work and be with the riders in a little more relaxed setting than at races, where it's pretty intense. I'm looking forward to 2010."
To read our full interview with Jim Ochowicz pick up this week's edition of Cycling Weekly on sale Thursday December 10, 2009.
BMC Racing Team 2010
Alessandro Ballan (Italy)
Chris Barton (USA)
Chad Beyer (USA)
Brent Bookwalter (USA)
Marcus Burghardt (Germany)
Cadel Evans (Australia)
Mathias Frank (Switzerland)
Thomas Frei (Switzerland)
George Hincapie (USA)
Martin Kohler (Switzerland)
Alexander Kristoff (Norway)
Karsten Kroon (Netherlands)
Jeff Louder (USA)
Steve Morabito (Switzerland)
Alex Moos (Switzerland)
John Murphy (USA)
Scott Nydam (USA)
Mauro Santambrogio (Italy)
Florian Stalder (Switzerland)
Jackson Stewart (USA)
Danilo Wyss (Switzerland)
Simon Zahner (Switzerland)
Under-23 Team Members
Chris Butler (USA)
Cole House (USA)
Larry Warbasse (USA)
Sports Director
John Lelangue (Belgium)
Assistant Sports Directors
Fabio Baldato (Italy)
Noel Dejonckheere (Belgium)
René Savary (Switzerland)
Mike Sayers (USA)
Related links
Sky vs RadioShack: Battle of the new superteams
Cadel Evans signs to BMC team
Evans and BMC to ride Tour Down Under
Team Sky must impress to secure Tour de France invite
UCI announces 2010 Professional Continental teams
Thank you for reading 5 articles this month* Join now for unlimited access
Enjoy your first month for just £1 / $1 / €1
*Read 5 free articles per month without a subscription
Join now for unlimited access
Try first month for just £1 / $1 / €1