BMX rider gets off with just a caution despite kicking cyclist off in rush hour traffic
Despite footage of the incident, assailant gets off lightly for assault on London cyclist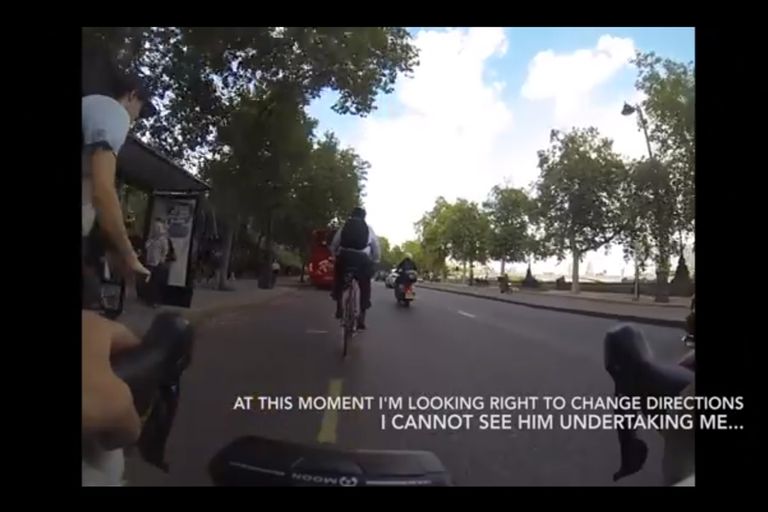 As we reported back in October, a cyclist in London was kicked from his bike by a BMX rider who took exception to his overtaking technique in busy rush hour traffic.
Despite nearly ending up under a moving coach, 32-year-old Brazilian Raphael Carrondo was lucky to escape with only cuts and bruises. He started a campaign to track down his assailant, and at first complained about a lack of action from the police. Once they had seen the video, the police issued the attacker with a caution for common assault, an outcome Carrondo was disappointed with but has now accepted.
London's Evening Standard newspaper took up Carrondo's case when he felt that the police had been dismissive.
"Shortly after the story went out and the YouTube clip went viral the police started investigating," Carrondo told the Standard. "They found the person. A member of the public came forward and said they recognised the rider. They asked him to come in for an interview and he was cautioned afterwards.
"I was expecting a little bit more than a caution but if that is what the police think should be done then that is ok. I was hoping he might have to do some community work."
http://youtu.be/JI0lZVdSMUU
Met response
When asked by the Standard, a Metropolitan police spokesperson said: "In late October, when officers from the Roads and Transport Policing Command's Cycle Task Force became aware of the footage of the incident on August 6, they contacted the victim and launched an investigation.
"On 11 November a 19-year-old man was arrested at his home address in south London, in connection with the investigation. He was later bailed pending further enquiries.
"On 24 November the 19-year-old man accepted a caution for common assault."
Still riding
Perhaps as shocking as the assault itself was the level of trolling Mr Carrondo received online after his video went viral. Many commenters looked to justify the actions of his assailant. However, neither the incident or the subsequent abuse have put him off riding: "I never stopped - I have kept cycling. I had to because it is how I commute to work."
Source: Evening Standard