Bradley Wiggins: 'I always wanted to go out on top'
After winning the Ghent Six Day with Mark Cavendish on Sunday, Bradley Wiggins says that it's a fitting end to an 'incredible year', but does not say it's the end of his career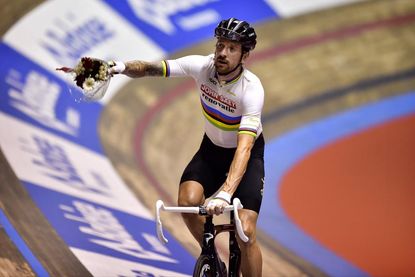 (Image credit: Graham Watson)
Sir Bradley Wiggins said he "always wanted to go out on top", as he celebrated winning the Ghent Six Day with Mark Cavendish in what was an "incredible year" that also saw him win a world track title and fifth Olympic gold medal.
The 36-year-old, however, refused to confirm whether the Belgian track race was his final ever as a professional cyclist, despite previously saying that it would be. Speaking to the crowd inside the historic Kuipke Velodrome Wiggins said: "this might not be my last race," though he refused to clarify this further to press later.
"I'm just going to enjoy the moment to be honest," he later said.
>>> Bradley Wiggins and Mark Cavendish win the Ghent Six Day
Wiggins had chosen Ghent as his final farewell to cycling as he was born in the Belgian city and watched his late father race at the same six day when he was a child.
He and Cavendish became the first British pairing to win the Six-Day in the race's history, securing the win after gaining a lap late on in the Madison – the final event of the race. Wiggins won in Ghent before, in 2003 paired with Belgian/Australian Matthew Gilmore, while Wiggins and Cavendish raced together here in 2007 before the Beijing Olympics.
"It's easy sitting here with all the glory and winning and let's do it all again, but when you're out there I wouldn't like to just at any moment next year think 'you stupid idiot, why did you carry on'," Wiggins told press after.
"I always wanted to go out on top, it's been an incredible year; we won a world title, Olympic title, we won the Ghent Six with Cav - what else is there really? I could go next year to Dubai [Tour] and do the Tour of California and all those races and regret it, and I wouldn't like to do that," he continued.
Wiggins has previously spoken about how emotional the race was for him, with the victory also falling on what would have been his father's 64th birthday, while his wife, children and mother were all in Belgium supporting him.
"I always get emotional when I think about this place and just what it means to me," Wiggins said. "I've been lucky enough to be here as a child, with my dad. I always think of him when I'm in here."
>>> Mark Cavendish takes a break from the Ghent Six Day to perform the YMCA (video)
He continued: "My mum was here. All these people from my past who I haven't seen for years. That's more important to me than anything else that's come before really.
"And then to do it with Mark, and to have Patrick Sercu there, and [Eddy] Merckx was here on Tuesday."
Wiggins's year-long farewell has been surrounded in recent controversy over his use of TUEs for corticosteroids for treatment of asthma and allergies, before major road races including the 2012 Tour de France.
He admitted, however, he "honestly didn't care anymore" about how he will be remembered for his career.
"I don't know really, man of the people, who knows, says what he thinks, very un-politically correct, bit anti-establishment in parts, I don't know really," he said, before signing off what could be his final press conference.
Thank you for reading 10 articles this month* Join now for unlimited access
Enjoy your first month for just £1 / $1 / €1
*Read 5 free articles per month without a subscription
Join now for unlimited access
Try first month for just £1 / $1 / €1