Bransby wins inaugural Waller Pain hillclimb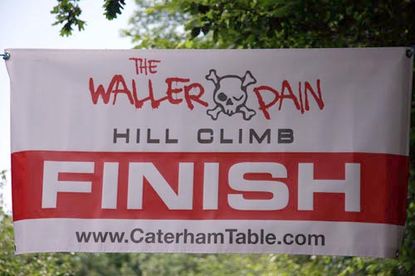 Hal Bransby (Addiscombe CC) won the inaugural Waller Pain hillclimb in Caterham, Surrey, on Sunday.
Bransby clocked a time of one minute and 26 seconds on the brutally steep one-third mile hill of Waller Lane, situated right in the centre of Caterham.
Luke Barkaway came a very close second at the same time as Bransby, with Sylvain Garde in third with one minute and 28 seconds.
Under-16 rider Kristian Cave (VC Londres) set the early marker with his time of one minute and 42 seconds - as it happened, his time went unchallenged in his category and he took the honours.
Summer hillclimbs - more please
Its longbeen said that it is a shame that the traditional hillclimb season is compressed into just a few weeks at the end of the road racing season in the autumn.
Hillclimbs lend themselves to spectating as all of the action happens in a short stretch of road and is usually at a slightly slower pace than other cycling events.
Organisers of the Waller Pain event, Caterham Round Table, have found an almost perfect venue - a steep hill right in the centre of a town served by a rail station and with acres of parking space.
Many locals turned out to watch the event, and many 'non-cyclists' were tempted to get on bikes themselves to have a go.
As well as the regular competitive clubmen types, the event was open to all-comers on all forms of bike to try out a hillclimb for fun. To fit in with this ethos, there were two slightly less competitive categories for 'fit mums' and 'fat dads'. And they turned up on mountain bikes, BMXes, shoppers, anything.
Organiser Scott Georgiades was satisifed with the end result: "It's been great. We're definitely doing this again next year, perhaps with a slight change in categories".
Let's have some more summer hillclimbs!
RESULTS

Waller Pain 2010 hillclimb: Senior men

1. Hal Bransby (Addiscombe CC) 1-26
2. Luke Barkaway (Bike Plus) 1-26
3. Sylvain Garde (Addiscombe CC) 1-28
4. Graeme Busche (Clapham Chasers) 1-34
5. James Rowland (Skid Marx CC) 1-37
6. Scott Georgiades (Addiscombe CC) 1-37
7. Matthew Chard (Pearson Cycles) 1-37
8. Nigel Wynn (Cycling Weekly) 1-37
9. Simon Rowland (Skid Marx CC) 1-38
10. Andrew Colvin (Bigfoot CC) 1-38
Under-16
1. Kristian Cave (VC Londres) 1-42
2. Alex Conway (VC Londres) 2-06
3. Alex Hambleton (Team Hambleton) 2-59
Senior women
1. Kelly Nugent (Clapham Chasers) 2-16
Fit mums
1. Jo Bas-Thornton 2-39
Fat dads
1. Nigel Harper 2-19
Start line nerves
The delightful Waller Lane
Having a breather after the finish line
Hal Bransby, overall winner
Under-16 winner Kristian Cave


Women's winner Jo Bas-Thornton
Fat Dad's winner Nigel Harper (l) with organiser Scott Georgiades
Thank you for reading 5 articles this month* Join now for unlimited access
Enjoy your first month for just £1 / $1 / €1
*Read 5 free articles per month without a subscription
Join now for unlimited access
Try first month for just £1 / $1 / €1