BRIT SUCCESS IN DUO NORMAND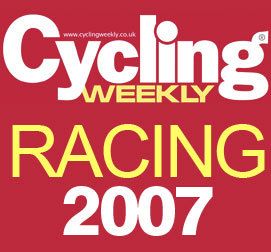 As we reported on Monday, Bradley Wiggins gave the large British contingent at the Duo Normand a reason to cheer when he teamed up with his Cofidis team-mate Michiel Elijzen of Holland to win the elite race on Sunday.
But there was also more than a fair of success in the other categories of this hidden gem. The two-up time trial at Marigny in Normandy has long been a favourite time trialists from Britain and the Channel Islands.
Every second voice in the crowd seemed to be English and the ferries arriving in Cherbourg on the Friday and Saturday before the event must have been crammed with cyclists and their treasured time trial rigs.
British results are shown in bold.
ELITES
1 Bradley Wiggins & Michiel Elijzen (Cofidis) 1-07-15
2 Eric Berges & Denis Robin (Agritubel) 1-09-38
3 Gustav Erik Larsson & Victor Hugo Pena (Canyon) 1-09-50
4 Martin Mortensen & Thomas Guldhammer 1-10-57
5 Jens Erik Madsen & Michael Tronborg 1-11-03
6 Kjetil Ingvaldsen & Havard Nybo 1-11-09
7 Florent Brard & Nicolas Fritsch 1-11-49
8 Steven Van Vooren & Bruno De Poorter 1-12-25
9 Ondrej Sosenka & Jakub Novak 1-12-25
10 Lilian Jegou & Cyril Monnerais 1-12-26
11 Lieuwe Westra & Camiel Denis 1-13-02
12 David Lelay & Antoine Dalibard 1-13-15
13 Jerome Fremin & Tomasz Olejnik 1-14-10
14 Jerome Giaux & Simon Collard 1-14-26
15 Franck Vermeulen & Frederic Lubach 1-14-34
16 Cyrille Cosnefroy & Mathieu Michel 1-15-07
17 Rob Hayles & Dan Duguid (Team KLR ? Sigma Sport) 1-15-16
18 Emmanuel Bruand & Jonathan Duplessis 1-18-11
19 Xavier Weyland & Maxime Legros 1-18-24
20 Stieven Galle & Pieter De Neve 1-21-44
21 Fabrice Dubost & Pierre Royer 1-26-03
SECOND CATEGORY
1 Teddy Villette & Matthieu Guyomard 1-18-09
2 Julien Malet & Benjamin Audoux 1-19-32
3 Thibaut Dumanoir & Alexis Guerbois 1-19-56
4 Erwan Fusco & Thierry Fusco 1-20-29
5 Phillip Borrett & Glenn Borrett (Bike-in-Motion CC) 1-20-50
6 Lionel Lachlan-Jenicot & Nicolas Dobritch 1-22-00
7 Alexander Fitzgerald & Guy Wilkins (Bike-in-Motion CC) 1-22-10
8 Jean-Francois Coire & Sebastien Botte 1-22-42
9 Damien Fleury & Valentin Mace 1-22-53
10 Stephane Bar & Christophe Leclere 1-24-34
11 Dominique Remy & Julien Taburiaux 1-25-47
12 Gwenn Dony & Lenaic Thiry 1-26-34
13 Roger Cook & Andrew Cook (Manx Viking Wheelers) 1-29-39
JUNIORS
1 Piotr Gawronski & Piotr Typek 1-15-08
2 Fabien Taillefer & Anthony Delaplace 1-15-13
3 Arnaud Courteille & Nicolas Vaillant 1-16-43
4 Aurelien Corbin & Nicolas Chollet 1-17-49
5 Florent Gougeard & Nicolas Ridel 1-18-00
6 Jakub Novak & Jakub Husek 1-19-24
7 Pierre Lebreton & Gregory Marc 1-20-00
8 Maxime Grenet & Maxime Pois 1-20-24
9 Alexandre Herbert & Thomas Morazin 1-20-44
10 Maxime Cornic & Julien Le Roy 1-21-44
11 Renaud Bouillet & Julien Auvray 1-26-27
12 Francois Leplatois & Jessy Groult 1-26-38
THIRD CATEGORY
1 Simon Berogna & Ben Instone (a3crg) 1-15-41
2 Peter Ader & Jeremy Ponting (Ride Venture Race Team) 1-17-08
3 Jacky Chalon & Jean-Michel Comminette 1-19-13
4 James Stratton & Martin Williamson (London Dynamo) 1-20-11
5 Richard Mason & David Streule (London Dynamo) 1-20-24
6 Mark Beattie & Stephen Saunders (Maldon and District CC) 1-20-32
7 Julien Berthelot & Sylvain Berdat 1-20-40
8 Jerome Gueret & Vincent Ivelou 1-21-53
9 Joel Genette & Gael Frere 1-22-00
10 Steve Home & Richard Tozer (Twickenham CC - Evans Cycles) 1-22-07
11 Darren Carpenter & Gareth Jenkins (Cwmcarn Paragon) 1-22-23
12 Mark Staden & Shaun Smart (Southdown Velo) 1-22-33
13 Samuel Belliard & Frderic Bibbens 1-22-45
14 Benoit Pigeon & Genole Urvoy 1-23-14
15 Romain Aubree & Francois Lejamtel 1-23-19
16 Guillaume Grasset & Nicolas Hirbec 1-23-44
17 Nicolas Quinton & Gerard Cordelier 1-23-47
18 Stuart Griffiths & James Griffiths (Climb On Bikes RT) 1-24-37
19 Morgann Hermann & Julien Lemeriel 1-24-46
20 Rob Lyne & Jon Gaunt (Climb on Bikes RT) 1-25-03
21 Sylvain Ollivier & Sebastien Trovalet 1-25-17
22 Yvonnick Bigrel & Claude Royer 1-25-53
23 Vincent Lemardeley & Francois Garnier 1-27-23
24 Matthew Wakeford & Leon Wright (Sigma Sport) 1-27-54
25 Wallid Benhagouda & Alexis Massard 1-29-36
26 David Fauvel & Herve Hardy 1-35-06
27 Mark Jones & Simon Wooley 1-36-15
28 Stewart Guynan & Joseph O?Sullivan 1-36-27
29 Jeremy Neep & Andrew Stevenson (Tatra Fitness) 1-39-57
30 Christopher Mullett & James Chant (Gillingham Wheelers - Wheels Cycles) 1-40-02
DEPARTMENTS
1 Yoann Houstin & Yvonnick Roustiau 1-22-48
Total of 25 teams entered this category ? no British starters
VETERANS
1 Philip Mason & Paul Brehaut (Climb BRT - Guernsey Velo) 1-18-01
2 Matthew Wall & Rod Saxby (Godalming RT) 1-22-21
3 Mark Jones & Steve Trott (GS Stella) 1-22-45
4 Pierrick Bigrel & Gilbert Lecharpentier 1-23-15
5 Paul Austin & Dave Clark (Retford - Thurcroft) 1-24-27
6 Franck Duplessis & Pascal Baselay 1-26-23
7 Christopher Lodge & Hugh Vivian (Finsbury Park CC) 1-26-29
8 Martin Worner & Andrew Cosgrove (Teesdale CRC) 1-27-32
9 Doug Rollins & Steve Hehir (GBcycles.com) 1-28-20
10 Jacques Bricogne & Pierre Reux 1-28-38
11 Francois Gerard & Boris Caval 1-291-4
12 Steve George & Ken Baker (Maldon and District CC - Colchester RCC) 1-30-46
13 Patrice Balliot & Jean-Michel Florek 1-31-18
14 Dover Disney & Neal Deller (Ludlow CC) 1-31-46
15 Tom Cox & Jack Brown (Northovers Vets) 1-32-54
16 Gerard Maybery & Richard Laurence (Newport - private member) 1-32-56
17 Pascal Olicier & Jacques Leblond 1-36-01
18 Neil Langdon & Clive Beacon (Climb On Bikes) 1-36-08
19 Steve Edwards & Dave Young (Deeside Thistle) 1-37-40
20 Andre Fauvel & Philippe Capoen 1-37-45
21 Luc Leterrier & Daniel Quesnee 1-39-21
22 Nigel Dickinson & Iain Gill (FCCC) 1-40-57
23 Robert Sees & Brian Dixon (Maldon and District CC) 1-46-33
24 Keith Pettifer & Keith Balcombe (Brighton Excelsior) 1-56-29
WOMEN
1 Julie Dheruelle & Emmanuelle Merlot 1-06-31
2 Helen Carter & Lesley Walkling (scienceinsport.com) 1-06-55
3 Lynn Hamel & Charlotte Wadsworth (thegreenroomgroup.com) 1-07-55
4 Jennifer Letue & Audrey Cordon 1-10-06
5 Anita Kenyo & Monika Kiraly 1-10-08
6 Jessica Ruellan & Maell Mainguy 1-10-48
7 Julie Augizeau & Muriel Rideau 1-11-17
8 Justine Delannoy & Ornella Croni 1-13-35
9 Marie Bouffay & Laurence Lemains 1-16-53
10 Christine Louvel & Severine Cuff 1-18-55
11 Nilda Tapin & Maryse Fautrat 1-19-50
12 Jo Gagnerie & Laura Chellingworth (Velo Sport Jersey) 1-20-45
13 Louise Burman & Sara Frost (Bournemouth - H Collingwood) 1-212-17
14 Sally Cooper & Kate Worsley (Twickenham CC-Evans Cycles) 1-24-34
15 Danielle Archer & Jo Edson (a3crg) 1-24-59
16 Amelie Charron & Sophie Sauvage 1-25-58
17 Angelique Rousselle & Sabrina Lenfant 1-26-34
18 Jackie Wakeford & Deana Dibham (Charlotteville CC) 1-36-12
19 Sandrine Lorivel & Sophie Vittecoq 1-37-47
MIXED TEAMS
1 Karine Gautard & Florian Tellefer 1-22-37
2 Jean-Yves Ledoux & Delphine Binet 1-27-11
3 Patrick Brennan & Charlotte Saunders (a3crg-SBR Racing) 1-27-58
4 Jeremie Julienne & Lucie Julienne 1-28-30
5 Mike Mitchinson & Jemima Davis (Velo Sport Jersey) 1-28-53
6 Helen Boatman & Daniel Northover (Finsbury Park CC) 1-29-11
7 Regis Marchand & Linda Guinoiseau 1-31-03
8 Mark Batiste & Tracey Dowinton (Guernsey Velo Club) 1-31-32
9 Delphine Lenautrou & Erwan Peron 1-32-42
10 Martin Young & Kim Young (Severn RC - scienceinsport.com) 1-33-14
11 Maud Bricogne & Jean-Claude Grange 1-36-29
12 Liz Wylie & Dean Wylie (Maldon and District CC) 1-36-54
13 Delphine Cheval & Michel Clouard 1-38-47
14 Margaret Duganski & James Morris (a3crg) 1-39-36
15 George Minion & Jill Brown (VC Nottingham) 1-40-10
16 Mary Crow & John Pallott-Brown (VS Jersey) 1-42-06
17 Rob Wood & Jane Wood (Tri Team Glos) 1-42-32
18 Phil Carpenter & Louise Mendelsoh (Tri Team Glos) 1-46-41
19 Bertrand Mallet & Huguette Duteil 1-47-36
20 Kevin Raymond & Carole Raymond (AG Orval Coutances) 1-48-01
21 Mario Maffei & Benedikte Joergensen 1-48-39
22 Paul Lipscombe & Nicky Bardin (VS Jersey) 1-49-07
23 Martine Agnes & Marc Almy 1-52-09
24 Daniel Lerenard & Catherine Tinard 1-52-30
25 Melanie Gauthier & Gilbert Valognes 1-56-30
HANDISPORT
(no British competitors)
1 Alexandre Bizet & Vincent Mignon 1-15-51
TANDEMS
1 Andy Page & Dean Lubin (PCA Ciclos Uno) 1-17-13
2 Andrew Butcher & June Edwards (Cwmcarn Paragon - Pontpool RC) 1-21-10
3 Ewan Hendon & Corinna Francis (PCA Ciclos Uno) 1-23-12
4 Susan Gray & Julie Baker (Chelmer CC - Colchester Rovers CC) 1-25-10
5 Serge Labbe & Denis Caruel 1-25-18
6 Thomas Gouvenou & Sylvain Gouvenou 1-27-09
7 Anthony Levee & Patrice Levee 1-29-51
8 Pierre Le Gall & Sylvaine Le Gall 1-30-30
9 Julie Bunton & Kevin Bunton (Maldon and District CC) 1-31-34
10 Richard Collins & Lucy Collins (Imperial RT) 1-31-46
11 Graham Painter & Ann Shuttleworth (Chelmer CC) 1-37-33
12 Rebecca Hammond & Chris Ridley (Maldon and District CC) 1-40-57
13 Malcolm Waters & Roderick Sparrow (Hampshire RC - Salisbury RC) 1-42-41
14 Jim Gould & Jan Gould (Maldon and District CC) 1-43-17
CORPORATES (selected results)
1 Alexis Lenoir & Benoit Legris 1-18-45
2 James Barnes & Nicolas Le Nautrou (Intersport Brest) 1-20-37
3 Robin Coomber & Ian Osborne 1-23-40
RACERS WITHOUT LICENCE (British placings only, 103 teams finished)
1 Paul Clements & Tim Rogers (VS Jersey) 1-20-59
2 Stephen King & Kevin Pilley (VS Jersey - Caesarean CC) 1-22-39
3 Chris Le Page & Graham Le Maitre (Guernsey VC) 1-23-36
4 Peter Ilton & Michael Keighry (VS Jersey) 1-25-19
5 Peter Ding & Chris Williams (Ludlow) 1-25-20
7 Neal Marrin & Philip Murrell (Finsbury Park CC) 1-26-17
9 Malcolm Steer & Angus Wilson (CC Ashwell - Cambridge CC) 1-26-24
10 Bill Bust & Mick Higginson (VS Jersey) 1-26-24
13 Ben Lewis & Duncan Crossley (Finsbury Park CC) 1-27-29
14 Andrew Murray & Philip Moss (Hemel Hempstead CC) 1-27-51
15 Charles Knight & Noel Hayden (Caesarean CC) 1-27-55
16 Rob Cox & Rob Ellis (Bournemouth Arrow CC) 1-28-16
17 Simon Fenton & Colin Perry 1-28-22
18 Spencer Daley & Nick Lecock (VS Jersey) 1-28-31
22 Alan Irving & Anthony Chandler (VS Jersey) 1-30-36
24 Alan Cooper & Russell Boon (VC Bristol) 1-30-53
25 Phil Curtis-Whitfield & David Curtis-Whitfield (VC Bristol) 1-30-57
27 Sean Twohig & Steve Whiteside 1-32-26
30 Derek Dowden & Darren Perkins (Charlotteville CC) 1-33-00
31 Paul Begley & Sam Grummitt 1-33-19
32 David Sullivan & David Dancey (RCF - Bourges) 1-33-21
33 Lee Rylands & Nick Bowden (Glossop Kinder Velo) 1-33-31
34 Chris Turvey & Chris Daniels (Bristol - Gouville) 1-33-37
36 Peter Derrick & Harvey Brookfield (VS Jersey) 1-34-00
39 Howard Macheel & Stephen Bent (Ludlow CC) 1-34-28
42 Michael Valks & Paul Valks (Sussex Nomads) 1-34-52
44 Glyn Hirsch & Martin Moore (Tatra Fitness) 1-35-00
46 James Bates & Nickolas Dawes (www.agiskoviner.com) 1-36-09
52 Tony Pushman & Des McClelland (VS Jersey) 1-36-56
80 Ian Jenkinson & Terry Driscoll (Tatra Fitness) 1-46-46