British National Road Race Champions: roll of honour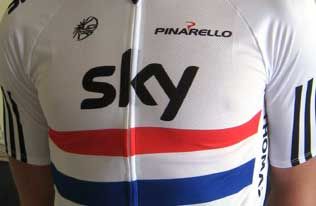 Get The Leadout Newsletter
The latest race content, interviews, features, reviews and expert buying guides, direct to your inbox!
Thank you for signing up to The Pick. You will receive a verification email shortly.
There was a problem. Please refresh the page and try again.
Cycling Weekly presents a comprehensive list of all those men, women and juniors who have won the national title.
Ian Stannard's victory in the 2012 championships in Yorkshire means Team Sky are currently unbeaten in the championships since their inception in 2010, while Sharon Laws won days after finding out she had not been selected to ride the Olympic Games in London.
NOTE: Our listings start in 1959, when the British League of Racing Cyclists (BLRC) and the National Cyclists' Union (NCU) merged to create the BCF.
BRITISH MEN'S NATIONAL ROAD RACE CHAMPIONSHIPS
From 1996 the championships were open to professionals and amateurs alike.
2012

1. Ian Stannard
2. Alex Dowsett
3. Russell Hampton
2011
1. Bradley Wiggins
2. Geraint Thomas
3. Peter Kennaugh
2010
1. Geraint Thomas
2. Peter Kennaugh
3. Ian Stannard
2009

1. Kristian House
2. Daniel Lloyd
3. Peter Kennaugh
2008

1. Rob Hayles
2. Peter Kennaugh
3. Dean Downing
2007
1. David Millar
2. Daniel Lloyd
3. Hamish Haynes
2006
1. Hamish Haynes
2. Roger Hammond
3. Geraint Thomas
2005
1. Russell Downing
2. Steve Cummings
3. Yanto Barker
2004
1. Roger Hammond
2. Tom Southam
3. Jeremy Hunt
2003
1. Roger Hammond
2. Jeremy Hunt
3. Jamie Alberts
2002
1. Julian Winn
2. Tom Southam
3. Jeremy Hunt
2001
1. Jeremy Hunt
2. Rob Hayles
3. John Tanner
2000
1. John Tanner
2. Jon Clay
3. David Millar
1999
1. John Tanner
2. Kevin Dawson
3. Russell Downing
1998
1. Matt Stephens
2. Roger Hammond
3. Darren Barclay
1997
1. Jeremy Hunt
2. Mark Walsham
3. Matt Stephens
1996
1. Dave Rand
2. Andy Naylor
3. David Cook
1995
1. Robert Millar
2. Chris Walker
3. Chris Lillywhite
1994
1. Brian Smith
2. Malcolm Elliott
3. Mark Walsham
1993
1. Malcolm Elliott
2. Brian Smith
3. Shane Sutton
1992
1. Sean Yates
2. Brian Smith
3. Chris Walker
1991
1. Brian Smith
2. Keith Reynolds
3. Dave Rayner
1990
1. Colin Sturgess
2. Ben Luckwell
3. Harry Lodge
1989
1. Tim Harris
2. Mark Walsham
3. Nick Barnes
1988
1. Steve Joughin
2. Nick Barnes
3. Chris Lillywhite
1987

1. Paul Sherwen
2. John Herety
3. Jack Kershaw
1986
1. Mark Bell
2. Adrian Timmis
3. Steve Joughin
1985
1. Ian Banbury
2. Dudley Hayton
3. Mark Bell
1984
1. Steve Joughin
2. Bill Nickson
3. Malcolm Elliott
1983
1. Phil Thomas
2. Keith Lambert
3. Mick Morrison
1982
1. John Herety
2. Sean Yates
3. Bill Nickson
1981
1. Bill Nickson
2. Nigel Dean
3. Graham Jones
1980
1. Keith Lambert
2. Bill Nickson
3. Dudley Hayton
1979
1. Sid Barras
2. Barry Hoban
3. Dudley Hayton
1978
1. Phil Corley
2. Bill Nickson
3. Reg Smith
1977
1. Phil Edwards
2. Paul Medhurst
3. Geoff Wiles
1976
1. Geoff Wiles
2. Sid Barras
3. Phil Corley
1975
1. Les West
2. Keith Lambert
3. Danny Horton
1974
1. Keith Lambert
2. Billy Bilsland
3. Phil Bayton
1973
1. Brian Jolly
2. Les West
3. Billy Bilsland
1972
1. Gary Crewe
2. Les West
3. Derek Harrison
1971
1. Danny Horton
2. Sid Barras
3. Albert Hitchen
1970
1. Les West
2. Brian Jolly
3. Colin Lewis
1969
1. Bill Lawrie
2. Dave Nie
3. Mick Cowley
1968
1. Colin Lewis
2. John Aslin
3. Reg Smith
1967
1. Colin Lewis
2. Peter Hill
3. Arthur Metcalfe
1966
1. Dick Goodman
2. Bernard Burns
3. Roger Newton
1965
1. Albert Hitchen
2. Mick Coupe
3. Keith Butler
1964
1. Keith Butler
2. Albert Hitchen
3. Ged Coles
1963
1. Albert Hitchen
2. Ken Nuttall
3. Alan Jacob
1962
1. John Harvey
2. Dave Bedwell
3. Ged Coles
1961
1. Dave Bedwell
2. Tony Mills
3. Ron Jowers
1960
N/A
1959
1. Ron Coe
2. Owen Blower
3. John Geddes
MEN'S UNDER-23 ROAD RACE CHAMPIONS
2012 Mike Cuming
2011 Scott Thwaites
2010 Andy Fenn
2009 Peter Kennaugh
2008 Peter Kennaugh
2007 Rob Partridge
2006 Peter Bissell
2005 Ben Greenwoord
2004 Dan Fleeman
2003 Kieran Page
2002 Jamie Alberts
2001 James Shaw
2000 Neil Swithenbank
1999 Charly Wegelius
1998 Richard Hobby
1997 Huw Pritchard
1996 Paul Manning
MEN'S JUNIOR ROAD RACE CHAMPIONS
2012 Sam Lowe
2011 Dan Pearson
2010 Dan McLay
2009 George Atkins
2008 Erick Rowsell
2007 Peter Kennaugh
2006 Russell Hampton
2005 Adam Norris
2004 Daniel Martin
2003 Matthew Brammeier
2002 Steffan Wilson
2001 Peter Johnston
2000 Kieran Page
1999 Steve Cummings
1998 Yanto Barker
WOMEN'S ROAD RACE CHAMPIONS

2012

1. Sharon Laws
2. Lizzie Armitstead
3. Emma Pooley
2011

1. Lizzie Armitstead
2. Nicole Cooke
3. Sharon Laws
2010

1. Emma Pooley
2. Lizzie Armitstead
3. Nicole Cooke
2009

1. Nicole Cooke
2. Lizzie Armitstead
3. Emma Pooley
2008
1. Nicole Cooke
2. Emma Pooley
3. Joanna Rowsell
2007
1. Nicole Cooke
2. Rachel Heal
3. Helen Wyman


Cooke and under-23 winner Nikki Harris in 2007
2006
1. Nicole Cooke
2. Lorna Webb
3. Jo Rowsell
2005
1. Nicole Cooke
2. Rachel Heal
3. Emma Davies
2004
1. Nicole Cooke
2. Rachel Heal
3. Vicki Pincombe
2003
1. Nicole Cooke
2. Rachel Heal
3. Vicki Pincombe
2002
1. Nicole Cooke
2. Rachel Heal
3. Melanie Sears
2001
1. Nicole Cooke
2. Ceris Gilfillan
3. Sara Symington
2000
1. Ceris Gilfillan
2. Caroline Alexander
3. Yvonne McGregor
1999
1. Nicole Cooke
2. Yvonne McGregor
3. Ceris Gilfillan
1998
1. Megan Hughes
2. Louise Jones
3. Sally Boyden
1997

1. Maria Lawrence
2. Isla Rowntree
3. Angela Hunter
1996
1. Maria Lawrence
2. Ann Plant
3. Angela Hunter
1995
1. Marie Purvis
2. Ann Plant
3. Jenny Kershaw
1994
1. Maxine Johnson
2. Jenny Kershaw
3. Sally Boyden
1993
1. Marie Purvis
2. Maxine Johnson
3. Sarah Phillips
1992
1. Marie Purvis
2. Sarah Phillips
3. Clare Greenwood
1991
1. Marie Purvis
2. Clare Greenwood
3. Linda Gornall
1990
1. Marie Purvis
2. Alison Butler
3. Maxine Johnson
1989
1. Lisa Bramani
2. Sue Wright
3. Maria Blower
1988
1. Lisa Bramani
2. Sally Hodge
3. Maria Blower
1987
1. Lisa Bramani
2. Sally Hodge
3. Linda Gornall
1986
1. Lisa Bramani
2. Vicki Thomas
3. Linda Flavell
1985
1. Brenda Tate
2. Lisa Bramani
3. Vicki Thomas
1984
1. Cath Swinnerton
2. Maria Blower
3. Muriel Sharp
1983
1. Mandy Jones
2. Judith Painter
3. Linda Gornall
1982
1. Brenda Atkinson
2. Cath Swinnerton
3. Cath Swinnerton
1981
1. Mandy Jones
2. Julie Earnshaw
3. Vicki Thomas
1980
1. Jill Bishop
2. Julie Earnshaw
3. Brenda Atkinson
1979
1. Brenda Atkinson
2. Cath Swinnerton
3. Bernadette Griffiths
1978
1. Brenda Atkinson
2. Denise Burton
3. Cathy Swinnerton
1977
1. Cath Swinnerton
2. Faith Murray
3.Josie Randall
1976
1. Denise Burton
2. Beryl Burton
3. Carol Barton
1975
1. Jayne Westbury
2. Denise Burton
3. Cath Swinnerton
1974
1. Beryl Burton
2. Carol Barton
3. Christine Goodfellow
1973
1. Beryl Burton
2. Denise Burton
3. Christine Goodfellow
1972
1. Beryl Burton
2. Ann Bailey
3. Pat Pepper
1971
1. Beryl Burton
2. Bernadette Swinnerton
3. Ann Bailey
1970
1. Beryl Burton
2. Joan Kershaw
3. Brenda Brown
1969
1. Ann Horswell
2. Bernadette Swinnerton
3. Pat Pepper
1968
1. Beryl Burton
2. Barbara Mapplebeck
3. Sylvia Beardon
1967
1. Beryl Burton
2. Barbara Mapplebeck
3. Pat Pepper
1966
1. Beryl Burton
2. Christine Goodfellow
3. Ann Illingworth
1965
1. Beryl Burton
2. Susan Crow
3. Joan Kershaw
1964
1. Val Rushworth
2. Sylvia Beardon
3. Ann Illingworth
1963
1. Beryl Burton
2. Pat Pepper
3. Jo Bowers
1962
1. Jo Bowers
2. Pat Pepper
3. Cynthia Cary
1961
1. Jo Bowers
2. Beryl Burton
3. Jan Smith
1960
1. Beryl Burton
2. Sheila Holmes
3. Val Baxendine
1959
1. Beryl Burton
2. Millie Robinson
3. Sheila Holmes
WOMEN'S UNDER-23 ROAD RACE CHAMPIONS
2012 Katie Colclough
2011 Laura Trott
2010 Lizzie Armitstead
2009 Lizzie Armitstead
2008 Jo Rowsell
2007 Nikki Harris
Thank you for reading 20 articles this month* Join now for unlimited access
Enjoy your first month for just £1 / $1 / €1
*Read 5 free articles per month without a subscription
Join now for unlimited access
Try first month for just £1 / $1 / €1