CAVENDISH DISAPPOINTED AFTER CHAOTIC GHENT-WEVELGEM FINALE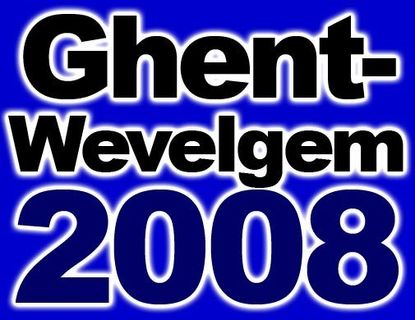 Mark Cavendish could not hide his disappointment after Ghent-Wevelgem. Up until the final kilometre everything had been going so well.
20 minutes after Oscar Freire had taken an emphatic triumph in Ghent-Wevelgem, Mark Cavendish stepped down from the High Road team bus, ready to discuss a tough day's racing.
For 208 kilometres of Ghent-Wevelgem?s 209 everything had gone perfectly for the Briton. He?d made it over the Kemmelberg in the front group the second time round, was in the front group for the finish and had team-mates Roger Hammond and George Hincapie with him. Was Britain's first victory since 1974 in Belgium's premier mid-week Classic about to happen?
But then it all unravelled. In a chaotic high-risk finale, with over 70 riders jostling hard for space in a finish where half that number is far more normal - and still risky - Cavendish and Hammond lost contact. Hammond took 10th, Cavendish 17th.
?It was just unbelievably dangerous, it?s one thing to put yourself in danger, but other riders, that?s not on.? Cavendish said.
?Five times in the the last two kilometres I nearly crashed. My shoes are in bits, and that?s staying upright.?
?It?s such a shame when my team tried so hard to keep me up there.?
?In a one-day race, everybody thinks they can win, and it?s really dangerous when they?re going backwards and you?re trying to go forwards. I'm very disappointed."
?It was quite a hard finish, normally there?s a bigger selection before the finale so the sprint?s less hectic.? Hammond told Cycling.
?This time a lot of riders got over the Kemmel, as much as I tried to lead Mark out, he just lost my wheel. It was real chaos."
?We were about 60th three kilometres from the finish, went up to twentieth and then I just lost him.?
?We didn?t come off, but we had a lot of near misses. I lost half a shoe, Cav?s lost half a shoe, I lost half a handlebar when somebody tried to hang his bike on it at 50 kmh at the beginning.?
?To be honest we?re all just counting our blessings.?
RELATED LINKS
Ghent-Wevelgem 2008 in pictures
Race report: Freire wins Ghent-Wevelgem
Cavendish disappointed after chaotic Ghent-Wevelgem finale
Will 'safer' descent cut down crashes?
Ghent-Wevelgem preview
Cycling Weekly Classic from the archive: How Barry Hoban won 1974 Ghent-Wevelgem
Thank you for reading 20 articles this month* Join now for unlimited access
Enjoy your first month for just £1 / $1 / €1
*Read 5 free articles per month without a subscription
Join now for unlimited access
Try first month for just £1 / $1 / €1