CAVENDISH TO LEAVE TOUR ON SUNDAY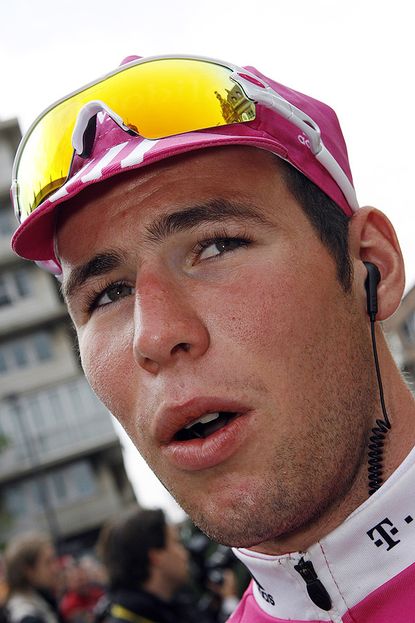 (Image credit: ISOSPORT)
Mark Cavendish's Tour de France is set to end on Sunday evening. His T-Mobile team will tell him to stop after Sunday's mountain stage to Tignes - as long as his injuries don't cause him problems beforehand.
T-Mobile manager Rolf Aldag said: "It's our decision when he stops. Mark may want to carry on into the second week but we don't want him to do that.
"At the moment the plan is to stop him after Sunday's stage. We want him to see everything the Tour de France has to offer, and part of the Tour de France is the mountains. It's not just flat stages. He will have experienced the prologue, all the stress of doing TV interviews,
signing autographs, he'll have seen the sprints and then he'll have done a couple of really hard stages in the Alps.
"We want to give him experience but we don't want to burn him out. If it was left to Mark I don't doubt he would want to go all the way to Paris but there is plenty of time for that."
The only way Cavendish will go home earlier is if the wounds from two crashes cause him more difficulty. With bandages on both elbows and plasters on both legs, he's one of the Tour's most patched-up walking wounded.
"He's really learned the hard way," added Aldag. "He hit the ground in England and then the next day he saw that in the Tour you can do everything right and still end up on the floor.
"Yesterday [in Compeigne] he learned that you have to be right at the front. He was in the first 25 as they came into the last kilometre but it was not enough. He said that the GC guys were ahead of him trying to keep out of trouble, then they ease up and came back at him, so he had to go round. Then he started his sprint and he died with 300 metres to go. At that point the sprint really started but he had nothing left. That was a big lesson for him and he'll pick that up."
TOUR DE FRANCE 2007: GUIDE
Route guide
Complete start list
Guide to all 21 teams
Tour 2007 videos
Thank you for reading 20 articles this month* Join now for unlimited access
Enjoy your first month for just £1 / $1 / €1
*Read 5 free articles per month without a subscription
Join now for unlimited access
Try first month for just £1 / $1 / €1