Charge Bikes is looking for a 2016 ambassador
Think you've got what it takes to work as an ambassador for Charge Bikes? Charge is looking for you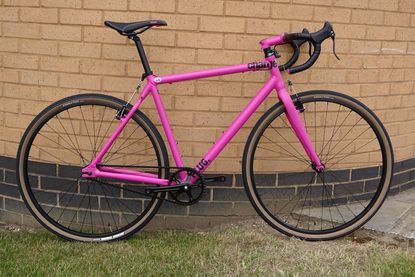 Charge's range has expanded from its original fixie focus to include dropped and straight bar road bikes, big wheeled mountain bikes and fat bikes. It road bikes also changed from steel to alloy frames in 2015 and sprouted wider tyres. Now it's looking for an ambassador for 2016 to showcase its bikes.
Candidate ambassadors must submit a two minute video showcasing themselves and their riding. The video should include recent footage of their riding and some personal details at the front. The competition entries will be judged by a panel including the 2015 winner, Hamish Paine, ambassador/journalist Juliet Elliot and pro riders Josh Bryceland and Chris Akrigg.
>>> Charge Plug gets aluminium overhaul for 2016
Charge says that it's looking for personality, creativity and enthusiasm for cycling as well as a candidate's ability to make them smile. Charge isn't looking for someone from any particular discipline or country, or who currently rides any particular type of bike.
Watch: Tour de France - the contenders
The winner will be kitted out with a team-equipped titanium Charge bike, kitted out with components from Fabric, SRAM, Rockshox, Avid, Maxxis, Truvantiv and Easton. The prize also includes kit from Oakley, Giro and Vans as well as the opportunity to work with the team at Charge Bikes.
>>> What can roadies learn from mountain bikers?
The competition closes at 9:00 on August 31, so it's time to get your GoPro going. Take a look at Charge's ambassador page (opens in new tab) for more details and inspiration.
Thank you for reading 5 articles this month* Join now for unlimited access
Enjoy your first month for just £1 / $1 / €1
*Read 5 free articles per month without a subscription
Join now for unlimited access
Try first month for just £1 / $1 / €1