Chris Froome photographed using a phone during Tour de France final stage
Is he playing Pokemon Go? Tour de France champion Chris Froome snapped using phone during the final stage of the race into Paris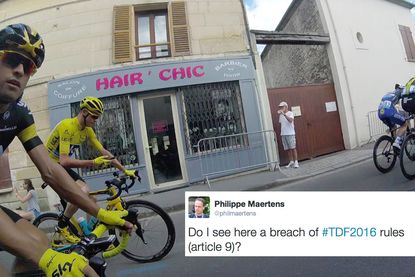 Chris Froome was photographed during the final stage of the 2016 Tour de France riding along using his mobile phone.
The photo was posted on Twitter by Team Katusha communications manager Philippe Maertens, and shows Froome in his yellow jersey with phone in hand. As Twitter Storms go it is more a light, southerly breeze than a full-on hurricane, but as Maertens points out, strictly speaking it is against the Tour de France race rules as set out in Article 9:
"Not using mobile phones during the race, except in cases where competitors have set up special pre-fitted links with their sports directors according to conditions defined in article 2.2 024 of the Rules of the UCI."
>>> This is what it took to fuel Chris Froome and Team Sky through the Tour de France
Perhaps Team Sky were trying to catch a rare Vaporeon Pokemon behind a bin on the outskirts of Paris. Or booking an appointment in Hair Chic. Or, more likely given the evidence, posting up a picture on Snapchat of the team in their special-edition yellow kit enjoying a moment of glory.
The final stage of the Tour de France is generally accepted as a pretty relaxed affair – certainly before it hits the cobbles of the Champs Élysées.
This year, the peloton rode along at a very sedate pace, chatting and posing for photos. Team Sky took the unconventional step of having a celebratory bottle of beer. The use of glass bottles is also prohibited under race rules... but sometimes even race commissaires have to use their better judgement when handing out fines and penalties.
Italian Luca Paolini was famously snapped using a mobile phone during the 2014 Tour de France while travelling at around 60kmh, for which he got a telling off from the race organiser.
Paolini subsequently apologised and was let off from being sanctioned. The following year he failed a test for cocaine during the race and was ejected, and later given an 18-month ban.
This year's La Course by Le Tour winner Chloe Hosking took a selfie with her phone while stood on the podium of the Champs Élysées, but Froome kept his phone safely tucked away during his podium celebration later in the day.
Thank you for reading 5 articles this month* Join now for unlimited access
Enjoy your first month for just £1 / $1 / €1
*Read 5 free articles per month without a subscription
Join now for unlimited access
Try first month for just £1 / $1 / €1