Chris Froome posts photo of injuries after training ride crash
Photo posted by Chris Froome on Thursday shows ripped clothing and abrasions to left side and elbow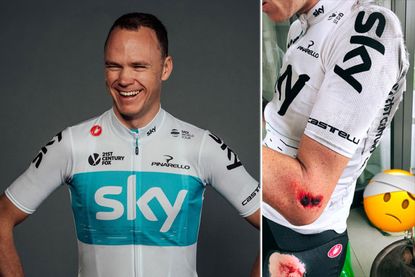 Chris Froome has suffered minor injuries as a result of a crash while out training in South Africa.
The 2017 Tour de France and Vuelta a España winner posted a photo of his injuries on Instagram. The image shows scuffed and ripped Team Sky jersey and shorts, with abrasions to his left elbow and hip.
The 32-year-old did not leave a comment with the photograph, and it is not clear how the crash happened. The injuries do not appear to be serious.
>>> Chris Froome is back on Strava and the rides he's been uploading are incredible
Froome has been intensively training around Johannesburg, posting details of almost daily rides of over 100-120 miles in the hills and mountains around the city since December 31. In total, he has ridden over 1200 miles (2000km).
Thursday's ride posted on Strava was 125.3 miles (201km) in a loop west of the city. He finished the ride in an average speed of 20.7mph (33.3kmh), and tackled a total elevation of 7182 feet (2189 metres).
http://www.youtube.com/watch?v=QaCHePwsEuk
Froome is currently awaiting news on his case involving an adverse analytical finding for salbutamol at the 2017 Vuelta.
A urine sample taken after stage 18 registered a higher-than-permitted amount of the asthma drug.
While the case is being dealt with, Froome is still free to race and has not been suspended.
No date has been given as to when the case could be resolved.
Froome has said that he intends to ride in both the Giro d'Italia and Tour de France in 2018.
Froome kicked off his 2016 and 2017 racing campaigns in Australia, winning the Herald Sun Tour overall in 2016 and placing sixth overall in the race in 2017. However, this year he is not in Australia and has not released details of when and where he will make his 2018 debut.
Thank you for reading 20 articles this month* Join now for unlimited access
Enjoy your first month for just £1 / $1 / €1
*Read 5 free articles per month without a subscription
Join now for unlimited access
Try first month for just £1 / $1 / €1