'Clean Spirit: In the Heart of the Tour' UK premiere in London on Tuesday (video)
The UK premiere of a documentary following Giant-Shimano, then Argos-Shimano, around the 2013 Tour de France will take place in London on December 9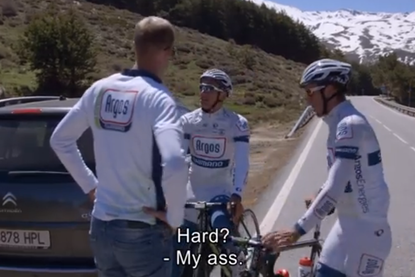 A documentary following Marcel Kittel and his, then, Argos-Shimano team around the 2013 Tour de France will be screened in London on Tuesday (December 9).
Clean Spirit: In the Heart of the Tour gets up close and personal with Kittel and his teammates as he bookends the 100th Tour with stage wins.
After pulling on the yellow jersey with his stage one win in Bastia, Kittel goes on to win three more stages, including the final sprint on the Champs-Élysées, with the team's philosophy of winning clean at the forefront.
"What I like so much about this film is that you see a boy [Kittel] winning the first stage and the first yellow jersey in his life, still boyish and a bit naïve maybe," director Dirk Jan Roeleven told Cycle Sport in the summer.
"After three weeks, after winning four stages and after all this media attention, all this Twitter and all that comes to him [because he's so good in that Tour de France], you see him grow in that three weeks and that's also what the film says.
"You see him at Mont Ventoux saying 'I don't want to press anymore. I'm tired.' You see him grow in this tour and it's interesting."
Clean Spirit: In the Heart of the Tour will be screened at the Barbican on Tuesday, December 9 at 8.20pm and will feature a Q&A with Jan Roeleven and Nando Boers.
For more information and ticketing, click here.
Thank you for reading 20 articles this month* Join now for unlimited access
Enjoy your first month for just £1 / $1 / €1
*Read 5 free articles per month without a subscription
Join now for unlimited access
Try first month for just £1 / $1 / €1