Colchester rules out Tour Series return in 2015
Council bosses say the town will not bid to host a stage of the Pearl Izumi Tour Series in 2015 due to the cost of staging the event.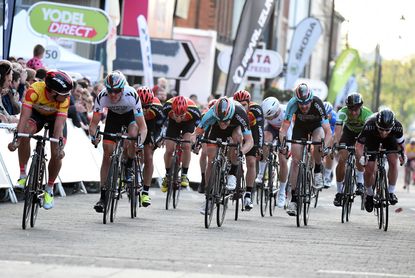 Colchester Council has ruled out the possibility of the Pearl Izumi Tour Series in 2015, due to financial constraints.
The town hosted a stage in every year between 2009-2013, but council bosses decided against bringing the race back in 2014, with the £75,000 costs proving a stumbling block.
Up to 15,000 spectators lined the circuit in the five-year span, with NFTO's Jon Mould, then racing for Team UK Youth, taking the most recent win in 2013.
Will Bramhill, a spokesman for Colchester Cycling Campaign, told the Colchester Gazette: "It is a shame because it put Colchester on the map.
"Anyone who is cheering it not coming is silly. It meant thousands of people were coming to Colchester and however many millions around the world were able to see Colchester town centre on TV."
Business owners, however, were less keen on the race taking over the town's streets, with Essex Development Manager for the Federation of Small Businesses, Iain Wicks, saying: "The event might have brought people to the town, but it caused chaos for town centre businesses, which saw very little benefit."
Source: Colchester Gazette
Hannah Barnes (MG-Maxifuel) wins Johnson Health Tech GP Series round to take overall lead
Thank you for reading 20 articles this month* Join now for unlimited access
Enjoy your first month for just £1 / $1 / €1
*Read 5 free articles per month without a subscription
Join now for unlimited access
Try first month for just £1 / $1 / €1