COLLINS LEADS NATIONAL TROPHY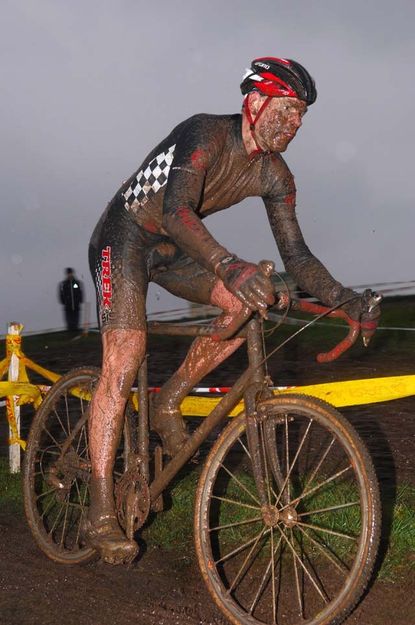 Click here to see a gallery of photos from National Trophy round three by Andy Jones
Science in Sport-Trek rider David Collins, pictured, snatched the lead in the National Trophy Cyclo-Cross Series after finishing third in Sunday?s third round at Kirby Mallory, Leicestershire.
With previous leader and the winner of the first two rounds Paul Oldham (Hope Factory Racing) managing only 10th spot yesterday, Collins now heads the table by 10 points from his rival.
Sunday?s event was won by Holland?s Martin Nijland, who crossed the line 44 seconds ahead of Germany?s Malte Urban, while Collins was another 43 seconds off the pace in third.
Oldham had been challenging for a place on the podium, but faded over the last couple of laps to end with a disappointing 28 points from his afternoon.
Isla Rowntree led a one-two for the Stourbridge CC, beating colleague Louise Robinson to the line on a wet and cold afternoon which gave organisers several headaches with paperwork.
See this week?s Cycling Weekly for more on the third round of the National Trophy.
Chris Young wins in the mud. Photos by Andy Jones
Isla Rowntree beat team-mate Louise Robinson to take the women's win
RELATED LINKS
Click here to see a gallery of photos from National Trophy round three by Andy Jones
Thank you for reading 20 articles this month* Join now for unlimited access
Enjoy your first month for just £1 / $1 / €1
*Read 5 free articles per month without a subscription
Join now for unlimited access
Try first month for just £1 / $1 / €1