Contador sparks War of the Words with Armstrong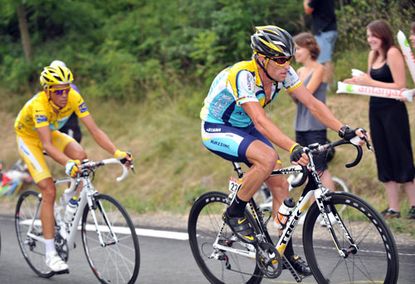 Any pretence of an accord between Alberto Contador and Lance Armstrong during the Tour de France was destroyed yesterday when the Spaniard spoke candidly about the Texan at a press conference in Madrid.
Contador, who claimed his second Tour de France win on Sunday in Paris, explained: "my relationship with Lance Armstrong has been nonexistent," according to AFP.
"Although he is a very great champion, I have never had admiration for him [as a person] and I never will.
"There were days in the hotel that were more difficult than out on the road."
Contador described the situation as "tender and delicate" and went as far as saying that the relationship between the two riders "rubbed off on the rest of the team".
Armstrong was quick to reply to Contador's comments via his Twitter feed.
"Seeing these comments from AC [Alberto Contador]," wrote Armstrong. "If I were him I'd drop this drivel and start thanking his team. Without them, he doesn't win".
Ironically, Contador had little to thank Armstrong for in the end, who if anything, was another rival to contend with, not a team-mate.
Contador attacked on the seventh stage to Arcalis, crossing the finish line smiling and gaining 21 seconds on Armstrong in the process. The Texan felt that Contador had usurped his leadership within the team, and his traditional strategy of attacking on the Tour's first mountain stage, claiming afterwards that Contador's attack was not "in the plan" of the day.
Indeed, Armstrong (and team manager Johan Bruyneel have) yet to publicly congratulate Contador and instead of attending a team party after Saturday's stage to Mont Ventoux, he dined with representatives of his 2010 team sponsor, Radio Shack.
Armstrong berated Contador for losing the race lead in Paris-Nice in March after suffering from an attack of the hunger knock. "Hey pistolero," Armstrong said referring to Contador's trademark victory salute. "There is no 'I' in 'team'. What did I say in March? Lots to learn. Restated."
Even Bruyneel chimed in on his Twitter feed to castigate his soon-to-be erstwhile protégé stating: "Sometimes it is better to be silent and thought a fool, than to speak up and remove all doubt!"
Armstrong is contracted to the new Radio Shack team for 2010, taking with him Johan Bruyneel, whilst Contador is rumoured to be moving to Caisse d'Epargne, perhaps even Garmin for next year.
Wherever they end up, they will certainly be glad to be on opposing teams.
Thank you for reading 20 articles this month* Join now for unlimited access
Enjoy your first month for just £1 / $1 / €1
*Read 5 free articles per month without a subscription
Join now for unlimited access
Try first month for just £1 / $1 / €1