COOKE OUT OF WORLDS, BRAILSFORD NAMES SQUAD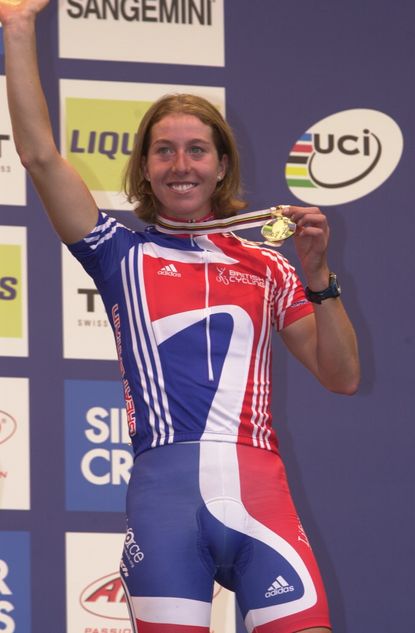 Nicole Cooke has been ruled out of the World Championships following her knee operation yesterday.
The Welsh rider (pictured) lost her World Cup crown to Holland?s Marianne Vos in the final round of the competition at Nürnberg on Sunday before flying to Britain for an operation on her troublesome knee.
British Cycling delayed naming their squad for next week?s championships in Stuttgart to assess Cooke?s situation and decide on the final places in the other teams. The selectors David Brailsford, Doug Dailey and Shane Sutton had hoped Cooke might recover in time for the women?s road race on September 29 but now know she will not be fit.
WOMEN
?We support Nicole?s decision 100 per cent,? said Brailsford. ?She couldn?t postpone the operation any longer. It?s the Olympics next year and Nicole has to look at the bigger picture. Racing on now to fit in the World Championships before having the operation was not an option.?
It means Emma Pooley will get a chance to lead the women?s team in the road race. She was fourth in Sunday?s Trophee Européen time trial in France and will ride both events in Stuttgart.
Wendy Houvenaghel will ride the time trial, with Lizzie Armitstead, Catherine Hare, Rachel Heal, Tanja Slater and Helen Wyman joining Pooley in the road race.
?Emma is in tremendous form at the moment. She?s a great climber and we?re very excited about her. The other notable rider to look out for is Wendy. She?s done a 19-50 ?10? and a 52-minute ?25? recently so she?s in fantastic condition,? added Brailsford.
ELITE MEN
David Millar and Mark Cavendish were expected to take two of the places in the men?s road race. The final spot goes to Roger Hammond. There are no surprises in the time trial ? Millar, who will have recovered from his recent training crash ? joins Bradley Wiggins.
The decision to take Cavendish in his debut season is motivated by a desire to give him experience of the World Championship road race as early as possible. Brailsford said: ?With Cav [Mark Cavendish] we have taken the view that if you are ever to be in contention in the World Championships you need to ride it several times before you can think about winning it. It?s a unique race and we want him to start learning straight away. Besides that he?s got 10 wins under his belt and went on a break in the Tour of Britain last week so he?s earned his place.?
Hammond?s fine form at the Tour of Britain and big-race experience gave him the nod over Dan Lloyd and Steve Cummings.
?Roger has so much experience, of the Classics and he?s ridden the World Championships several times. He knows what it?s all about and he?s used to riding the distance and performing. It also makes a lot of sense that he?s a team-mate of Cav?s [at T-Mobile].
?But it was a really close call. Dan Lloyd in particular is unlucky to miss out, and Steve Cummings is improving all the time after his crash.
?Hopefully next year we?ll have had a few results earlier in the season so we have more places to allocate.?
UNDER-23
Ian Stannard will ride the time trial, as expected. But there was a surprise when Ben Swift was named ahead of Geraint Thomas.
Both rode the Tour of Britain for Barloworld, with Swift winning the king of the mountains competition. In the end the decision came down to the fact Thomas is reaching the end of a gruelling summer.
Brailsford said: ?We had a close look at Thomas and Swift at the Tour of Britain. Geraint has had a long hard season and after he rode the Tour de France we have been concerned that we don?t push him too far. We need to make sure he knows when enough is enough. If it was up to him he?d ride but he has raced so much we need to make sure that volume of work can be absorbed physically and particularly mentally.
?The reality is Geraint is coming down whereas Ben?s form is coming up so on this occasion Geraint has missed out and can go into a period of active recovery. Ben is super-motivated and so he?s got his chance.?
GREAT BRITAIN TEAM
For the World Championships in Stuttgart, Germany, September 26-30
Men?s elite time trial: David Millar, Bradley Wiggins
Men?s elite road race: Mark Cavendish, Roger Hammond, David Millar
Women?s time trial: Wendy Houvenaghel, Emma Pooley
Women?s road race: Lizzie Armitstead, Catherine Hare, Rachel Heal, Emma Pooley, Tanja Slater, Helen Wyman
Men?s under-23 time trial: Ian Stannard
Men?s under-23 road race: Ben Swift
British Cycling: www.britishcycling.org.uk.
Thank you for reading 10 articles this month* Join now for unlimited access
Enjoy your first month for just £1 / $1 / €1
*Read 5 free articles per month without a subscription
Join now for unlimited access
Try first month for just £1 / $1 / €1
Sports journalist Lionel Birnie has written professionally for Sunday Times, Procycling and of course Cycling Weekly. He is also an author, publisher, and co-founder of The Cycling Podcast. His first experience covering the Tour de France came in 1999, and he has presented The Cycling Podcast with Richard Moore and Daniel Friebe since 2013. He founded Peloton Publishing in 2010 and has ghostwritten and published the autobiography of Sean Kelly, as well as a number of other sports icons.