CW Exclusive: Pozzato interested in Team Sky for 2011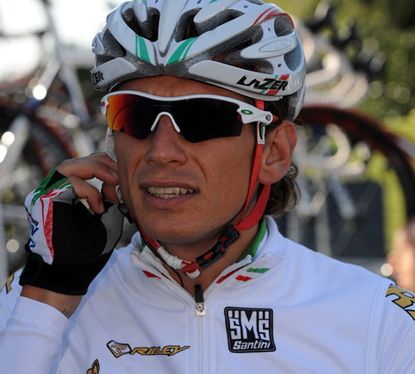 Italy's Filippo Pozzato has told Cycling Weekly he would be interested in riding for Team Sky in 2011 and revealed he gets on well with Mark Cavendish thanks to a shared passion for expensive watches.
On Monday, Pozzato was named in the Italian team for the world championships and is using the Tour of Britain as final training for the road race. On Tuesday he planned to ride from the finish in Blackpool to his hotel in Warrington, adding 110km to the 153km raced during the stage.
"The Tour of Britain is the ideal final build-up for the world championships for me and I'll get in the 250km race distance by riding to the hotel," Pozzato told Cycling Weekly before the start of stage four in Blackpool.
"It's important to get to the worlds in perfect shape because I want a shot at the title. We've got a mixed Italian team this year and there's no real leader because Paolo Bettini has retired. We've got Damiano Cunego who going really well, then there are riders like me and Alessandro Ballan who can be dangerous in the finale."
"It's going to be a selective race and I think people like Alejandro Valverde and Samuel Sanchez of Spain, perhaps the Schleck brothers, although they both quit the Vuelta. Philippe Gilbert will be strong and then there's Cancellara. I think he's a real threat because he's on good form"
Pozzato has also been keeping his eye on the British riders.
"People have told me that Dave Millar is riding well at the Vuelta and he's not doing the time trial, so he'll be dangerous too. He's perhaps not at the same level as Valverde and Cancellara but he's someone to keep an eye on. I've noticed that Steve Cummings and Geraint Thomas are riding well here at the Tour of Britain."
Pozzato rode for team mate Ben Swift on stage one, even bullying other British riders who wanted to get in the early break.
"I like Ben, he's a good guy and a good rider. He's got balls when it comes to having a go in the sprint and is fast. I think he'll be really good in the classics in the near future."
Pozzato joined Katusha for 2009 and has a contract for 2010 with the Russian ProTour squad. However, he has seen how David Brailsford, Shane Sutton and Scott Sunderland have built Team Sky and makes it clear he would consider joining the squad in 2011.
"I've noticed that they're building a powerful team and signing some good riders like Boasson Hagen. He's a huge talent. I've got another year with Katusha and I'm really happy here but I'd be interested in what Team Sky are doing and I know they're interested in Italians because of Sky television in Italy," he told Cycling Weekly.
"In cycling you never know what can happen in the future and I'd be happy to sit down with Team Sky and talk about the doing something together."
Pozzato revealed he would not have a problem joining Team Sky, even if Mark Cavendish also comes on board in 2011.
"I've no problem with Mark. I said what I thought about him two years ago and he took it the wrong way. But that's all in the past. I'm happy to acknowledge that he's the best sprinter in the sport and there's little the others can do for a long time to come."
"We've actually talked a lot recently when we've raced together because we share the same hobby. We both love collecting expensive watches."
Thank you for reading 20 articles this month* Join now for unlimited access
Enjoy your first month for just £1 / $1 / €1
*Read 5 free articles per month without a subscription
Join now for unlimited access
Try first month for just £1 / $1 / €1