'Is cycling good for you?' - you asked Google, and we've got the answer
One of the most common questions people ask about cycling on Google is 'Is cycling good for you', so we've got the answer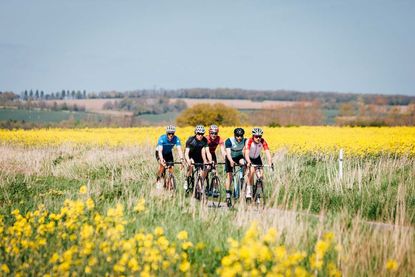 Get The Leadout Newsletter
The latest race content, interviews, features, reviews and expert buying guides, direct to your inbox!
Thank you for signing up to The Pick. You will receive a verification email shortly.
There was a problem. Please refresh the page and try again.
You may have serious reservations about your commitment to cycling when you find yourself slogging it out round country lanes in the pouring rain. Or when you feel like a parachute riding into a headwind as you struggle your way home on your commute back from work.
One of these questions that may be running through your head is 'Is cycling good for me?'
To put it simply: yes it is, but there are many reasons that you've possibly taken for granted or perhaps never even knew when you hit the road.
Physical health
The main and perhaps most obvious reason for why cycling is good for you is the physical benefits it can bring. Improving your heart health, boosting your aerobic fitness and increasing weight loss are just a few consequences of consistent cycling training.
Add all these benefits together and it not only results in a healthier lifestyle but increases the chances of you living for longer as well.
>>> 'Why do cyclists wear lycra?' – you asked Google and we've got the answer
Social factor
Despite being recognised as an individual sport, cycling is a great way to improve your social life (particularly when there's not a global pandemic). Whether this is heading out for a ride with your friends, joining a local cycling club or a chaingang.
This can even lead to you heading abroad to test yourself on foreign terrains on training camps and cycling holidays. No matter what time of year we can always benefit from a little bit of sunshine and some guaranteed vitamin D.
>>> 'Why do cyclists ride in the middle of the road?' – you asked Google, and we've got the answer
Psychological wellbeing
Despite the aforementioned nightmare scenarios of riding a bike, cycling can be an extremely pleasant activity the majority of time.
Getting out and discovering new places, breathing in fresh air whilst riding through country lanes are just a couple of a multitude of factors that have seen many studies and surveys completed that confirm that cycling makes you happier.
>>> It's official: Cycling makes you happier
Low injury risk
There are a plethora of sports to choose from, but few carry the physiological benefits in comparison to the low injury risk factors that cycling brings.
Compared to high impact sports such as running, or high contact sports such as football and rugby, cycling has a much lower risk of causing bodily damage that can occur from these other sports.
Obviously, the odd bump and bruise may happen now and then if you aren't too careful but, in terms of overuse or accidental injuries the numbers are very low.
>>> 'Why is my bike so slow?' – you asked Google, and we've got the answer
Improve your sex life
That's right, cycling can improve your sex life. A number of studies have shown how sports and physical activity such as cycling can lead to an increased confidence, boosted sex drive and even improved sexual satisfaction in the moment itself!
That's without even mentioning your improved physique you will have on show from the countless hours you would have put in to sculpting your glute, quad and calf muscles.
Myth busting: Why cycling isn't good for you
There are several stories of cycling and the dangers it can bring. However, if you push aside the attention grabbing headlines it isn't as bad as first reported or even sometimes completely false.
One of the main issues most people believe cycling is bad for you are the dangers from cycling on the road. One of these hard facts is that cyclist are 11 times more likely to be involved in a fatal accident compared to drivers per mile driven or ridden.
However, when you add up the miles ridden and driven per person, the chances of being a fatality are just as likely cycling, driving or even walking, due to the greater amount of miles racked up by motorists.
Another myth links back to our last point about sexual wellbeing. It is thought that countless hours sitting on a saddle can lead to numbness, discomfort and permanent physical damage. However, studies into this phenomenon are limited with experts still believing the benefits of cycling far outweigh the negatives that the sport may bring.
Thank you for reading 20 articles this month* Join now for unlimited access
Enjoy your first month for just £1 / $1 / €1
*Read 5 free articles per month without a subscription
Join now for unlimited access
Try first month for just £1 / $1 / €1
Get The Leadout Newsletter
The latest race content, interviews, features, reviews and expert buying guides, direct to your inbox!
Paul Knott is a fitness and features writer, who has also presented Cycling Weekly videos as well as contributing to the print magazine as well as online articles. In 2020 he published his first book, The Official Tour de France Road Cycling Training Guide (Welbeck), a guide designed to help readers improve their cycling performance via cherrypicking from the strategies adopted by the pros.